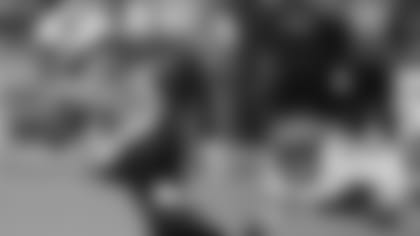 Running back Javon Ringer rips off a 47-yard run to set up a Titans touchdown in the first quarter.
NASHVILLE, Tenn. --** The Titans rested one of the biggest names in any NFL backfield Thursday night, but reserve running backs Javon Ringer and Samkon Gado each delivered big runs during scoring drives.

Tennessee scratched Pro Bowl running back Chris Johnson, who ran for 2,006 yards in 2009, prior to kickoff. The move allowed Ringer and Gado nearly as many rushing opportunities as they had combined last season. Ringer rushed four times for 64 yards, and Gado rushed 13 times for 63 yards. Ringer's 47-yard gain set up a touchdown pass from Vince Young to Bo Scaife in the first quarter, and Gado delivered a 31-yard run that preceded a field goal by Rob Bironas in the second quarter.

Tennessee defeated defending Super Bowl champion New Orleans 27-24 at LP Field Thursday in the final preseason game for both teams. The Saints did not play quarterback Drew Brees or running backs Reggie Bush and Pierre Thomas in preparation for their season opener next Thursday against Minnesota. The Titans finished the preseason at 2-2 and open their regular season at home against Oakland on Sept. 12.

The Titans led by 11 with 3:18 left, but the Saints completed a touchdown drive with a 35-yard pass from Chase Daniel to Adrian Arrington in 53 seconds. New Orleans got the ball again inside the two-minute warning, but Titans linebacker Gerald McRath intercepted Daniel in the end zone with six seconds left.

"I feel like I did a lot of things wrong that will probably be overlooked because I got the pick," McRath said. "It was good coaching and just trying to be in good position. It was like, 'OK, Yes. We're finally done.' We thought (Alterraun Verner) was going to get an interception, then we thought (Tye Hill) was going to get one. You don't want to give those guys another set of downs."

Late in the first quarter, Ringer found an opening around the left tackle, picked up a downfield block from receiver Lavelle Hawkins and veered across the field to New Orleans nine-yard line. In the second quarter, Gado, a five-year veteran, also found an opening around the left tackle and scurried to the New Orleans 16-yard line.

"Early in the game I had been looking, and the coaches told me to keep pushing and it's going to be there," Gado said. "The next time it came around, I saw the seam. I thought I had the guy."

Ringer ran eight times for 48 yards for the Titans in 2009, and Gado rushed only 14 times for 26 yards for St. Louis. Gado, signed by the Titans after their first preseason game, said he's enjoyed the opportunity to vie for a roster spot.

"You never know," Gado said. "I'd like to think that I have, but I don't know what they're looking for."

Reserve running backs helped the Titans put away the game in the fourth quarter. Rookie LeGarrette Blount plunged into the end zone from one yard out, and veteran Alvin Pearman added a five-yard score. Blount rushed 15 times for 59 yards, and Pearman ran for 36 yards on six attempts.

Titans coach Jeff Fisher said resting Johnson was part of the plan.

"I spoke with C.J. prior to the Carolina game and basically told him I was going to give him a few carries, a few touches and then what we all need to do as far as he's concerned is get him in the best shape he's been for an opener in his career and that would include everything: diet, lifting, running, conditioning, rest."

The game was the final opportunity for Titans coaches to evaluate players in game situations before the team must trim its roster from 75 to the NFL-maximum of 53 players by Saturday.

DEFENSIVE STARTERS RETURN

Fisher said it was good to get cornerback Cortland Finnegan and defensive tackle Tony Brown back on the field from injuries. Ramsey targeted Finnegan early in the first quarter, connecting with wide receiver Robert Meacham five times for 49 yards, and drew a pass interference penalty against the veteran defender that set up a field goal on the Saints' opening drive. Finnegan recorded six tackles and one pass deflection.

"It's not picking on me," Finnegan said. "They were throwing at me. That's totally different. I've got to get better. … They went right after me, but they gave me some good work heading into the regular season. They're a good offense, and this will get me ready for Oakland."

Brown said he wants to improve his footwork, but it was fun to "get back after it."

"Honestly, I think we're ready to go," Brown said. "We're all fresh and firing to the ball. I think we just want to get the regular season started and show all of the hard work we've put in during the offseason."

Defensive tackle Jason Jones smashed through blocks in the first half, disrupting New Orleans' offense. The third-year player sacked Saints quarterback Patrick Ramsey for a loss of seven and recorded three quarterback hurries.

"Every time I go out there, I just want to play hard and get to the quarterback," Jones said. "I got there a few times, (Brown) got there a few times. It was a whole collective effort. That defensive line, we've got so many athletes and so many independent parts."

BLOCKED PUNTS SET UP SAINTS

New Orleans scored 10 points after blocking two Brett Kern punt attempts. The Saints scored their first touchdown when Junior Galette swatted the ball and Harry Coleman gathered it near the goal line. The Saints blocked another punt deep in Titans territory, but Tennessee's defense pushed New Orleans back 18 yards and forced a 41-yard field goal by Garrett Hartley.

"Overall, we played a lot of people," Fisher said. "We got to look at some younger players. … There were some things that happened out there that I am not concerned about, namely the two blocked punts. We can fix those."

Rookie Marc Mariani, the Titans' seventh-round selection out of Montana, racked up 105 all-purpose yards. Mariani reeled in a 41-yard pass from Chris Simms in the third quarter, returned a kickoff 13 yards, and returned two punts for 51 yards, including a 38-yarder.

When asked by reporters if he was surprised by Mariani's play, Fisher said, "No, he's a football player, and that's why we drafted him."