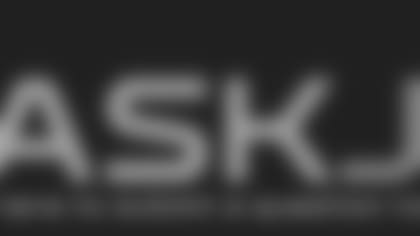 ](http://www.titansonline.com/news/ask-jim.html)
NASHVILLE, Tenn. – As I look out my window at Saint Thomas Sports Park, the fields are being prepped for next week's practices.
The Titans kick off organized team activities on Tuesday, the first of three days on the field. The team will hold ten OTAs leading up to a three-day minicamp next month.
So we're getting closer to training camp, and the season.
Let's pass the time by diving into this mailbag.
Jamie Konitzer from Manitowoc, Wisconsin
Question: Hey Jim. First of all, let me stress to you that I trust everything Jon Robinson does BUT I do have a couple of concerns. I was hoping that Tennessee would draft 2 defensive players with our two first rd picks. I didn't think not having a #1 WR last yr was the main reason why we didn't go to the playoffs. Losing Marcus Mariota for the second season in a row due to an injury is one reason. I think he's progressed very nicely BUT he hasn't played a full season yet. I think this is a critical year for him to stay healthy & play 16 games or the injury comparisons to Tony Romo may start. The second reason was our secondary was absolutely terrible. Wouldn't drafting a Jamal Adams@ 6 and Chidobe Awuzie (6' 0") @ 18 seem to make more sense? I saw a stat last week that Logan Ryan played his best in New England while playing in the slot. So that leaves Sims (unproven late rd draft pick) or a 5" 10" (Adoree Jackson) rookie on the other teams biggest WR. It does not appear like this secondary is much better than last yr. Are you buying into what I'm trying to sell here?
Jim: Hey Jamie. Thanks for the question. Going to shoot you straight here. In my mind, the Mariota injury in Jacksonville can't be blamed as one of the reasons for missing the playoffs last year. The Titans were down 25-10 late in the third quarter in the Week 16 game when the injury took place, and it wasn't looking good even before then. But yes, it's key for him to stay healthy if the team is going to contend for a playoff spot. As for the draft, I always viewed WR as the biggest need. And I think the team got the best receiver in the draft in Corey Davis. He can help change the look of the offense. While I really like Adams myself, I believe the top priority should have been finding Mariota a big target for years to come. Plus, the Titans have a talented young safety in Kevin Byard, and the team signed a run-stuffing safety in Johnathan Cyprien. Da'Norris Searcy also returns. So the cupboard isn't bare at the safety position. And while Awuzie was also attractive – he paid a pre-draft visit to the Titans – Jackson is extremely talented and can help in a number of areas. With Ryan, Jackson, Sims, Brice McCain and more competing at the cornerback spot, the group has a chance to be much improved. Plus, the offseason still has a ways to go. I'm sure the GM is keeping an eye on others who could add to the group.
Mike Morris from Haines City, Florida
Question: Hey Jim. I had asked a question last year and had really enjoyed your response, so I figured I'd give it another go. Being from Nashville I really miss seeing all of the Titans logos but just know that the fan base is strong here in central Florida. Hopefully this time next week we will be rooting for the Preds in the Stanley Cup. I am also counting on my Titans to make a deep playoff run this year. (Having faith that we will win it all.) With that being said I was glad to see the two guys that I wanted most come in at picks 5 and 18. My question to you is now that we have some much needed talent on both sides of the ball with not only the draft but the awesome free agency pickups as well, who do you think will make the biggest leap as a Titan this year? It can be new or returning players. Me personally, I think my dude Marcus is gonna go for 5k in pass yards and 105 passer rating with less than 10 picks and 36 TDs. P.s. please tell Mrs Amy, Jon and coach that! There is a Titan nation out here who believes in them and love the manner in which they are building this team. Sorry I was long winded. There is a Titan in all of us!
Jim: For starters, I'm with you on the Preds. Tough loss on Thursday night, so a bounce back performance is needed tonight in Anaheim. A close-out game at Bridgestone in Game 6 would be great. As far as biggest leap goes, that's a good question. And I'm not going to include the rookies like Davis and Jackson, who could make a big early impact. And to me, Mariota is established at this point, and is just going to keep getting better. I'm going to say Kevin Byard. He was known for being a playmaker in college, and he didn't get a pick last year. I have a feeling that's going to change in a big way this fall.
Dylan Edward from Houston, Mississippi
Question: Hey Jim. I was taking a look at the schedule, and I'm really liking it. Hard games, but a lot of potential for a playoff game. I have 2 questions:
1) What do you feel will be the most important game of the year?
2) Why is nobody really talking about the Titans-Raiders game week 1? That seems to be the most important game of the year, with 2 of the top young QB's play in each other, both of whom are coming off basically the same injury on the same day. Thanks, Jim.
Jim: *Hey Dylan. The most important game to me is the first one, against the Raiders. A win would help set the season in motion. But they're all important really. Win that one, and then give one back the next week at Jacksonville, and it's 1-1. Games against the AFC South are key, and everyone is on the same page in the building here. The team needs to find a way to have more success against the Colts, Texans and Jaguars to get over the hump.  *
Ryan Stowe from Bradenton, Florida
Question: Hiya Jim! I am, of course, a HUGE Titans fan! Each of the past two years, it seem as though Marcus is challenged by the media or analysts about what he needs to improve on going into the next year. His first year it was how he would do under center and then this past year it was his deep ball and each time he overcame those challenges with flying colors! My question is what would you say his most significant challenge is going into his 3rd year? (aside from perhaps staying healthy) What does he need to do to do his part in bringing the Titans to the playoffs in 2017-2018!? Thanks in advance and as always, TITANUP!!
Jim: Well, staying healthy is obviously No.1, as you said. Marcus just needs to continue what he did last year. He has answered every challenge, especially with the deep ball. He's been great in the red zone. With new weapons – especially Corey Davis – the offense should be better. Marcus has said many times he wants to do a better job of cutting down on the turnovers, especially the fumbles. So I'm sure that will be a big point of emphasis heading into the year as well.
Michael Bailey from Greensboro, North Carolina
Question: Jim, thanks for continuously informing us as things are progressing. I wanted to say I completely agree with Marilyn Welding (previous commentator) in wanting a fight song. All I keep hearing is that this year's draft will probably set a precedence as it fostered team/city pride. All I could do was imagine us hosting one here in Nashville, Tennessee and us singing Titans songs and booing like crazy when Indianapolis, Houston, and Jacksonville gets up there to do their picks and just showing strong Titans Pride!!!
Jim: Appreciate the email. The city would definitely embrace the draft, I have no doubt about that. And a fight song that sticks would be fun. Love the old-school ones from the Miami Dolphins, Houston Oilers and San Diego Chargers days myself. Get one of those stuck in your head and it's with you all day!
Joey Safford from Hendersonville, Tennessee
Question: Would the Titans want to bring back a guy who had success in Tennessee like Alterraun Verner? Seems like it couldn't hurt to give him a shot and possibly get a good depth CB if he has something left in him.
Jim: Hey Joey. Always been a big fan of Vern. Great guy, and played well here. But not really expecting it to happen. Could some other corners be added at some point down the road? I do think that's a good possibility.
Aaron Quarles from Cape Coral, Florida
Question: Hey Jim. Why are we playing the Dolphins in Miami this year? Since we played them in Miami last year shouldn't we play them in Tennessee this year?
Jim: Hey Aaron. It's not a home-and-away situation we're talking about here. With the NFL's scheduling formula, the No.2 team in the AFC East was scheduled to host the No.2 team in the AFC South in 2017. That's how they got matched up again this year in South Florida, which isn't a bad place to visit :) …
Devon Chester from Memphis, Tennessee
Question: Hey Jim. I would like to start off by saying how much I like reading your columns every Saturday. My question for you is if the Titans release Harry Douglas before the season starts and if he is a free agent would you mind Jon Robinson signing Eric Decker. What do you think he would bring to the wide receivers? Thanks Jim and Titan Up!
Jim: Hey Devon. I appreciate it. I enjoy doing these mailbags because fans seem to like them. I appreciate the feedback. Douglas will have every chance to stick, and he's a great leader for the young guys. Decker is still under contract with the Jets, just so you'll know. The addition of Davis and Taywan Taylor should make the Titans receivers a pretty good group. Rishard Matthews should benefit from the other weapons, and Tajae Sharpe will be better with a year under his belt.
Tom V from Lynchburg, Virginia
Question: Hello Jim. First of all, thanks for all your great coverage and for the time you spend responding to fans. I've been a Titans fan ever since I began following football, which wasn't until I was out of college. I didn't grow up with it but grew to love it as an adult and got hooked on the Titans pretty quick. But, as a Titans fan, there are two pretty big things I have never had the opportunity to do. I've never been to a professional football game and I've never been to Nashville. Well, this year may be the year that all changes. Since I've never done either, I was wondering if maybe you could help me out with a couple unknowns. I know single game tickets don't go on sale for another month or so. When they do, do I need to purchase a ticket basically as soon as they are available? Do seats sell out pretty quick (I'm kind of eyeing-eying?-that Monday night game when we finally break that awful streak with the Colts)? Also, is there some sort of parking pass I need to purchase in advance and, if so, how does that work? Depending on finances and time off, my wife and I will try to come and spend a full weekend so we can experience Nashville for all the other things it has to offer. Any particular places you think we should definitely try to see? Any "can't miss" restaurants? I'm a big Johnny Cash fan so we've already put that museum on the list. Again, thanks for all you do. Hopefully I'll be there cheering with you when we beat the Colts on Oct. 16th! Peace and endurance to you, brother.
Jim: Hey Tom. First off, I appreciate the kind words. Single-game tickets go on sale Tuesday, so be ready to jump on that. Some of the games will go quickly. The Monday night game should be a blast, so you should do it. The parking passes are sold to season-ticket holders for all 10 games (counting preseason), but if you can swing staying downtown during your weekend getaway you could walk to the stadium. You should hit the Country Music Hall of Fame when you're in town. Head to the Grand Ole Opry. Last year, that weekend was the first of the NHL season, so maybe the Predators will be in town? Like a lot of the happening cities, we have the hop-on, hop-off buses/trolleys, and that would allow you to see a ton of interesting places. Acme Feed & Seed and The Southern are a couple of cool restaurants, but the city is loaded. You should make a long weekend of it. Nashville is a great city, and downtown is hopping on the weekends especially. Keep me posted.
Kenny Gore from Horse Cave, Kentucky
Question: Hello Again Jim. I LOVE the additions we made during the draft. MM8 certainly now has weapons on offense. I am with JRob, as I had Corey Davis as the top WR in this draft. In my opinion it wasn't even close. Davis is the dynamic play-making WR1 this team has been lacking for years. My question & concerns centers around the defense. We added a lot of pieces in FA to help remain great in run defense IMO.
However, I am VERY concerned about the lack of depth in our secondary. I believe we have to look at Adoree Jackson as a day 1 starter in the secondary. I think with the lack of depth we have there he will have to start opposite Logan Ryan on the outside...... Sims looked OK, not great, but OK; last year in very limited action. I REALLY hope we did not draft him #18 overall to play NB; and Mularkey recently said he would start on the outside in his post draft press conference.
SO....... Do you see Sims moving to NB, or McCain staying at that spot. I know that last year seeing McCain & Blake play on the outside was BAD.....VERY BAD. Going into the draft I saw CB as our biggest need by far. WR was a close 2nd IMO. However, I feel Robinson played the draft very well. WR was not nearly as deep in talent as CB was; going WR 1st was the right call IMO.
My Biggest question: Do you think we did enough to sure up the secondary in the draft? And how do you feel the starting line up at CB will look week 1??? I see Cyprien being a good run defense S, but not very good in coverage. However, his addition frees up Byard to play more of a roaming FS; and go for the ball more. TEs torched us last year. Even average TEs had career days against us. I hope the late round ILB we drafted helps some.....I really pray we have the secondary help that we desperately needed last year.
With the offensive weapons we added; the offense looks to be stronger than ever.......IF we PASS the ball a bit more. I know this is a run 1st offense, but why spend so many resources on WRs if their primary job is blocking??
Jim: Hey Kenny. Good to hear from you again. A lot TBD with Sims, and a lot of guys in the secondary. Jackson worked in the slot and on the outside in rookie camp, and Ryan can play either. McCain has proven he can play inside, too, so a lot of moving parts. I think the secondary has a chance to be much improved, and it's still early in the offseason. Other avenues remain available. As far as the receivers, the team added playmakers with Davis and Taylor. Yes, they'll be counted on to block some of the time. But they were brought to town to catch passes, and score touchdowns.
Charlie Hekma from Wheaton, Illinois
Question: Hi Jim. Can you give us any update on the Titans updated uniforms for the 2018 season? I just saw the Detroit Lion's new uniform update and was very impressed. I believe, as many do, the Titan's uniform/logo could definitely use a similar refinement, and was just curious to get any hints. P.S Glad to have Wheaton's own Corey Davis join the roster! Thanks, Charlie
Jim: Hey Charlie. No updates on uniforms yet. Still a work in progress. And yes, Davis should represent Wheaton well.
Chris Roth from Mainz, Germany
Question: Hey Jim. First time I'm sending in a message/question.
First of all thanks for your great work. Always fun reading your take on things. My brother and I are huge Titans fans for many many years now, so maybe you're happy to know that the team has fans overseas as well :) My question is about the WR position. We'll be smarter after the draft I guess, but I was wondering if Michael Floyd former Cardinal/Patriot could be an option, or do you think they wouldn't want to sign him? Personally I think he's a great player, who could help keeping Mariota's Red Zone stats as great as they are, because he's a big physical target. What do you think? Best wishes, Chris.
Jim: Hey Chris. Thanks for question. You've probably seen this by now, but Floyd signed with the Vikings. I personally think the receivers on the roster will be given a chance to prove themselves, and earn starting spots/roster spots, before anyone else from the outside is added that could take away practice reps. With Robinson, I know he's always keeping an eye on the waiver wire and the personnel folks are scouting free agents/potential free agents. But right now I could see other positions addressed before the receiver position as the offseason rolls on.
Jeremiah Wyatt from Shrub Oak, New York
Question:Hello this is Jeremiah Wyatt probably one of your biggest fans! I can't say I'm the biggest fan because there is some crazy people out there, you know what I mean. Like that guy who got the tattoos of players. Well anyway I really want to if it is possible to meet any of the players on the Titans for the lowest price. I always dreamed about me on the sidelines with the Titans at a game and well just being there. But I don't think that will happen but it has always been my dream to talk to some of the players and stuff. But I just want to know if there is any chance that a kid like me would be able to see/meet/talk to any of the players and how to do it if I could. Thank you and Titan Up!!!
PS. Tell the team that Jeremiah Wyatt knows they can win any game and any championship if they really want it because I've seen the Titans play well and I know they are the best team in the NFL and I know that they can do it.
Jim: Hey Jeremiah. Are we related? Seriously, I don't think I have any relatives in Shrub Oak. Well, I like your enthusiasm. Looking at the schedule, your best bet to see the team might be on August 12, when the Titans play at the Jets in the preseason. That's not a bad drive, huh? Try and get there early and sneak down to the first row or two by the tunnel the team comes out of in pregame. You could at least get some good pictures, and maybe get lucky enough to get an autograph or high five. In Nashville, obviously more opportunities are available during the year, like on Titans Caravan stops, during training camp and home games, of course. Those sideline passes are tough to come by, though. Thanks for the email, and good luck.
Have a great weekend everyone!