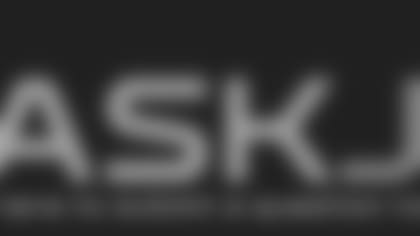 ](http://www.titansonline.com/news/ask-jim.html)
Taking a break from March Madness – along with free agency and pro days – to dive back into the mailbag.
Thanks for sending questions.
Sending back some answers, here …
---
Darin Finkelstein from Chatham, New Jersey
Question: Hey Jim....Eagerly awaiting for a post free agency mailbag.... Unlike the majority of fans I am happy with the Titans start to the new year. I am sure the Titans will find some more free agency value prior to the start of the season but that is an unknown at this time...Barring any trades in the draft would you be surprised if the Titans went offense with the first 2 selections (WR and TE) and spend the balance on defense (cornerback, safety, inside linebacker and an edge rusher)?...I could see them grabbing a guard for depth along the way...A lot depends on who is available but the offense could be incredible with these 2 weapons.  If the draft is loaded with defense-this could be the way to go...Looking forward to your thoughts.
Also: (1) How is Marcus doing with the walking boot?  Any setbacks or is everything on course?
(2) Waiting for the schedule to come out and going to tie a college trip to Vandy with a Titans game.  Any recommendation on a great casual and great upscale restaurant in Nashville. Thanks, Darin.
Jim: *Hey Darin. Titans general manager Jon Robinson has said everything is still in play for the draft. The Titans have gone heavy on defense in free agency, but that doesn't mean they won't pick a defensive player in the first round, even with the first pick. It just depends on who is there – and where the Titans are picking. The GM has made no secret about the possibility of a trade. Offensive weapons are definitely needed, though, so that's in play, too. *
As for Mariota, he's improving. He's now getting around in a walking boot, and is making progress. A Vandy-Titans trip would be great. Alabama is coming to Nashville on September 23, so it would be cool if you could be in town to see Vandy take down the Crimson Tide before a Titans win. Talk about hitting the daily double! As for restaurants, Acme is a great casual spot downtown, and The Southern is really good not too far away. Hope the schedule works out.
---
Jay Anthony from Kingston, Tennessee
Question: Hi Jim. The draft is my favorite sporting event of the year! It's a combination of my 2 favorite things, the NFL and college football!
I have a question about how the draft works behind the scenes. I noticed last year during the draft that there were a couple of picks in before they were announced at the podium. I took from that, that there has to be a way the teams find out what the picks are before they're announced. What exactly do the teams use to announce their picks to the rest of the league?
Also, are you ever in the Titans war room on draft day? If so, I would love to hear what goes on once the Titans go on the clock? Do they know right away who the pick will be or do they discuss between 2 or 3 guys before deciding who to take. Thanks Jim!
Jim: Hey Jay. At the draft, teams have representatives there to take a call from Nashville, where they'll be informed of the pick. Then the Titans rep at the draft will turn the card in before it is announced on TV. There is sometimes a backlog. Teams know the picks early, before they're on TV. I was at the draft in Chicago last year, and I anticipate being in Philadelphia next month. As far as me being in the war room, I've never been in there on draft day, but I've heard some pretty good stories over the years…
---
Jason L. from Murfreesboro, Tennessee
Question: Hi Jim. I can't remember the last time the Titans has a game on Sunday Night Football. I think it was 2014 when we last had a Monday Night Football game. My question is, since the Titans had a big turnaround last year and have an emerging start at quarterback, do you think there's a chance for more than 1 primetime game this year? I would love to see the Titans on Sunday Night again, as opposed to the lone Thursday night game.
Jim: Hey Jason. It's been a while, and I think that will change. With an improved team, and some emerging stars, the Titans will be more attractive for television. I'm expecting several prime time games myself, but we won't get word until next month.
---
Mark Lambeth from Spring City
Question: Hi Jim. I wanted to ask do you think our Titans would be interested in taking Vol Derek Barnett in the draft?
Jim: Hey Mark. Yes, I think some folks will be interested. He's a game-wrecker. Will it happen? Well, with some other needs, and the possibility of someone else snagging him first, it might be tough. The guy is definitely an impact player, though. I think he's going to be a great pro.
---
Dennis Lord from Franklin, Tennessee
Question:  Late last season I watched the Raiders play, and Andre Holmes put on an incredible display. I can't remember which game, specifically. But, he carried the team.  I looked him up and he only had a one year deal with the Raiders last year. I'm just wondering if he's a guy the Titans should look at at wide receiver. Not sure about his speed, but he sure is a great receiver. Is he available? Why wouldn't Titans look at him to fill out their corps? Thanks, Jim.
Jim: Hey Dennis. He's a good player, no doubt. As of Friday, Holmes was getting some attention from teams around the league. He'll reportedly visit the Bills, and it sounds like they could sign him. Heck, a report earlier in the week made it sound like they'd already signed him, but sounds like that was premature. I do think the Titans will add to their receiving corps in the coming months, in the draft and possibly by exploring other options.
---
Jimmy E from Nashville, Tennessee
Question: Hey Jim, I know you get a lot of these so I'll make mine short and sweet. I've been hearing and seeing all the big names for us to draft in multiple mock drafts, but I've been paying attention to Anthony Walker, Jr for ILB and Xavier Woods for SS for us. They both have the physical and athleticism attributes Jon likes. What are your thoughts?
Jim: Hey Jimmy. From what I have seen of Walker, I've been impressed. I'll pay him a nice compliment, even though his school (Northwestern) broke the hearts of my Commodores on Thursday in the tourney. As for Woods, sounds like he's a late-round pick, but a nice prospect. Both are at positions of need, so I'm sure they're being evaluated.
---
Chuck Howard from Greenbrier, Tennessee
Question: I've seen many attempts to put a name to our running back combination. Considering that this is music city and their both big running backs why not call them the "Bruise Brothers" as a takeoff on the movie. Just a thought!
Jim: Well, Chuck, I think I've heard that one suggested, but I'll leave your question/comment in here to keep the conversation going. Nothing has stuck yet.
---
Trey Thompson from Waco, Texas
Question: With Kevin Byard on the verge to becoming an elite safety, do you agree with the "Jamal Adams" pick or would you go a different route? The draft is loaded with talent at the defensive backs position so me personally would not go safety round 1, but I guess it does not hurt to have depth, star potential depth at that.
Jim: Hey Trey. Kevin is an emerging star. I will say Jamal Adams is a different player than Byard, and he'd be asked to play a different role. The bigger question is whether the addition of former Jaguars safety Johnathan Cyprien might impact Adams, or Malik Hooker, and the need for more at the safety position  in the draft. Robinson has said he's ruling nothing out. I know Adams is a heck of a player, and if the GM loves him, he'd have to be in play.
---
Douglas B Vaughn from Memphis Tennessee
Question: Jim. I totally understand Brian Schwenke moving on. It was widely predicted he could get 'starter money' somewhere else. But we now have only one center on the roster. Is Byron Bell capable of backup center? Otherwise are there any UFA's available that can fill the backup center role?
Jim: Hey Douglas. Bell currently isn't under contract, and I can't see him being an option at center. I think depth could be added via free agency, the draft, or possibly with a waiver claim like Josh Kline last year. The answer here will come in time.
---
Drayden Rupe from Layton, Utah
Question: Jim. Long-time Titans fan here from Utah. I went to the same High School as the Dyson brothers years after they did I recall watching tons of tape and hearing many stories about them. With that I have a cool story the 1st Titans game I went to Andre had hurt his shoulder walking to his car with ice on his shoulder after the game not signing autographs, luckily I had my Falcon issued football T-shirt threw it over the fence waving it at him he noticed it came over signed it and a couple other fans things and left. Great memory, I also have an aunt that lives in Mt Juliet, Tennessee. So Titan blue has always been my team color. Now to my question(s) with free agency underway and us trading for db's do you think we will now be taking a receiver in the draft? Also do you think we will resign Marc Mariani? I know we signed Weems, but I feel having two great returners would greatly help our team and I dont wanna see him leave the Titans again as he is a class act. Thanks for your time and I've been telling people the Titans are going to win a Super Bowl in the next 4 years! #TitanUp!
Jim: Hey Drayden. Cool story. For starters, yes, I think the team will add a receiver – possibly two – in the draft. The question is, "How early will they address the positon? As for Mariani, the addition of Eric Weems isn't a good sign for his return. Marc is definitely a class act, and he always has been, but a second returner is a luxury that's tough to afford. Yes, they'll have other guys capable on the roster, but they're going to have to be able to help in other areas. And, by the way, I like the optimism!
---
Bill Ramirez from Knoxville, Tennessee
Question: Mr. Wyatt, may I ask you to pass this question on to Ms. Strunk:
As a Titans fan, for what am I rooting?  Players come and go every year, and turn over completely every 7 to 10 years; coaches come and go every year, and turn over completely every 3 to 5 years; teams move now and again; even ownership sometimes changes hands. So, what exactly am I rooting for?  Thanks in advance for your forthright answer.
Jim: *Well Bill, in a lot of ways, that's the sports world we live in. It applies to the NFL, MLB, NBA and NHL. There's change, for one reason or another. But if you're a Titans fan, you're rooting for the team, and your favorite players. You're rooting for the region, and the tradition. You're rooting for an organization that cares about its fans, and is committed to rewarding them with a winner. And you're rooting because of loyalty. I've cheered for the same sports teams since I was a little kid. Since I can remember, I've always loved Vandy (my hometown team), the Los Angeles Dodgers (from the days of Garvey, Lopes, Russell and Cey in the infield), and the Boston Celtics (dating back to the days of Havlicek, Cowens, White and Cornbread Maxwell). I admit, I was a Buffalo Bills fans growing up (starting in 1970s because of an electrifying running back), but that was long before the Titans moved to town, and before I started working for the team. I still have a soft spot in my heart for the Bills, I admit, in part because of the heartache of the early 1990s. What about hockey, you ask? Well, I didn't have a hockey team until the Predators hit the ice. But I've always thought when my team wins it all, it will mean so much more because of my lifelong commitment, and rooting through the good and bad. As a fan, the heartache has always made me dig in more. When the Dodgers won it all in 1988, I was thrilled. (Yes, it's worn off a bit and I'm still waiting for another title). You don't want to be one of those fans who bounces from team to team every few years. Stick with the team through thick and thin, and the reward will mean more. Amy Adams Strunk has proven in her two years calling shots she means business, and she wants to win. Things are on the upswing, there's no doubt about it. And I can tell you the plan is to keep the best players as long as possible, and to keep continuity in the front office and coaching staff. Winning helps make that happen, something the Patriots have proven. And their fans have had plenty to root for along the way. Thanks for the question, Bill, and stay strong.  *
Have a great weekend everyone, and good luck with your brackets. I'm 29-3 so far!