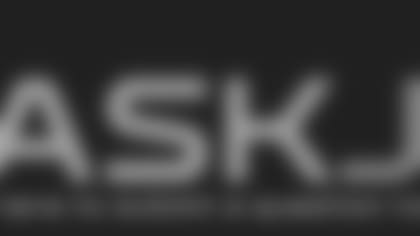 ](http://www.titansonline.com/news/ask-jim.html)
The offseason is two weeks old, and the draft questions are already flooding in.
I'll do my best to answer them here, but remember it's early, and the deadline for underclassmen to declare is January 16.
And, keep in mind, the decisions are made above my pay grade. :)
But let's have some fun with this…
Alex Whalen from Seattle, WA
Question: Hi Jim, as a Titans fan living in Seattle I really would love to see us draft John Ross from UW. I think he is an amazing receiver at a position we really need. What do you think are the chances of that happening? Also, do you know enough about him to give your own opinion? Thanks for the great job you do each week. #TITANUP
Jim: Hey Alex. I've seen Ross play. I know he can fly, and from what I've read, it sounds like he's going to forego his senior season and be eligible for the draft. And yes, it's at a position of need for the Titans. But there are several intriguing options in all shapes and sizes. Do the Titans need a burner, or a big and physical receiver more? Well, they could probably use both. But that doesn't mean they have to come in the draft either. Free agency comes first. Appreciate the question.
---
Tom Montesion from Livingston NJ
Question: Hey Jim. Happy New Year to you and yours. Thank you for the job you have done and continue to do keeping us fans on top of all things Titans. I know the bulk of questions sent in to you will now be about the draft, trades, picks etc. So, I'll stray from that usual path with two questions. First, watching on TV, it seemed that during the last few home games, based on camera pans of crowd and moreover, the cheering, our fans started to at least equal if not outnumber the visitors for a change. Was that actually the case, and if so, do you think this years ending record will finally keep us from being the visitors in our own stadium again in future seasons? Second, if you recall in my previous questions to you, I usually asked you to talk to Amy about our uniforms. lol.  Sooooooo what's your take/thoughts/scoop on the 2018 uniform "tweaks"? Thanks, as always, from us NJ fans.
Jim: Hey Tom. There's no doubt the dynamics at Nissan Stadium changed this fall, where the team went 5-3 and won four straight games to close out the season. Of course teams like the Packers and Broncos had a bunch of fans there since they don't play in town often. But they were quiet as they headed to the exits, and the more the Titans win, the better the crowd support will be. The team needs to keep winning. As for the uniforms, it's still early in the process. You'll have to be patient! Have a good one.
---
Mario Bradford from Indianapolis, IN
Question: Hey Jim, this is actually my first time writing to you but I keep track of the articles.  I recently wrote a letter and sent it to Jon Robinson and Mike Mularkey at Titans Headquarters in attempts to show my gratitude as a Titans Fan and thank them for the direction we are heading in. They have done a wonderful job… I love it! I have been a Tennessee Titans Fan since the switch over from the Houston Oilers in 1996, through the change to the Tennessee Oilers in 1997 on into 1998. Tennessee finally received their current name as the Tennessee Titans in 1999, the exact year I graduated High School in Ooltewah Tennessee right outside of Chattanooga Tennessee and the year we went to the Super Bowl. Since then we have been irrelevant in the league after the ending career of Steve McNair and Eddie George. But the current team we have now actually gives us fans hope that we will not continue down a road of not being important in the National Football League.  The release of Perrish Cox showed how much we were willing to change for the win, and being a businessman I understand this purpose completely.  So my question to you is what would you think could be the smartest move for us in our next Draft?  Increasing Pass Protection, searching for an extremely effective Cornerback that can reduce opponent scoring and create turnovers, or drafting a confident and accurate Wide Receiver? I honestly believe we lack a deep threat… a Star Receiver, someone who can make outstanding catches in the most diverse situations no matter what.  I'd love to know your opinion. Tennessee Titan in Colt Country... Feel my pain, we gotta beat them!
Jim: Hey Mario. Appreciate the email. Sounds like you're a loyal fan. As far as the draft goes, I need to see what happens in free agency first before I say what the smartest move might be. The acquisition of DeMarco Murray, Ben Jones and Rishard Matthews last March certainly impacted things in the draft, and with money to spend, I'm sure some moves will be made in free agency this year. I will say adding playmakers at the receiver position and in the secondary are two big areas of need, and I expect them to be addressed in some fashion.
---
Mike Morris from Orlando, FL
Question: Jim. First I wanted to say thanks for taking the time to read my question. This is my first time asking a question but I always try to read your posts. Being from Nashville it was a bitter sweet season for me and my sons to watch seeing that we could have been in the post season but as a long-time fan I am proud of the turnaround that coach and the team have made. I think we have some big things ahead of us. My question is: Now that we are heading into the draft in a few months I know that the CB position is something that needs to be addressed as well as maybe picking up another strong receiver like Mathews and sharp. Who are some of the names I should keep my eye on in the combine that you think would be a good fit for the team this coming draft. Thanks, and as always Titan Up!
Jim: Hey Mike. Appreciate the question. Underclassmen must declare in the coming days, so there's still some uncertainty. But let me share with you Todd McShay's top 5 at both receiver and cornerback right now. WR: Mike Williams (Clemson), John Ross (Washington), JuJu Smith-Schuster (USC) Cory Davis (Western Michigan), Malachi Dupree (LSU). CB: Marshon Lattimore (Ohio State), Teez Tabor (Florida), Quincy Wilson (Florida), Jourdan Lewis (Michigan), Tre'Davious White (LSU).
---
Scott Slaven from Loudon, TN
Question: I really can't understand this criticism towards coach Mularkey, what he and Jon Robinson have done for this team in just one year is nothing short of a miracle. I have always believed that championship teams are the ones that can impose their will on the opponent and to me after just one year this team seems well on its way to doing just that. Rome was not built in a day and neither are consistent playoff football teams. In your opinion do you see this team concentrating more on continuing to build around Mariota and the offense or do you see it focusing more towards a defensive off season to shut down Andrew Luck and company. Side Note: I still believe defense wins championships. Thanks again for all of your work.
Jim: Hey Scott. I think it's a combination of the two. The offense made great strides, but still needs playmakers at the receiver position and a potential restocking at tight end. The defense has needs in the secondary, and you can never have enough pass rushers who get after the quarterback. With money to burn in free agency and some valuable draft picks, there's potential to make big improvements.
---
Randy Kennedy from Hermitage, Tennessee
Question: Hey Jim. For Christmas, my Wife gave me an Official NFL Titans Jersey reflecting my favorite former Blue Raider Kevin Byard. As an Original PSL Titans Lifer and MT alum, I was super ecstatic.  Unfortunately, it had his preseason #20 and not #31 on the back!  So, now that Perrish Cox has been cut, any chance Kevin retrieves #20, or should I plan on swapping in the #20 for a #31. Also, any chance Byard makes the All-Rookie Team? Thanks in advance. Randy
Jim: Hey Randy. Hope all is well. Byard couldn't make the jersey switch at the end of the year, so he didn't. Now is it a possibility moving forward? Possibly, but he hasn't addressed it yet. I think that's something that probably wouldn't happen until a few months from now, if it happens at all. He definitely had a heck of a year. I've seen him mentioned as a candidate for some all-rookie teams, too.
---
Sheldon Kahan from Nashville, TN
Question: Hi Jim. First time caller here. First of all let me say how much I appreciate the Titans on line coverage of the Titans. Keeping up to date on the Titans' goings on has been a regular part of starting my day. Your remarks are very insightful and make me feel like a part of the family. I read all the articles and please add me to Amie's fan club. Her videos are absolutely delightful. Thanks to Amy Adams Strunk for providing the environment, thanks to Mike Mularkey for motivating the team and what can be said that already hasn't been said about Jon Robinson. What he did in last year's draft and free agency borders on genius. Trading the first round pick and still winding up with his first choice for tackle and picking up Derrick Henry among others could be the steal of the year especially knowing the Rams would go for a quarterback which generally takes a year to get up to speed, making their chances for a winning season a long shot and we have their first pick. Bravo! OK, questions: Did Kevin Dodd injure his foot in training camp or did he have an issue coming in? I'm very curious to see how he does when healthy. Receiving: It seems to me that on offense most of the catches were contested while on defense the opponents generally had open receivers for short passes. Did the Titans employ a prevent defense giving up the short pass? Along those lines, why were the receiving coaches fired? Finally I'd like to suggest a moniker for our running back tandem, Murray and Henry. Ready? "Double Trouble". What do you think? Once again, thanks for all you do. It is appreciated. Go Titans! Can't wait for free agency and the draft.
Jim: Hey Sheldon. I'll pass along the compliments. I appreciate it.
Rapid fire answers coming up. Dodd suffered the injury early in the offseason, and had the procedure back in May. The Titans mixed things up on defense, and provided different looks based on the opponent, and how the games were going. Mularkey just wanted to make a change at the receiver position, and keep in mind the room could have a much different look in 2017 with some new additions. Double Trouble? Well, that's a new one…. Should be an interesting offseason.
---
Harry Maltby from Shropshire, England
Question: Hey Jim. Thanks for all the great work you and the rest of the team do keeping fans like me informed throughout the season! It's great to watch your videos and read your articles from across the pond. Now onto the question: With such a great season of improvement behind us we've obviously started to look forward to improving the team for next season, going into the draft which area do you think we'll look to improve 1st: the wide receiver position with a Mike Williams type player or the Cornerback position with a difference maker there? Thanks as always and hoping to come over soon and watch the Titans live for the 1st time. Harry
Jim: Hey Harry. Thanks for following, and for the email. That's the most popular question I've seen this offseason. Mike Williams is a physical specimen. He had a great season, and he looked great in the championship game for Clemson. He would add another dimension certainly. But help is needed in the secondary as well. Free agency could definitely impact things at both positions. Stay tuned!
---
Chris Harris from College Station, TX
Question: Hey Jim. I love the direction the team is headed!  The area I'd like to address is the o-line.  The o-line improved leaps and bounds from last year, but the guard position concerns me.  Marcus Mariota's injury resulted from the right guard maintaining his block.  This position has allowed several sacks this past year. We're sitting in the pilot's seat with the #5 and #18 pick in this year's draft.  What are you're thoughts on the guard from Notre Dame, Quenton Nelson? I think this addition will make our line a set of Hogs that intimidate defensive fronts makes Coach Grimm proud!!  Anyway Boss Man Robinson decides to go after him?
Jim: Hey Chris. I know Nelson's the top-rated guard on plenty of lists I've seen, but I need to study him more. My quick thoughts at guard: Quinton Spain and Josh Kline did a nice job. Kline was mostly solid after stepping in for Chance Warmack. Yes, he had some issues against Jacksonville but the entire offensive line was consistent. The team is set at the tackle position with Taylor Lewan and Jack Conklin, and at center with Ben Jones. So if there's going to be a shakeup somewhere it would have to come at guard. While the team drafted Sebastian Tretola a year ago, that probably wouldn't keep Robinson from going back to the well if he falls in love with a guy. But this is another area that could also be addressed in free agency as well.
Have a great weekend everyone.