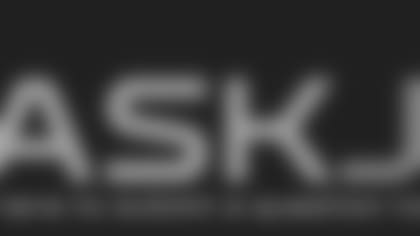 ](http://www.titansonline.com/news/ask-jim.html)
The preseason is now in the rear-view mirror.
The regular season is finally here.
Let's open some mail as we count the hours to the season opener at Tampa Bay …
Shawn Kossler from Pittsburgh, PA
Question: Will getting running back Terrance West take away from Bishop Sankey?
Jim: Hey Shawn. Right now, Sankey is the top dog in the backfield. He's going to get every opportunity to prove he deserves to be in that spot, although other backs could be given more chances depending on the opponent. West is going to be in the mix in the near future. Antonio Andrews is going to need to hold him off to make sure he doesn't lose his carries.
---
Ken Flynn from Shirley, MA
Question: With only four receivers, where does Dorial Green-Beckham fit in? If he isn't a starter in the first couple of games, when do you think he will be?
Jim: The top two receivers on the team — Kendall Wright and Harry Douglas — are proven. Justin Hunter needs to turn into a reliable option to stay on the field. Then there's Green-Beckham, who's a work in progress, but very talented. Green-Beckham is a tough guy to match up against. With his size, he's capable of lining up on the outside and beating a DB in a 1-on-1 situation. Look for the team to try and take advantage of his size and ability. Don't worry about whether he's starting right now.
---
Julie Crenshaw from Newport Beach, CA
Question: Hi Jim. My take on the Titans after the preseason games: I think it was a good test for Marcus Mariota to have faced 2 really good NFL defenses. I think the offense is going to make strides this year and be a lot better than last year. My concern is the defense. Do you think once all the starters are in and Dick LeBeau really gets it going the defense will improve?
Jim: Hey Julie. Well, we'll start to find out this weekend. I think the defense will be much improved. Outside linebacker Brian Orakpo is a difference maker, and counting linebacker Zach Brown (he played just four snaps last season) the team will have four new players on the field this fall. Those two players join cornerback Perrish Cox and safety Da'Norris Searcy. Throw LeBeau in the mix and you're talking about a different mindset, and approach. The defense should be better.
---
Jackson Carter from Kempner, TX
Question: Bishop Sankey was awesome in the Pac-12, and has occasionally performed well since coming to the Titans. Is it unreasonable to think he may have an outstanding 2015 season?
Jim: Hey Jackson. The Titans loved Sankey coming out in the draft, that's why the team made him the first running back picked — ahead of backs Jeremy Hill, Carlos Hyde, Tre Mason and others. Sankey had an underwhelming rookie season, for a couple of reasons. He missed most the offseason because of school, and he was playing catch-up when he got back. The Titans fell behind in too many games last year, and had to abandon the run. And, he just wasn't great running behind an offensive line that shuffled players in and out. I liked what I saw from Sankey in the preseason, especially in the preseason game against the Rams. The bet here is he'll be better.
---
Nate W. from Clarksville, TN
Question: I know this might be a stupid question, but with all the talk with moving a team to LA, do Titan fans have anything to worry about? I know the lease with the city has 13 years left on it. Do you see this team staying in Nashville for a long, long time?
Jim: Hey Nate. I wouldn't sweat this one. You're right — the team has a lease. And by the time it runs out, there's no telling how many teams will be in L.A.
---
Ben Scheuring from Honolulu, Hi
Question: Hey Jim, I'm a big Titans Fan from Hawaii since back in 2000 and have seen Marcus grow up from his high school days at St. Louis to his preseason games with us now. I have been reading how a bunch of writers have the Titans and Marcus as the worst team in the league and have them picking in the top three again next year. For someone who has been surrounded by the team this offseason, what are your predictions for our win-loss record this year? 4-12? 6-10? 8-8? What's your worst and best case scenario?
Jim: Hey Ben. Now that I'm working for the team, I can't make W-L predictions any more. I hope you understand. I'll say this: back in June, when I worked at The Tennessean, I had the Titans pegged as a 7-9 team in 2015. I've seen a lot of encouraging things since, especially the way Mariota has played. The Titans have a lot of winnable games on the schedule. The key will be whether the team can pull out the close games.
---
Ryan Aguilar from Santa Cruz, CA
Question: I noticed the Titans have no Monday Night Game. Why not? Previously thought every team got one a year.
Jim: Every team gets at least one primetime game – the Titans play the Jaguars on NFL Network's Thursday Night Football on November 19.
---
Peter Palmer from Orlando, FL
Question: I've been a fan since 1978 and will be 'til I die. Why did we draft Marcus Mariota and not trade the pick and look to build O-Line? As far as I'm concerned Zach Mettenberger is a better QB; he just needs the protection. I'm still not sold and Mariota.
Jim: Hey Peter. First off, here's to a long and prosperous life. As for Mariota, I think you're in the minority here. I hear you on your love for Mettenberger, but the rookie's looked good so far. As for why the team didn't take an offensive lineman, no one was worthy with the second overall pick, and it just wasn't a great year for offensive linemen at the top of the draft. The first offensive lineman taken in this year's draft was guard Ereck Flowers, by the Giants at No.9. I can only imagine how Titans fans would've reacted if the team picked an o-lineman in the first round.
RECOMMENDED: