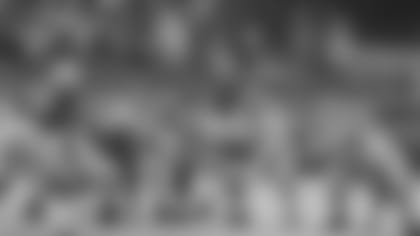 FOXBOROUGH, Mass. --** This was the history-making Tom Brady everyone remembers.
And those were the hapless Tennessee Titans fans are beginning to expect.
Brady threw six touchdown passes -- five in one quarter, an NFL mark -- and the Patriots sent the Titans plummeting to a new low in their winless season with a 59-0 win on a snowy Sunday.
Brady threw those five passes in the second quarter and the Patriots built the biggest halftime lead in league history, 45-0. The six touchdown throws tied Brady's own Patriots record. And the 59-point margin matched the largest since the NFL-AFL merger in 1970, the Los Angeles Rams' 59-0 win over the Atlanta Falcons in 1976.
"Every week we're learning something more about ourselves and what we can do," Brady said. "There's no doubt a game like this can give you a lot of confidence."
The Patriots (4-2) gained a club-record 619 yards, with Brady completing 29 of 34 passes for 380 yards and matching the number of scoring passes he totaled in his first five games. In 2007, he set an NFL record with 50 touchdown passes and was the league's MVP.
Sunday's performance was, by far, his best of an inconsistent comeback year after a knee injury ended his 2008 season in the opener.
"Back to his old self," said Wes Welker, who caught 10 passes for a career-high 150 yards and two touchdowns.
It was the worst game in what has become an increasingly terrible season for the Titans (0-6), who have lost their last three by 20, 22 and 59 points after posting the NFL's best record, 13-3, last year.
They took their worst loss since they began play in 1960 as the Houston Oilers, eclipsing the 61-7 setback to Cincinnati in 1989. They won their first 10 games last season.
"I don't think anybody in this league is 59 points better than us," tight end Bo Scaife said. "This is the worst it gets."
The white-and-powder-blue throwback uniforms the Titans wore to mark the 50th anniversary of the founding of the AFL may have been the only resemblance to that team that won that league's inaugural championship.
"I'm disappointed and embarrassed," Tennessee coach Jeff Fisher said. "Fortunately for me, career-wise, I have never been through anything like this before and, unfortunately, it happened tonight. I can assure you one thing, it's not going to happen again."
The Titans couldn't even stop New England when Brian Hoyer, a free agent rookie from Michigan State, took over for Brady on the second series of the third quarter with the score 52-0. He completed 9 of 11 passes for 52 yards in his pro debut and scored on a 1-yard run on his first series.
By that time, the wide empty spaces in the snow-covered stands matched the huge gaps in the Titans' defense that played without injured starting cornerbacks Cortland Finnegan and Nick Harper. Rookies started in their spots.
"You never go into a game thinking it's going to be like this," Patriots coach Bill Belichick said. "It's just our day today."
Their longest play this season had covered 36 yards, but they led 10-0 after one quarter on a 45-yard run by Laurence Maroney and a 33-yard field goal by Stephen Gostkowski.
Then came Brady's historic second quarter: touchdown passes to Randy Moss of 40 and 28 yards, to Kevin Faulk of 38 yards, and to Welker of 30 and 5 yards.
"I saw frustration, but not a lack of effort," Fisher said.
Titans defensive end Kyle Vanden Bosch said the footing as the snow fell throughout the game but left just a light coating on the field was "no good." Brady disagreed: "We had good footing and it was fun to be a part of it."
Brady came back for the first series of the third quarter and threw a 9-yard scoring pass to Moss. Then Hoyer took over and scored on a 12-play, 61-yard drive that lasted 7:42.
"I know the score got out of hand," Belichick said, "but we were just trying to run our offense."
The Patriots missed the largest margin of victory since the NFL began in 1920. The Rochester Jeffersons won 66-0 over Fort Porter, a non-league opponent, in the second week that season.
Now the Titans have a bye week to regroup. The Patriots play next Sunday in London against another winless team, the Tampa Bay Buccaneers.
In one 17-play stretch in the second quarter, the Titans gave up three scoring passes, lost two fumbles and an interception and even had a roughing-the-passer penalty on one of those touchdowns. One positive note: Kerry Collins threw his only completion of the first half in that miserable span.
He completed only 2 of 12 passes for minus-7 yards. Vince Young replaced him after Hoyer's touchdown and threw an interception, one of five Tennessee turnovers, on his first play. His only other pass was an incompletion.
To make the collapse a complete team effort, Reggie Hodges shanked a 21-yard punt late in the second quarter.
Tennessee's defense was so bad that New England didn't punt until 4:13 remained in the game.
A rare bright spot for Tennessee was Chris Johnson, who entered as the NFL's third leading rusher. He ran for 128 of the Titans' total of 186 overall.
But that was overshadowed by all the misfires, mistakes and missed assignments.
"I've been playing sports since I was 8," Titans linebacker Keith Bulluck said, "and never have I experienced something like that."
Game notesPatriots RB Sammy Morris didn't return after hurting his left knee on the Patriots' third offensive play. The team provided no update on his condition. ... Collins had a 4.9 quarterback rating, worse than his 7.1 in the 2001 Super Bowl when the Baltimore Ravens beat his New York Giants 34-7.