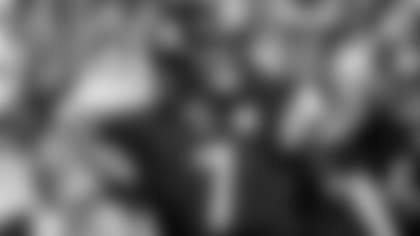 Steelers QB Ben Roethlisberger tied his career high with five touchdown passes in sunday's victory against the Titans.
PITTSBURGH -- Ben Roethlisberger has a pretty good explanation for how a guy with one good foot can throw for five touchdowns as he did in Pittsburgh's 38-17 thumping of Tennessee on Sunday.
"I told ya, I was just faking it," Roethlisberger said. "I'm a wimp."
Limping slightly on his sprained left foot, Roethlisberger put together the kind of sublime effort that's become one of his trademarks. The more he's banged up, the better he seems to play.
"He's done it before," said wide receiver Hines Ward, who caught two of Roethlisberger's scoring tosses. "We're used to it."
Even if they're not used to the way Roethlisberger matched his own franchise mark for touchdowns in a game, one he shares with Mark Malone and Terry Bradshaw.
Playing behind a patchwork offensive line that included good friend Max Starks -- signed on Wednesday -- Roethlisberger worked efficiently, getting rid of the ball quickly to keep Tennessee's defense at bay.
It's a major style change for a player who has built a career by holding onto the ball until the last millisecond while looking to make a big play, sometimes taking a beating in the process.
The Titans (3-2) never really got close Sunday.
Roethlisberger was sacked once and rarely touched while completing 24 of 34 passes for 228 yards. His only hiccup came on an interception that snuffed out a potential scoring drive late in the first half.
"He's an A-player," Pittsburgh coach Mike Tomlin said. "He's got to play (that way) in order for us to do well."
A month into the season, the Steelers (3-2) finally looked like the team that rolled to the AFC championship a year ago. The defense, missing starters James Harrison, Casey Hampton and Aaron Smith, held Tennessee running back Chris Johnson to 51 yards on 14 carries and sacked quarterback Matt Hasselbeck three times.
It's the kind of performance Tomlin was looking for after watching his team get rolled in Houston a week ago. The Steelers practiced twice in pads for the first -- and only -- time this season and the increased workload appeared to have a carry-over effect.
"I think it sent a message that we need to play more physical," said linebacker LaMarr Woodley, who had an interception and 1½ sacks. "We went out there and we brought it."
The Titans came in as one of the early surprises behind the play of Hasselbeck and the understated approach of new coach Mike Munchak. A road victory against a perennial playoff team would serve as validation their hot start was no fluke.
Yet they never really got going. Hasselbeck threw for 262 mostly inconsequential yards and the NFL's stingiest scoring defense couldn't contain Roethlisberger or reserve running backs Jonathan Dwyer and Isaac Redman. The duo combined to run for 156 yards in place of Rashard Mendenhall, who dressed but did not play because of a hamstring injury.
"They kicked our butts and we kicked our butts," Tennessee defensive lineman David Ball said.
The Titans committed nine penalties for 70 yards and couldn't get the Steelers off the field on third down, particularly in the first half. Pittsburgh converted four of six third-downs in the opening 30 minutes, and even when punter Daniel Sepulveda came out onto the field, the Steelers still moved the ball.
Sepulveda hit Ryan Mundy for a 33-yard gain on a fake punt that helped the Steelers build a 21-3 halftime as Pittsburgh scored more points by the break than the Titans had allowed in a game all season.
"I think they just made it hard for us today," Munchak said. "I wouldn't necessarily say we were flat, but we didn't play well. You can't do that against a good team."
And the Steelers, despite their sluggish start, still consider themselves among the best in the league even as their quarterback spent the first four weeks of the season under siege.
Roethlisberger sprained his foot in the second half against Houston, sat out one day of practice then took the field Sunday with a plated cleat to protect the foot from further harm. He promised not to change the way he played, but he did keep the gunslinging to a minimum as the Steelers used a more West Coast-style attack against the Titans with Roethlisberger taking a lot of three-step drops and letting his receivers do the work.
They were only too happy to oblige.
Ward caught a season-high seven passes, Wallace added six catches for 82 yards and a score, Heath Miller caught three for 46 yards and tight end David Johnson added a 1-yard scoring grab.
The Steelers scored the first three times they had the ball, forcing the Titans to abandon the running game. Johnson admitted having hamstring issues in the second half and didn't play in the fourth quarter, but Tennessee's bigger problem was playing against a defense that showed fire against a quality opponent for the first time this season.
"We just didn't make plays that we've got to make," Hasselbeck said. "We had opportunities."
The best came in the third quarter after a 1-yard run by Johnson brought Tennessee within 28-10. The Titans recovered the onside kick and got the ball at the Pittsburgh 45.
The momentum lasted all of one play.
Pittsburgh's Brett Keisel tipped a Hasselbeck pass and Woodley ran it down to collect just the second Steelers' turnover of the season.
The ensuing drive ended with a Shaun Suisham field goal to put the Steelers up 31-10 early in the fourth quarter and that was it, though Roethlisberger put an exclamation point on the victory by hitting Wallace for a 40-yard score with 2:39 to play to cap the second five-touchdown day of his career.
Game notes
Roethlisberger now has 152 career touchdown passes, second-most in team history behind Bradshaw's 212. ... Miller's touchdown grab was the 30th of his career, making him the eighth Steeler to reach the 30-touchdown plateau. ... Chris Johnson has struggled during his career against the Steelers. He now has 211 yards in four games, an average of 52.8 yards. His career average per game is 94.1. ... The Steelers have won three straight in the series. ... Pittsburgh tackle Marcus Gilbert left the game with a left shoulder injury. ... The Steelers host Jacksonville next week while the Titans are off ... Pittsburgh's 38 points were the most allowed by the Titans since giving up 42 to San Diego in a 42-17 loss on Dec. 25, 2009.