**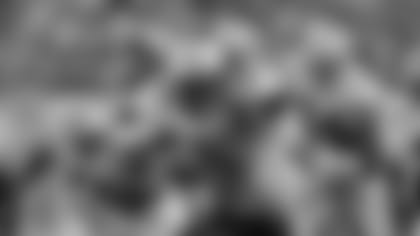 Running back Chris Johnson rushed for 131 yards and a pair of touchdowns in Tennessee's 34-27 victory at Dallas.
ARLINGTON, Texas --** Jason Witten scored a touchdown and handed the football to Marc Colombo so the burly offensive lineman could spike it. Then they leaped and bumped chests, with Colombo losing his balance on the landing and tumbling across the end zone.
The Tennessee Titans will be laughing about it for a long time.
A penalty for excessive celebration pushed back the kickoff and Tennessee's Marc Mariani followed with a long return, setting up a 1-yard touchdown by Chris Johnson with 3:28 left in the fourth quarter. That gave the Titans a 34-27 victory Sunday over the Dallas Cowboys in a game they were struggling to put away.
"That misconduct penalty was big," Tennessee coach Jeff Fisher said. "That return probably doesn't happen if they're not kicking off down there [on their 15]."
The Titans (3-2) did plenty of things right, like Johnson running for 131 yards, Vince Young throwing two touchdown passes and the defense coming up with six sacks and three interceptions.
But this game will be remembered for all the things Dallas did wrong: 12 penalties (two by Mike Jenkins for pass interference leading to a Tennessee touchdown on the opening drive; a hands-to-the-face that erased a punt-forcing sack on another TD drive) and all those sacks against Romo, who'd gone down only once in 128 attempts coming in.
There were three sacks on one drive in the second quarter, forcing right guard Leonard Davis to the bench -- until his backup got a finger in the eye. The costliest sack was a 6-yarder on a third down that pushed a field-goal attempt back to 44 yards; David Buehler narrowly missed when a make would've put Dallas ahead.
Instead, the Cowboys (1-3) are off to their worst start since being 0-4 in 2001. Just when they thought they'd revived hopes of playing in the Super Bowl at home because of an impressive victory followed by a bye, this game showed what a mess this club is. Each unit can look at the other and say, "What happened?!"
"It was an exasperating game," coach Wade Phillips said. "It looked like we had turned a corner, then it went the other way on us. ... I don't have any qualms about our heart, but our execution needs to be better."
Romo was terrific at times, repeatedly hitting Miles Austin for crucial plays such as a 69-yard touchdown that tied it at 17. Austin snatched the ball between two defenders at the 44 and strolled into the end zone when the Titans collided and fell.
"It was just a freak accident," Tennessee safety Michael Griffin said. "I wish Miles was the meat in between our sandwich."
Griffin got payback by hauling in one of two tipped-pass interceptions, his coming in the end zone to snuff what would've been a 91-yard drive for Dallas. The other was a biggie: at the Dallas 13 and returned to the 1, setting up a touchdown from Johnson that put Tennessee up 27-20 with 7:26 left.
Romo answered with the touchdown to Witten, followed by all that wackiness. His final pass was his third interception -- right into the chest of linebacker Stephen Tulloch.
"This is very hard to swallow right now," said Romo, who was 31 of 46 for 406 yards with three TDs. "If you're a good enough ballclub, you have to be able to overcome [mistakes]. We haven't been able to."
Witten was confused about the celebration penalty, noting that Colombo has spiked it before and they've bumped chests.
"I don't think he was trying to do anything different," Witten said.
Phillips said he was told Colombo going to the ground was enough to draw the flag, even if it was by accident. Rule 12, Section 3, Article 1 (d) of the NFL Rule Book says "players are prohibited from engaging in any celebrations while on the ground," and (e) says a penalty can be levied if "two-or-more players engage in prolonged, excessive, premeditated, or choreographed celebrations."
"You want guys to celebrate, but not get celebration penalties," Phillips said.
Tennessee has alternated wins and losses all season, and this was its time to win. Doing so made it 11 straight victories against the NFC, the longest active nonconference streak in the NFL.
The Titans' defense also bulked up a sack total that already was tied for the league lead.
Johnson got to savor punishing the team he wanted to play for coming out of college and that was looking for a speedy running back at the time. Dallas took Felix Jones two picks before Tennessee grabbed Johnson. Jones gained 109 yards Sunday, his career high; Johnson went over 2,000 yards last season. Johnson celebrated his winning touchdown by standing on the Cowboys' star logo in the end zone and spreading his arms in exultation -- without drawing a flag, either.
"Just all fun and games," Johnson said. "I like to entertain. I feel like this team needs to get back to having fun and things like that, it was just all a part of it."
Game notes
Young was 12 of 25 for 173 yards. He wears No. 10 and got a kick out of winning on the date 10-10-10. ... Austin caught nine passes for 166 yards. Witten had nine for 84 and passed Kellen Winslow for fourth on the career receptions list for tight ends. ... Dallas had won at least three straight after a bye in each of Phillips' three seasons. ... This was the second straight game the Cowboys allowed a 100-yard rusher after not doing so for 18 straight games. ... Tennessee LB Gerald McRath had eight tackles after missing the first four games while serving a suspension for violating the NFL's policy on performance-enhancing substances.