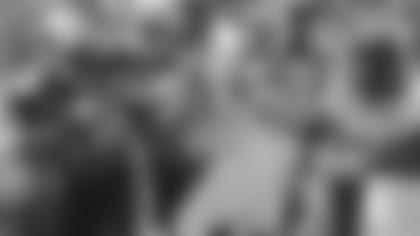 Kenny Britt was one of the bright spots for the Titans, catching five passes for 136 yards and a pair of touchdowns in the season opener.
JACKSONVILLE, Fla. -- The Jacksonville Jaguars talked all week about a strong start. It was missing last season, which bothered coach Jack Del Rio, baffled players and benefited opponents.
The Jaguars wanted and needed better.
They got it in the season opener. Maurice Jones-Drew scored in his return from knee surgery, and Jacksonville used a flawless start and some clutch plays late to edge Tennessee 16-14 on Sunday.
"That was exactly what we were looking for early," defensive end Jeremy Mincey said. "We couldn't have scripted it any better."
The Jaguars sacked Matt Hasselbeck on the opening play, forced a three-and-out and then drove for a 7-0 lead. It certainly set the tone and was the best the Jaguars could have hoped for after an awkward week that included the stunning release of veteran quarterback David Garrard.
Jacksonville dominated most of the first three quarters, shutting down star running back Chris Johnson, forcing seven punts and applying steady pressure on Hasselbeck.
Johnson, who joined the team a little more than a week ago following a holdout, was pretty much a nonfactor. He ran nine times for 24 yards and caught six passes for 25 yards.
The Jaguars led 13-0 and felt like it should have been more, but Tennessee made it close with a pair of second-half touchdown passes from Hasselbeck to Kenny Britt.
"They came out of the box with the crowd and the enthusiasm and they got points on the board and we didn't," new Titans coach Mike Munchak said. "We were flat early and there's no reason for that. We had a good week of practice, we were ready to play, all those things. But the bottom line is it equates to that first quarter.
"They pretty much did what they wanted to do and put us in a hole. We fought back, which is a good thing, but we cut it too close."
The Jaguars fed off an emotional 9-11 tribute that started with fullback Brock Bolen and cornerback Will Middleton, players with family ties to the military, leading teammates out of the tunnel while carrying American flags. Middleton's brother is in the Navy, and Bolen's father earned three Purple Hearts.
It seemed to inspire the Jaguars.
The Titans finally got things going late. They made it 16-14 on Britt's second score.
Jacksonville did just enough to hold on. Mike Thomas made a leaping grab on Luke McCown's third-down pass over the middle. The 26-yard gain helped Jacksonville take time off the clock. The Jaguars ended up punting, but they pinned Tennessee at the 3-yard line. The Titans still had a shot, but Dwight Lowery intercepted Hasselbeck's deep pass.
"The smarter play probably would have been to hit Chris and see what he could do and hopefully spike it and give our field goal team a chance," Hasselbeck said. "I'm sure the coaches will come up with some positives, but right now it's hard not to focus on the negatives."
Making his Titans debut, Hasselbeck completed 21 of 34 passes for 263 yards. He had a few passes dropped, but avoided any major errors until the final play.
McCown, chosen the starter five days ago, was asked to do less for the run-centric Jaguars. He was 17 of 24 for 175 yards, and fumbled away a snap.
"I'm not satisfied and I don't think anyone on this team is satisfied," Thomas said. "We left a lot of points out there."
Jones-Drew wasn't happy, either.
He ran 24 times for 97 yards, including a 21-yard touchdown on the team's opening drive. But coaches turned to Deji Karim in the second half. Karim carried 14 times for 33 yards.
"I didn't know it was going to happen," said Jones-Drew, who had surgery to repair a torn meniscus in January. "They made their decision."
Jones-Drew had several chances to put away the game in the third, but he was stuffed on three runs near the goal line. The Jaguars settled for a field goal and a 13-0 advantage.
Tennessee sliced into the lead with a fluky score on the ensuing play. As Leger Douzable crunched Hasselbeck from behind, he somehow got rid of the ball and lobbed a pass to Britt near the sideline. Britt eluded several defenders, including linebacker Clint Session who seemed to have him in his sights, and went 80 yards.
It got the Titans going, but wasn't enough to overcome Jacksonville's start.
"We started slow because we weren't on the same page offensively," said Britt, who caught five passes for 136 yards. "We missed some plays that we'd really like to get back."
Game notes
Jaguars Pro Bowl TE Marcedes Lewis missed the second half after needing IVs to overcome cramping. ... The Jaguars played without two starters, defensive end Aaron Kampman and right tackle Eben Britton. ... The Titans were without starting DE Jason Jones (knee) and backup Derrick Morgan (knee). DE William Hayes and SS Chris Hope left the game with shoulder injuries.