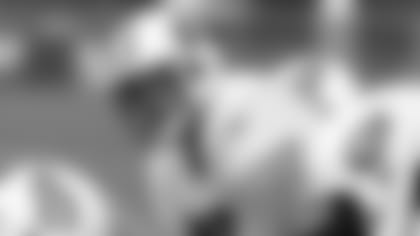 Kevin Matthews, son of former Titans great and NFL Hall of Famer Bruce Matthews, is hoping to earn a roster spot after signing with the team as an undrafted free agent.
NASHVILLE, Tenn. -** Kevin Matthews says it was a bit intimidating walking past his father's old spot just inside the door at the Tennessee Titans' locker room and being coached by a man who watched him grow up.

The son of Hall of Fame lineman Bruce Matthews is too busy trying to earn his own NFL job to dwell on how he used to play around the Titans' locker room every Saturday for three years. He's settled in so much he now calls Hall of Fame lineman and offensive line coach Mike Munchak by his nickname "Munch'' instead of starting with Mister.

"I'm glad. It's the best situation I could've come into, and I'm just thankful that this opportunity came about for me and that I was able to come to a place where I felt so comfortable,'' Kevin said.

His father was a first-round draft pick in 1983 by the then-Houston Oilers and played 19 years with the franchise that moved to Tennessee in 1997. Bruce brought his family to Nashville to join him after that first miserable season without them, retired after the 2001 season and was inducted into the Hall of Fame in 2007 with his best friend, Munchak, introducing him.

Kevin didn't hear his name called at all during the draft in April. But the lineman who started the final 25 games of his career at Texas A&M heard from up to seven different teams wanting to sign him as a free agent, including the Houston Texans where his father now is an offensive assistant and the Titans.

The Texans called first, with Tennessee close behind. Kevin discussed his options with his father.

"He thinks Munch is the best offensive line coach in the league, so he said, `I think you'll really get a great opportunity to contribute and be a part of the team if you go work with him.' ... It really didn't take long for me to make my decision. It was really only going to be down to those two teams,'' Kevin said.

Bruce also noticed Tennessee didn't draft an offensive lineman, confident in Munchak's ability to groom young players into solid backups.

"I played with Mike for 11 years, and he coached me for another eight. It was a very unique situation, and I feel like there's not much of a better guy you could trust your son to,'' Bruce said.

"Mike is who he is. He's pretty straight with every guy. In my conversations with Mike, it was that way. I'm not looking for any special treatment for Kevin. And any free agent would like to know that if he makes it, then he deserved it.''

At 6-foot-3, 302 pounds, Kevin resembles his father in both mannerisms, work ethic and versatility. Bruce played every position on the offensive line for this franchise, and Kevin has been working at both center and guard. He also long snaps, having listened closely to his father's advice to make himself as valuable at as many positions as possible.

"He has a really good understanding of the game, what's happening, what's around him more so than maybe some kids coming out of college from working with his dad,'' Munchak said. "Watching his dad, I think, is a big plus for him.''

Even though Bruce is busy with the Texans, he is just a phone call away for his son. They talk often after meetings and practices, and Munchak said he knows he's probably telling Kevin the same things about technique and positioning that Bruce does.

"It probably bothers Bruce when he tells him that I told him that, and I'm getting credit for it,'' Munchak said.

The stakes rise Saturday night when the Titans open the preseason at Seattle. The starting line is set for Tennessee, but at least a couple backup spots are up for grabs.

Both men are all business during practice and meetings, and Munchak also is coaching another lineman whose father once was a teammate in Nick Howell. Pat Howell finished his career with the Oilers between 1983 and 1985. But Kevin is the one Munchak's daughter occasionally asks about, to see how her old friend is faring.

"There are some things that are fun about it. I was around him so much. He grew up with me. It'll be curious to see how it all works out,'' Munchak said.