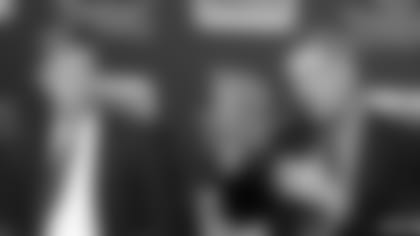 New COO Mike Reinfeldt (right) and GM Ruston Webster (left) answer questions from reporters Wednesday afternoon at Baptist Sports Park.
NASHVILLE, Tenn. -- Owner Bud Adams feels the Tennessee Titans are back on track compared to the turmoil of a year ago, so he has rewarded his front office with three key promotions, including a new general manager.
Adams announced Wednesday general manager Mike Reinfeldt now is senior executive vice president and chief operating officer with Ruston Webster promoted to general manager and Lake Dawson to vice president of player personnel.
Reinfeldt had been general manager the past five seasons. Webster was vice president of player personnel the past two seasons after being hired away from Seattle. Both Webster and Dawson had been mentioned as possible general manager candidates around the NFL over the past two weeks, and Dawson interviewed last week with the Rams about their vacancy.
"We have done what I think is a nice job of stabilizing our football operation over the last year, and this will solidify our operation even further," Adams said by telephone from Houston. "I like where things are headed, and this stability will allow our team to continue growing together. I know these moves will make our organization a better one."
A year ago, the Titans were coming off a 6-10 season with Adams deciding to release quarterback Vince Young and part with coach Jeff Fisher after 17 years. Now the Titans just went 9-7 in Mike Munchak's debut season as head coach with a strong rookie class and key free agent signees like quarterback Matt Hasselbeck after the NFL lockout. They also have more than $30 million in salary cap space to continue building.
Adams made it clear he wants one person reporting directly to him. That had been senior executive vice president Steve Underwood, but he retired last August. Now it will be Reinfeldt, who played for Adams with the then-Houston Oilers between 1976 and 1983. Reinfeldt said the decision became a natural move for the franchise once the season ended with his move allowing him to deal with the entire franchise.
"We've got a group that really works well together," Reinfeldt said. "I think what happens in this league when you have success, you start losing your good people, and this helps us keep our good people together."
After his playing days as an NFL safety, Reinfeldt was chief financial officer of the then-Los Angeles Raiders between 1985 and 1987. He also was an associate athletic director at the University of Southern California before returning to the NFL with Green Bay between 1991 and 1998. He was in Seattle as a senior vice president, then vice president of football operations.
Adams noted Webster was a finalist for the general manager job given to Reinfeldt in 2007, and Reinfeldt called Webster a hard worker with a great eye for talent and a knack for all the details that make someone a good general manager in the NFL.
"I saw him work in Seattle, I saw him work here," Reinfeldt said. "Honestly, five years ago they probably should've hired him instead of me."
Webster served as interim general manager with the Seattle Seahawks at the end of the 2009 season. He started in college coaching before joining Tampa Bay as a regional scout, then became director of college scouting for Tampa Bay between 2001 and 2004 and director of player personnel in 2005. He left for Seattle in 2006 as vice president of player personnel, a job he held through 2009 before being hired for the same job by Tennessee in 2010.
He thanked Adams and Reinfeldt for the opportunity.
"This is a great place. I've enjoyed being in the organization and living in Nashville," Webster said. "For me, it's a very comfortable place to be. And I'm excited about my new role and working with the people here, Mike and Blake (Beddingfield) our scouting staff ... and everybody involved with that. I think since I've come here, the transition's been very smooth for me. A lot of it's due to all of the people that are here. I'm extremely excited."
Dawson also followed Reinfeldt from Seattle, joining the Titans in 2007 as director of pro scouting. He became vice president of football operations last season. Whether this promotion keeps him around remains to be seen.
"Lake, he's destined to be a GM here at some point," Webster said. "We're planning on him being around for a while."
The Titans have 17 players due to hit the free agent market March 13. Webster said he will meet with coaches Thursday and get caught up on the team's salary cap status quickly before starting work on the roster. But Webster said his philosophy mirrors Reinfeldt's and goes back to his days with Rich McKay in Tampa Bay to build through the draft and spending wisely in free agency.
"You want to make the best decisions to help you win on Sunday," Webster said.