NASHVILLE – Since 2016 – Marcus Mariota's second year in the NFL – one man has been a fixture in the middle of the Titans offensive line.
The gritty and durable Ben Jones anchored the line at center the last seven years, rarely missing a game.
Jones, however, is no longer with the team.
Aaron Brewer knows what that means for him.
"I have been working at center right now," Brewer said this week. "And I would say that is the goal for the team right now – for me to move into the center spot and take over that role."
Brewer, who started 17 games for the Titans in 2023, said he's up for the challenge after playing guard last season.
"Center fits me well, because I'm in the middle and I'm facing those big noses, and I'm quick and I'm athletic and have natural leverage, so that's a good spot for me.
"Since I've been here, I've been in that guard/center role. In my second year, I came in a couple of games at center. Ben has just been that certified center, but I've been for sure next up at that spot."
Brewer said he learned a lot from watching Jones, a Pro Bowler in 2022 who was waived earlier this offseason.
From 2016 through 2021 with the Titans, Jones was one of one of only eight offensive linemen to start at least 96 of a possible 97 games. Jones missed five games a year ago because of a pair of concussions.
"I learned a lot from Ben," Brewer said. "Ben, he's been in the league 10-plus years, so his knowledge of the game is on another level, just going into practice, going into games. He sees defenses, and defensive coordinator's schemes – everything from pre-snap to the snap. His whole mentality about everything, how he goes about things, how he prepares, I took all that in."
Brewer, who initially joined the Titans as an undrafted free agent in 2020, has plenty of experience. Over the past three seasons, Brewer has played in 41 games, with 23 starts. In 2022, Brewer started 15 games at left guard and two at center in place of Jones.
Since 2020, Brewer has started 18 games at left guard, three games at right guard, and two games at center.
Brewer believes he's sturdy enough to anchor the line.
"I am pretty sure I'll be playing around the same weight I've been – I'm now really too light," Brewer said with a smile. "I know the media would probably say I'm about 240, 250. But I've been this weight for a minute now – 290."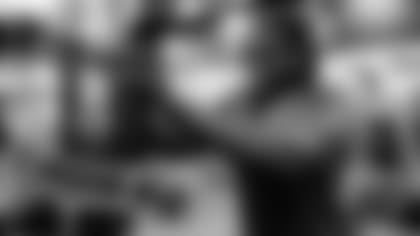 The Titans will have a new-look offensive line in 2023.
Not only is Jones gone, but tackle Taylor Lewan and guard Nate Davis are no longer with the team either.
The Titans signed tackle Andre Dillard and guard Daniel Brunskill in free agency, and then drafted offensive linemen Peter Skoronski and Jaelyn Duncan last weekend.
Brewer said he's ready to do his part on the field, and as a leader.
"I was a leader coming out of college," Brewer said. "I, myself, I lead by example. So, I am going to work hard, I am going to put in the work, and if something needs to be said I'm going to be saying it.
"The culture is going to be the culture – we are built on effort and finish. That's us, and that's not going to change."