Akeem Ayers and Zach Brown surged forward in 2012, providing encouragement to the Titans and offsetting some of the disappointment of injuries to Colin McCarthy that cost him nine full games and part of another in his second season.
Ayers showed ability to handle multiple duties in his second pro season. Ayers primarily started at strongside linebacker, but he also played in some substitution packages, lined up as a pass rusher from the edge of the defensive line and handled some of the huddle calls in the season finale. Despite the additional responsibilities Ayers increased his production in tackles, sacks, quarterback hits and tackles for loss this season.
Brown seemed to improve each week as his confidence increased. He also delivered game-changing plays as the season came to its conclusion. Brown recovered a fumble by New York Jets quarterback Mark Sanchez deep in Titans territory to secure Tennessee's 14-10 win on Monday Night Football. He also swung momentum against Jacksonville with a 79-yard interception return for a touchdown in the first half and followed it with a 30-yard interception return for a touchdown in the third quarter. Click here to see the 30-yard INT return for a TD.
Those types of plays were missing from Tennessee's defense for much of the season, and much of the absence was directly attributed to difficult injuries suffered by McCarthy, who had been dynamic in his first preseason as a starting middle linebacker.
McCarthy suffered a high ankle sprain in the season opener, however, costing him half of that game and the next three games. The ankle also caused him to miss Tennessee's game at Buffalo, but McCarthy played the next four games before being diagnosed with a concussion after the Titans visited the Jaguars. The concussion symptoms never cleared for him to return, and he missed the final five games of the season.
Titans coach Mike Munchak said he wants to see Ayers, Brown and McCarthy on the field together for quite some time because he believes they have an opportunity to be highly successful. One such display occurred at Miami when each player recorded an interception:
"We've got some young linebackers that are making plays, that are going to be so much better than they are right now," Munchak said. "You see why Zach Brown was exciting to us in the second round because of the way he can run for a guy his size. He's going to play much better next year than he did this year.
"Akeem Ayers having six sacks and playing better this year," Munchak continued. "(Colin) McCarthy is the tough spot. That was the hard part of the defense, and I thought that hurt us the most on that side of the ball, losing him. I think you look at some guys who are developing really well."
The Titans used a combination of Will Witherspoon, Tim Shaw and Zac Diles (and even Ayers started at middle linebacker in the season finale) to replace McCarthy. Witherspoon made the first three starts in McCarthy's absence and eventually played mostly in situations where passes where more likely than runs. He made an athletic play at Indianapolis when he returned an interception of Andrew Luck 40 yards for a touchdown (click here to see it again).
Diles started at Buffalo but suffered a season-ending leg injury in that game. Shaw started at Indianapolis and against the Jets and played more in situations where runs were more likely than passes.
Reserves Patrick Bailey and Xavier Adibi played on special teams, and Gerald McRath and Kevin Malast spent all of 2012 on injured reserve.
Here are the stats posted by Tennessee's linebackers in 2012: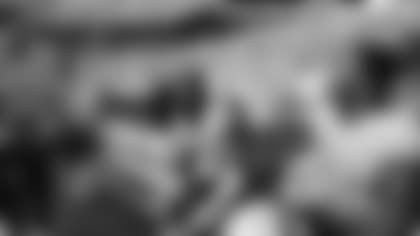 Akeem Ayers (14/16): 110 tackles (79 solo, 31 assists), 6.0 sacks-35 yards, eight quarterback hits, four tackles for loss, one interception-2 yards, one forced fumble
Zach Brown (13/16): 93 tackles (70 solo, 23 assists), 5.5 sacks-28.5 yards, two quarterback hits, six tackles for loss, three interceptions-156 yards, two touchdowns, one forced fumble, two fumble recoveries, one special teams tackle
Colin McCarthy (7/7): 45 tackles (32 solo, 13 assists), three tackles for loss, one interception-49 yards, one touchdown, two passes defended
Tim Shaw (2/16): 38 tackles (30 solo, eight assists), one quarterback hit, one tackle for loss, one forced fumble, 13 special teams tackles, one blocked punt
Will Witherspoon (5/14): 48 tackles (32 solo, 16 assists), one sack-2 yards, three tackles for loss, one interception-40 yards, one touchdown, two passes defended, one forced fumble, two special teams tackles
Patrick Bailey (0/12): 10 special teams tackles
Zac Diles (1/6): 13 tackles (eight solo, five assists); placed on injured reserve on Oct. 24
Xavier Adibi (0/6): two special teams tackles (two solo)
Kevin Malast (0/0): spent all of 2012 on injured reserve
Gerald McRath (0/0): spent all of 2012 on injured reserve