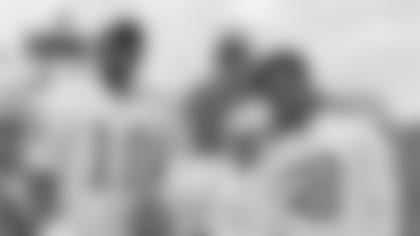 The sons of former Titans QB Steve McNair were special guests of Vince Young at the Pro Bowl. Young's teammates have also shown their support.
MIAMI, Fla. --** Vince Young is making good on his promise.

At the funeral for his slain friend Steve McNair this past summer, a devastated and teary Young vowed to treat McNair's sons as his own. So for a father-son breakfast at the kids' school back in September, Young was there, eating pancakes and signing autographs. At Tennessee home games, McNair's boys were regulars in seats Young arranged.

And at the Pro Bowl, those two kids, McNair's widow and mother-in-law shared in the experience -- as Young's guests.

Young completed 6 of 12 passes for 47 yards and an interception in Sunday's Pro Bowl, won 41-34 by the AFC -- details which couldn't really have mattered less to the Titans quarterback. This week was about Trenton and Tyler, the 11- and 5-year-old boys who'll continue their path to adulthood without their father, a void Young is trying to fill as best he can.

"The thing is, Steve would do the same for me," Young said Sunday night.

The thing is, McNair already has done the same for Young.

McNair was his mentor, just one of many ways their paths were linked. McNair was the Titans' quarterback until 2005. The next year, Tennessee drafted Young, and McNair hooked on with Baltimore for his final two NFL seasons.

Still, they were close, so close that Young called McNair "Pops." What McNair knew, he tried to teach Young, anything and everything, on the field and off, professional life and personal life.

They were lessons Young never forgot.

This is how he's returning those favors.

"Sometimes we just hang out," Young said. "They come to my house. We hang out together, sit around, laugh and joke and do different things. Can't do everything all at once. I'm just happy to see these guys are growing up, growing into young men, things like that. The biggest thing is, whatever we can do to help take their mind off things, that's what we definitely should do."

McNair's kids were essentially treated like VIPs at Pro Bowl practices. They tried to tackle Young and got thrown to the turf instead. They met a slew of AFC players, basked in the warmth of Miami, frolicked around at the hotel.

They were able to be careless kids, the way Young thinks it should be.

"I just want to keep everything they have going," he said. "I want them to understand that big brother hasn't forgotten about them and I don't want them always sitting around the house, things like that. I want them to have an opportunity to come out here and have some fun as well. ... They were smiling. That's a good thing."

These days, Young is smiling more as well.

He started 28 games in his first two seasons, then went deep into a downward spiral, losing everything from his starting job to at least some of his confidence and swagger.

Young got back on the field this season, helping rescue Tennessee from an 0-6 start. An 8-8 finish wasn't good enough for the playoffs, but it was good enough for the Pro Bowl.

"I feel like I'm not near to where I want to be at," Young said. "I've got a whole offseason now to get ready for more ... to get closer to being Peyton Manning or Drew Brees and getting us into a Super Bowl."