**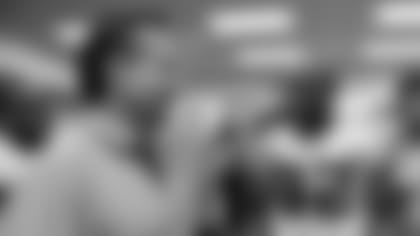 Head coach Jeff Fisher presents linebacker Will Witherspoon following Tennessee's season-opening victory over Oakland.
NASHVILLE, Tenn. --** Will Witherspoon encountered off-field adversity that none of his teammates had experienced but handled it in a way that each Titans player admired.
Witherspoon's mother, Nora Lee Cooper Witherspoon, unexpectedly passed away at age 56 in the week preceding Tennessee's season-opening game against Oakland.
Titans coach Jeff Fisher told Witherspoon to put family before football, and the nine-year NFL veteran linebacker was able to attend his mother's funeral and return in time to help the Titans defeat the Raiders on opening day. Witherspoon said his mother would have wanted him to play, and he recorded a sack in that game and one in each of the Titans' next two games.
As a result of the adversity he overcame, Titans players selected the veteran linebacker as Tennessee's 2010 recipient of the Ed Block Courage Award. The award is named in honor of Eddie Block, who served 23 years as the head athletic trainer for the Baltimore Colts, and is part of a fundraising effort that helps abused children. One representative from each NFL team is chosen through player votes each season. 
"That's where it really means a lot," Witherspoon said Friday. "It kind of shows what your teammates are thinking of you and the situation you had to overcome. That's one of those bittersweet gifts, I guess is the best way to put it, but still it's a great thing. It's a great honor to be part of it, knowing the other guys who have won this award in the past" from the Titans and other teams on which Witherspoon has played.
Steve McNair (1999), Kenny Holmes (2000), Kevin Dyson (2001), Eddie George (2002), Kevin Carter (2003), Keith Bulluck (2004), Tank Williams (2005), Brandon Jones (2006), David Thornton (2007), Chris Hope (2008) and Kevin Mawae (2009) are previous Titans who received the award.
"I think it's a huge honor that Will is the recipient of the Ed Block Award," Thornton said. "He's a guy who's exemplified perseverance, resiliency, and he had to deal with a great deal of adversity early in the year. He lost his mother, but still was able to find the strength and the courage to come back and contribute to this team. He's done that all year long in a major way for us."
Thornton, who is trying to return to action from multiple injuries that ended his 2009 season early, said Witherspoon returned from the adversity with a positive attitude and committed to doing anything to help his teammates win.  
Witherspoon has 92 tackles, the three sacks, five tackles for a loss, two interceptions, 10 passes defensed and one forced fumble with one game left to play. Tennessee visits Indianapolis Sunday.
"Will's got tremendous respect from his teammates and he's come in here and done everything right," Fisher said. "He learned the football part right off the bat and he's come in and he's been a very popular teammate. He's overcome a lot. It was a very difficult situation that he dealt with earlier this season."
Witherspoon said the Titans are "my family."
"These guys were with me when everything was bad and otherwise," he said.