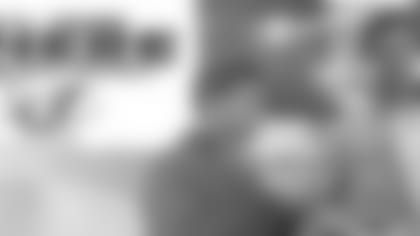 NASHVILLE, Tenn. -- An unknown prospect in 2001 turned out to be a starting player, fan favorite and key contributor in the early years of Titans football.
The Titans signed Drew Bennett, a former walk-on quarterback at UCLA, as an undrafted free agent, hoping to convert him to wide receiver in the NFL. The experiment turned out better than expected, as Bennett would go on to become one of the franchise's most productive receivers from 2001-06.
Bennett's Titans' numbers included 273 receptions (9th in franchise history) for 4,033 yards (8th in franchise history) and 25 touchdowns.
Not bad for a player few expected to make the roster 12 years ago.
"When I first got here I wanted to make the team, then I wanted to play and then I wanted to start," Bennett recalled last month when he was honored as the 12th Titan at LP Field. "But if you had told me my rookie year that I would have come anywhere close to those career numbers, I never would have believed you."
Bennett's best season came in 2004 when he totaled 80 catches for 1,247 yards (15.6 avg) and 11 touchdowns.
He started slow, but caught fire late in 2004, reaching 1,000 yards receiving during a Monday Night Football game against Kansas City. That night, he caught a career-high 12 passes for 233 yards and three touchdowns in front of a national television audience.
It was the second straight week that Bennett hauled in three touchdowns from backup Billy Volek, who played much of the season for an injured Steve McNair. Bennett had scored on receptions of 48, 28 and 48 yards at Indianapolis the week before, then caught touchdowns of 42, 22 and seven yards against the Chiefs. The following week at Oakland, Bennett tied a franchise record with a career-best 13 receptions for 160 yards and two more touchdowns.
During that stretch he totaled 28 receptions for 517 yards and eight touchdowns, tying Jerry Rice for most TDs over a three-game span in NFL history.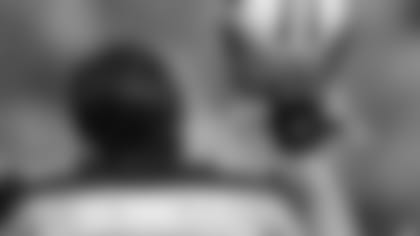 "Billy (Volek) and I had a great connection that season," Bennett said. "It was bittersweet because we didn't win many games that year, but Billy and I were definitely on the same page."
One of Bennett's best memories, however, came in Week 16 of the 2003 season. After losing the lead late at Houston, Bennett capped Tennessee's 75-yard drive in the final 1:48 by hauling in the game-winning 23-yard touchdown pass from Steve McNair in the back of the end zone with 17 seconds left. The 27-24 come-from-behind victory clinched the Titans' fourth playoff berth in five seasons.
"I remember Steve calling that play, and for the other 35 times we ran it that year, we had never thrown that back-side post," Bennett recalled. "But when I left the huddle, he looked at me like, 'Hey, be ready back there,' and sure enough, I turned around, the ball was in the air and he threw a perfect pass. That was an exciting moment, definitely one of the highlights of my career."
Bennett signed a three-year contract extension with the Titans following the 2003 season. He played out that contract before signing a lucrative free agent deal with St. Louis in 2007. Bennett played two seasons with the Rams before being released on Feb. 25, 2009.
Now days you can find Bennett back in his home state of California, coaching high school football at his alma mater, while working in other business ventures. Bennett got married two years ago and he and his wife are proud parents of a five-month old daughter.
But even after all these years, Bennett still remembers the first time he walked onto LP Field.
"I remember the first time I played there my family and friends came because they didn't know if I would ever play in more than one preseason game," Bennett chuckled.
Bennett did more than that, just as no one expected.