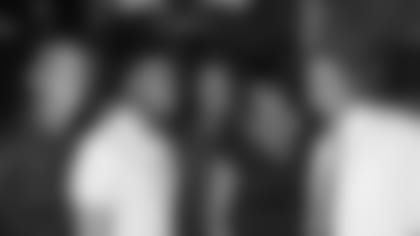 Nate Washington (2nd left) teamed with ESPN's Mike Hill (right) to recently host a charity event in Nashville.
NASHVILLE, Tenn. -- Titans wide receiver Nate Washington recently teamed with ESPN sportscaster Mike Hill to host "An Evening With the Stars" charity event, benefiting Nashville CARES non-profit organization, at Jazz & Jokes in downtown Nashville.
The event included various celebrity guests, a musical performance by Shannon Sanders, an art presentation by James Threalkill and Michael McBride, and a live auction. 
While many of the guests adorned great fashion, the event showcased an array of arcade games, popcorn machines and clown-like characters that contributed to the overall creative circus theme of the evening.