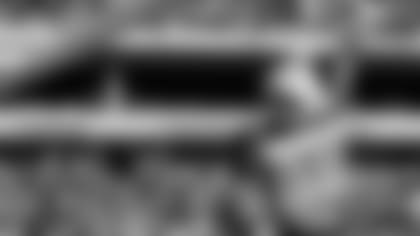 Wide receiver Nate Washington spikes the ball through the uprights after he scored his second touchdown last Sunday vs. Indianapolis.
NASHVILLE, Tenn. -- Creativity, motion and execution helped Nate Washington return to the end zone Sunday.
Tennessee set the seventh-year receiver in motion, and quarterback Matt Hasselbeck threw an overhand lateral to Washington. He grasped the ball behind the line of scrimmage and cruised across the goal line as Indianapolis defenders unsuccessfully scrambled.
Washington was credited with a 3-yard run on the touchdown for his first career rushing touchdown and his first scoring play since Kenny Britt tore his ACL and MCL against Denver in Week 3. Washington said he didn't care if it was a scoring run or catch, as long as it helped the team.
"It's one of those borderline plays (that could be a run or become a catch)," he said. "You just have to make sure you're in his vision so he can get you the ball."
Washington has received more attention from pass defenses since Britt's injury, but he thinks innovative play designs will continue to give him opportunities.
"(Offensive coordinator Chris) Palmer's been drawing up some things that are hopefully going to free me up," Washington said. "He's giving me an opportunity to make some plays."
Washington leads the Titans with 33 catches for 433 yards. He is on pace to shatter his career bests in both categories (47 catches in 2009 and 687 yards in 2010) but said he also wants to create chances for younger Titans receivers, the tight ends and the running backs.
"You have so many different weapons," he said. "It's not just going to be me. There are still a lot of guys that can make plays, and I think defenses recognize it."
Hasselbeck targeted five different players at least five times Sunday in a 27-10 win against the Colts. The 13-year NFL veteran has made a habit of spreading the ball around throughout his career, and is able to do so when others make catches early.
Hasselbeck completed his first three passes Sunday, hitting Washington for no gain, Lavelle Hawkins for 7 yards and Damian Williams for 27 yards, positioning Tennessee (4-3) for a 51-yard field goal by Rob Bironas on its opening possession.
Hawkins finished with three catches for 18 yards. He would have had at least one more, but a key grab on third down was negated by a chop block penalty that puzzled Titans coaches and players. Williams had four catches for 60 yards.
"You can see the more and more they grow," Washington said. "I'm proud of the progression that they've made. They've been doing an awesome job of making sure throughout the week they practice at a game tempo, making sure they go over their reads and doing everything properly."
Hasselbeck completed four passes for 34 yards to Washington. He also connected with tight end Jared Cook two times for 40 yards, including a 32-yard catch that was the longest play of the day for either team, and with running backs Javon Ringer (five catches for 42 yards) and Chris Johnson (three catches for 17 yards).
Hasselbeck went 23-for-33 passing for 224 yards and a quarterback rating of 98.5. He helped put the Titans away by hitting Washington for a 14-yard touchdown with 5:20 remaining. Washington found space against a single defender, leapt high and brought it down with ease.
He celebrated his second receiving touchdown of the season by dunking the ball through the goal posts of the north end zone at LP Field. He said the thought of turning a highlight into a blooper entered his mind as he went up for the dunk.
"That definitely would have been a 'C'Mon Man' moment," Washington said in reference to a segment conducted weekly by ESPN analysts that brings attention to blunders.