NASHVILLE, TN, Sept. 23, 2008— After a victorious weekend that saw the Titans receivers contribute heavily to the win over the Texans, on Tuesday, the entire core of Chris Davis, Biren Ealy, Justin Gage, Lavelle Hawkins, Brandon Jones, Justin McCareins, and Paul Williams spent their only day off a week by carrying out the tradition of the Titans Tuesdays where players visit patients at the Baptist and Saint Thomas hospitals.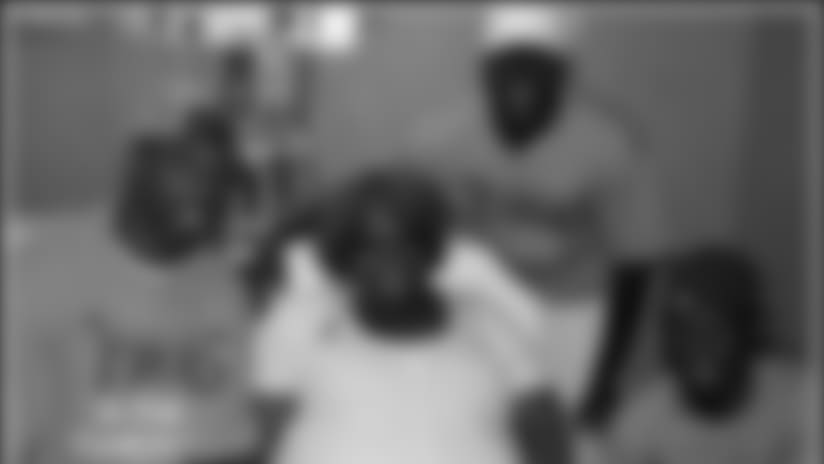 From L-R, Justin Gage, Brandon Jones and Chris Davis.

After a short introductory session with the nurses of Baptist Hospital who would be assisting the players with their visits, the seven players were divided into three groups in order to visit as many patients as possible.  Hawkins and McCareins spent their time with pre and post-operation patients, new mothers and finally patients receiving treatment in the cardiac unit.  Both players were surprised at the disposition of the patients, one in particular who stood up from his bed, heart monitor in hand, because he could not miss the opportunity in taking a picture with Hawkins and McCareins.  The suite named in honor of  Titans Owner K.S. "Bud" Adams, Jr. was also on the list of patients to visit.  The players were welcomed by a room full of family members waiting with cameras ready and their own memorabilia to be signed. 
But, it was one patient in particular that truly touched Hawkins and McCareins.  While watching the Titans – Texans game at LP Field two days earlier, Cynthia Smith became ill but fought through until the end of the game.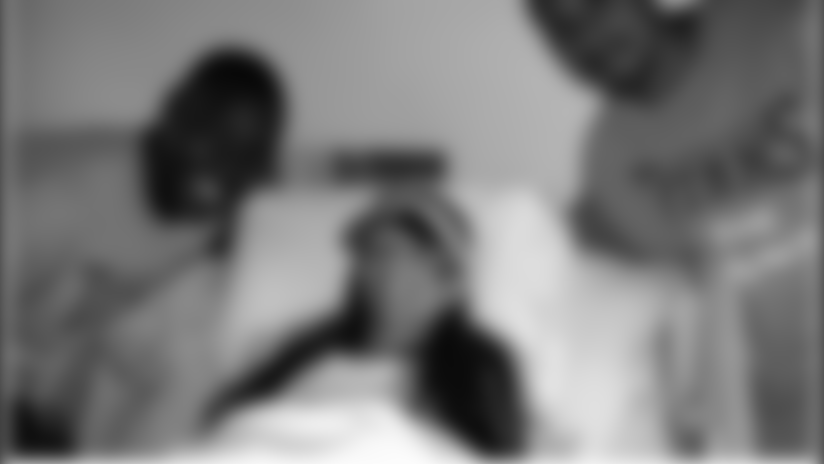 Lavelle Hawkins (L), Cynthia Smith and Justin McCareins.

"I didn't want to miss anything," Smith said as she proudly showed the players her Titans tattoos and the Titans 10 th Anniversary shirt she was wearing during the game. 
Meanwhile, Ealy and Williams spent time with new and expectant mothers. Upon request, they also stopped by the neo-natal intensive care unit where they held just born, triplets. The initial anxiety the players had for holding the babies quickly turned into adoration.  

Second-year receivers, Paul Williams (L) and Biren Ealy.

"Just hold them like you were holding a football," the nurses joked. "They are just so small," Ealy pointed out to Williams. "I know, it's amazing that these small babies will one day turn into strong, healthy adults," added Williams. 
Davis, Gage and Jones made their way to the joint replacement and rehabilitation ward.  Fans joked about the game, told them what they liked about the team and how the city is buzzing due to their 3-0 start.  Overall, the patients and loyal fans were thankful for the players taking time to visit on their only day off during the week.