NEW YORK -- The NFL announced today that quarterbacks JOE FLACCOof the Baltimore Ravens, JAKE LOCKERof the Tennessee Titans and MATT SCHAUBof the Houston Texans are the finalists for the FedEx Air NFL Player of the Week honors for games played on September 20-24, while running backs ANDRE BROWNof the New York Giants, JAMAAL CHARLESof the Kansas City Chiefs and MAURICE JONES-DREWof the Jacksonville Jaguars are the finalists for the FedEx Ground NFL Player of the Week.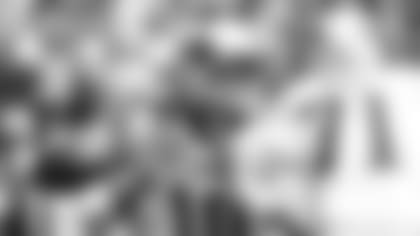 Fans can vote for one player in each category on NFL.com/FedEx from 9 a.m. EST on Tuesday through 3 p.m. EST on Friday to determine the FedEx Air & Ground NFL Players of the Week. The winners will be announced Friday on NFL Total Access on NFL Network and on NFL.com.
Fans will be voting for more than their favorite player. As part of the Air & Ground program and its commitment to small business owners, FedEx will support education efforts at Junior Achievement by making weekly $2,000 donations in each of the winning players' names. The funding, allocated to local Junior Achievement area offices in that team's city or state, is used to help U.S. small business development, by educating the next generation of entrepreneurs on how to start and grow their own businesses.
A closer look at the FedEx Air NFL Player of the Week finalists:
• Baltimore Ravens QB Joe Flacco completed 28 of 39 passes for 382 yards and three touchdowns as the Ravens defeated the New England Patriots 31-30.
• Tennessee Titans QB Jake Locker finished his day going 29 of 42 for 378 yards and two touchdowns in the Titans' 44-41 overtime victory against the Detroit Lions.
• Houston Texans QB Matt Schaub threw for 290 yards, completing 17 of 30 passes and four touchdowns as the Texans beat the Denver Broncos 31-25.