INDIANAPOLIS — Vanderbilt cornerback Andre Hal and safety Kenny Ladler and Western Kentucky safety Jonathan Dowling hit the field at Lucas Oil Stadium Tuesday for the final day of drills and workouts at the 2014 NFL Scouting Combine.
Two days earlier they participated in media sessions, describing what helped them become three of the 59 defensive backs (39 corners and 20 safeties) invited to the annual evaluation event that includes medical exams, interviews with team executives, coaches and scouts and the workouts. Following are comments from their media sessions and a recap of the performances: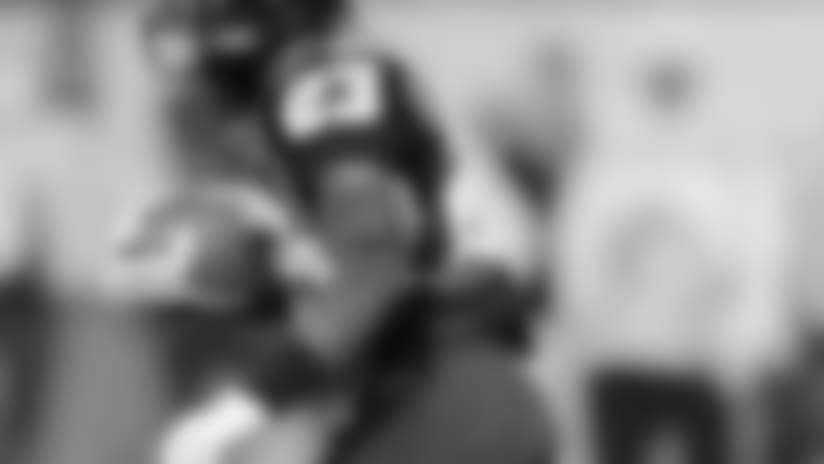 Vanderbilt CB Andre Hal ran the 40-yard dash in 4.50 seconds at the NFL Combine.
Andre (Dre) Hal, CB, Vanderbilt — Hal, a two-time All-SEC second team selection, said early in his interview that teams he met with wanted to see him run the 40-yard dash. He said he was "trying to keep my cool" until he ran it and predicted he'd be in the 4.4s. He just missed that Tuesday, clocking a 4.50.
Hal's time was slightly slower than the 4.46 posted by Commodores receiver Jordan Matthews Sunday. Hal said daily practices against Matthews, the SEC's all-time leading receiver, prepared each other for the NFL.
"Every time we did one-on-ones, we went against each other just to make sure we were going to the best competition," Hal said. "I was the best corner on the team and he was the best receiver on the team so we wanted to get the best competition on every rep, every play."
Hal said he is encouraged by older Commodores defensive backs who recently made it to the NFL (Green Bay's Casey Hayward and Sean Richardson, Tampa Bay's D.J. Moore and Myron Lewis), and he thinks those players and his teammates helped change a "smart guys, just having fun, just playing" perception of Vanderbilt players.  
"We've got a chip on our shoulder. We've got great athletes and we can play football," Hal said. "We're real good at it. We went 9-4 two years in a row and won two bowl games for the first time in school history so we changed the culture."
Hal said he wanted to convey to NFL teams that they'd be selecting "a guy that is confident, competitive, trustworthy, whether it's on or off the field."
Ladler said he calls the cornerback "Lock-down Hal" and considers him an "incredible teammate."
Hal in on-field timing and testing — 40-yard dash: 4.50 seconds (12th among CBs) | Bench press: 15 reps (tied for 13th among CBs) | Vertical jump: 35.5 inches | Broad jump: 9 feet, 11 inches | Three-cone drill: 7.14 seconds | 20-yard shuttle: 4.27 seconds (tied for 15th among CBs)
Vanderbilt safety Kenny Ladler led safeties with a broad jump of 10 feet, 7 inches and was second among the position in the bench press (24 reps) at the NFL Combine.
Kenny Ladler, S, Vanderbilt — Ladler said he talked to Casey recently for tips on how to prepare for the combine and the pro day that will be held at Vanderbilt. He also spoke to Richardson during the 2013 season about transitioning from college to the NFL.
Despite his close ties to the Packers players, Ladler said he's tried to pattern himself after Bears CB Charles "Peanut" Tillman, who has 42 career forced fumbles and 36 interceptions.
"He goes for the ball every time he's around it – punching and stripping," Ladler said. "After a while it starts to take its toll and it starts happening."
Ladler had five interceptions and five forced fumbles during his senior season and said that playmaking ability puts him at the top of the list for safeties this year.
"I am able to make good tackles," Ladler said. "I am a great open field tackler. I am consistent in the pass and run. And I am a turnover machine. I had five interceptions and five forced fumbles – that's 10 takeaways this whole season. That's how I got the nickname 'Swiper.' I take the ball away from the other offense and I think that playmaking ability will help me."
In addition to that, Ladler wanted to convey his leadership ability to teams.
"I have always been a leader. I have been playing since my freshman year," Ladler said. "I have played through ups and downs, so I have a lot of play under my belt and ready to take it to the next level."
Ladler in on-field timing and testing — 40-yard dash: 4.70 seconds | Bench press: 24 reps (second among safeties) | Vertical jump: 36.5 inches (tied for third among safeties) | Broad jump: 10 feet, 7 inches (led safeties)
Jonathan Dowling, S, Western Kentucky —Dowling played the past two seasons at Western Kentucky after starting his college career at Florida in 2010.
Western Kentucky's Jonathan Dowling had a time of 11.56 seconds in the 60-yard shuttle (second among safeties) at the NFL Combine.
He led the NCAA with six forced fumbles in 2013 and added three interceptions one season after recording six interceptions (three in one game against Kentucky). Dowling said he considered transferring to Miami or Michigan, but he connected with former Hilltoppers and current South Florida coach Willie Taggart.
"Coach Taggart came to my mom and said, straight up, 'I can help him mature as a man. I know what you need and want you to trust me.' I took it from there and never looked back," Dowling said. "He just teaches you how to be a man off the field, how to look people in the face, something I already knew from my father, but he just puts a big emphasis on looking people in the face and telling them the truth, how it's really going to be."
While the experience was positive, Dowling said he didn't receive as much attention as he would have at a larger school.
"I feel like they're getting a diamond, not even a diamond in the rough. They're getting a pure diamond that's ready to shine because I feel like I make a lot of plays at Western that don't get respect because I'm in the Sun Belt," Dowling said. "If you put me in the SEC with some of those plays I made, for instance, three picks versus UK in the Sun Belt and nobody said anything. I do that at Florida, I'm probably considered the greatest. That's just point blank. I've got a chip on my shoulder and I'm ready to prove it."
Dowling said he most admires longtime pro Ed Reed and has focused on becoming a better tackler to prepare for the pros.
"My tackling got way better last season than it was my sophomore season. I mean that's just something I want to keep improving," Dowling said. "I want to be a better tackler so people can't just say he's a ball hawk. I want people to all-around the best safety to ever play the game. That's my dream."
Dowling in on-field timing and testing — 40-yard dash: 4.52 seconds (fifth among safeties) | Bench press: 8 reps | Vertical jump: 33.5 inches (12th among safeties) | Broad jump: 9 feet, 10 inches (tied for eighth among safeties) | Three-cone drill: 7.04 seconds (tied for 5th among safeties)| 20-yard shuttle: 4.24 seconds (seventh among safeties) | 60-yard shuttle: 11.56 seconds (second among safeties)