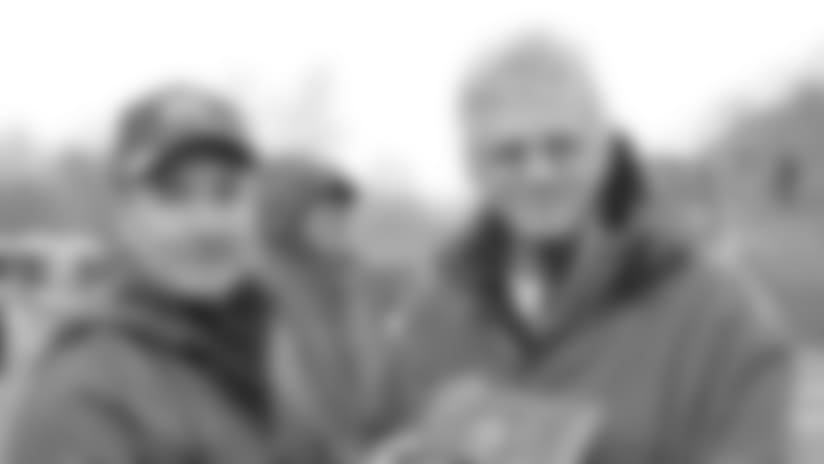 Darren Bowling (left) receiving 2013 TSSAA championship trophy from Chuck West, TSSAA Board of Control member.
NASHVILLE, Tenn. -- Darren Bowling of the Union City High School Golden Tornadoes has been named the 2013 Titans High School Football Coach of the Year following a 13-1 season and their second Class 1A State Championship.
"I truly appreciate it," said Coach Darren Bowling. "I don't know if I am worthy of the honor, but I truly appreciate it – it's awesome."
With only three seniors, the Golden Tornadoes defeated the Class 1A top seed South Pittsburg Pirates, 23-14  Dec. 6 in Cookeville.  This is the second time the two teams met in the state championship, with Union City also prevailing over South Pittsburg 31-29 in 2009.
"I've been coaching for 20 something years and there isn't anyone better – that I have been around – better at molding young men than Coach Bowling," said Wesley Kennedy, Principal of Union City High School. "As a principal and especially as a dad, with a son on the team, I don't worry about anything; I am so grateful and blessed to have him as our coach."
Grinding out the win, the Golden Tornadoes did not attempt a single pass, controlling a little over 30 minutes of the time of possession. Coach Bowling's team also displayed an outstanding defensive effort, holding South Pittsburg's top rusher and a Tennessee Mr. Football winner, to only 40 yards rushing. 
On numerous occasions during the 2013 season, Coach Bowling was nominated by various Tennessee sports writers as a Titans High School Coach of a Week candidate, indicative of his solid job throughout his championship season.  
A $2,000 Titans Foundation grant will be awarded to the Union City High School football program in Coach Bowling's honor.
The Titans value and enjoy Tennessee's great high school football tradition. That tradition is based not only on the outstanding quality of play but on the devotion of their coaches who continue to develop high school football players into young men of strong character.  The Titans are very pleased to underwrite this program that recognizes the efforts of so many talented high school coaches across the state!
Coach Bowling will be recognized during the Titans-Houston game on Dec. 29, where the Titans will also recognize the ten 2013 Titans Coach of the Week winners. The Coach of the Year and all ten Coaches of the Week will be will be available for interviews /photos in the Titans post-game interview room at 10:45 a.m. Dec. 29.
Now in its 15th season, more than $173,000 from the Titans Foundation has been awarded to football programs across the state in honor of the Coach of the Year and Coach of the Week winners. 
The criteria for selection include the coach's impact on his team, school and community.  A statewide media panel votes each week to determine the weekly winner.  All high school football coaches in Tennessee, regardless of their school's size, league, or division, are eligible to be selected each week.  The program is designed to recognize high school coaches who transform, through their hard work and dedication, student-athletes into the best possible football players and citizens in their community.
Previous Titans Coach of Year winners:
1999 — Jim Wilson, Glencliff High  
2000 — Tom Weathers, Red Bank High        
2001 — Ralph Potter, McCallie High  
2002 — Robert Lassiter, Gallatin High   
2003 — Jeff Morris, Milan High   
2004 — Buck Coatney, Knoxville Fulton High 
2005 — George Quarles, Maryville High  
2006 — Philip Shadowens, Smyrna High 
2007 — Ralph Thompson, Maplewood High
2008 — Scott Blade, Hillsboro High  
2009 — Anthony Crabtree, Beech High
2010 — Gary Rankin, Alcoa High   
2011 — James Counce, Henry County High 
2012 — Rodney Saulsberry, Whitehaven High School
2013 — Darren Bowling, Union City High School
2013 Titans Coach of the Week winners:
Week 1: Jeremy Bosken  - David Crockett High School
Week 2: Scott Trapp - Dekalb County High School
Week 3: Orentheus Taylor - Jackson Central Merry High School
Week 4: Joe Case - West Greene High School
Week 5: Shawn Witten - Elizabethton High School
Week 6: John Webb - Rockwood High School
Week 7: Graham Clark - Dobyns-Bennett High School
Week 8: Bart Stowe - Dyersburg High School
Week 9: Craig Harris - Middleton High School
Week 10: Matthan Houser  - White County High School