BALTIMORE – Titans rookie Aaron Brewer had prepared as a starter all week, but as the hours ticked down to Sunday's game against the Ravens, he got emotional.
Brewer, an undrafted rookie from Texas State, was about to make his first NFL start.
"There were actually a lot of emotions (before the game)," Brewer said. "(I thought) of how far I'd come, and where I came from, and just how many people don't make it. After everything I'd been through, I went out there with my guys, and being able to fill that spot for Rodger Saffold and come out with the dub, it was amazing. A whole bunch of emotions came."
With Saffold ruled out, and center Ben Jones questionable for the game with a knee injury, the Titans knew they'd have to do some shuffling. Jones ended up starting, and Brewer ended up starting at left guard. The Titans had to make even more adjustments in-game, as David Quessenberry ended up replacing Ty Sambrailo at left tackle after he was injured during the game. Jamil Douglas had to step in at center when Jones left briefly.
Brewer played all 70 snaps at left guard on a day when the Titans ran for 173 yards, including 133 by running back Derrick Henry. Quarterback Ryan Tannehill was sacked twice in the contest.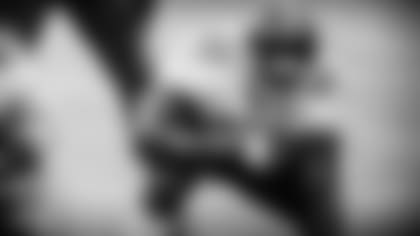 "You know, I can tell you without watching the film that he competed his tail off," Titans coach Mike Vrabel said of Brewer, who played sparingly in five games earlier in the season, working on special teams. "He competed because I know that, that is why he was in there. I thought he earned the right to be out there. We wanted to take a look at him. Jamil [Douglas] is a guy that we have a lot of confidence in. We just didn't know where Ben [Jones] was going to be in his efforts. There are so many guys that are battling through, that I would hate to start sitting here and naming them by name. There are a lot of guys who are playing far less than 100%. I am so proud to coach them and watch them compete. But [Aaron] Brewer, I thought he earned the right. He loves football, he competes. He is tough, and I knew he was going to fight in there for me."
Rated as a two-star recruit by Rivals coming out of Skyline (Texas) High School, the 6-foot-1-inch, 274-pound Brewer appeared in 48 games with 47 consecutive starts over four seasons (2016-19) at Texas State.
He was pumped to celebrate on the field as Henry raced into the end zone for his 29-yard touchdown run in the team's 30-24 overtime win.
"That got me excited, all riled up," Brewer said with a smile. "I am happy as hell for him, and glad the o-line could open things up, with the o-line, receivers, tight ends and running backs, everybody jut opened it up for him to get it done."