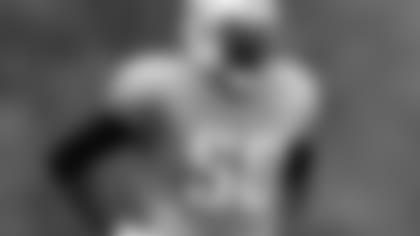 Former UCLA LB Akeem Ayers, the Titans' second-round draft pick in April, has been one of the major bright spots so far in Titans camp.
NASHVILLE, Tenn. — Tennessee cornerback Alterraun Verner thinks so highly of his former UCLA teammate that he predicts linebacker Akeem Ayers can be the NFL's defensive rookie of the year.
Verner sees the 6-foot-3, 254-pound rookie as a perfect fit in the Titans' new defensive scheme with a head start thanks to similarities to the defense Ayers worked in at UCLA. Verner also hasn't seen the mental mistakes he expected as Ayers started learning in training camp.
"I'm not saying that for show or anything," Verner said.
"I really think if he plays the way I know he can, especially with our defensive scheme, he definitely should be in the running for it ... He hasn't been making mental mistakes. That would be the only thing I thought would have been able to hold him back."
Ayers had been rated as a possible first-round draft pick coming out of UCLA. Instead, he slipped into the second round where the Titans grabbed him with the 39th pick overall for his size, speed and attitude.
Nothing has changed since the opening of training camp.
Ayers has worked with the first-team defense since camp opened, and he is on track to start Sept. 11 in the season opener at Jacksonville. The last rookie to start his first game for this franchise was Jevon Kearse in 1999 and the first linebacker to do that was Eddie Robinson in 1992 when this team was called the Houston Oilers.
Coach Mike Munchak said they put Ayers in that spot from the start to see if he could maintain it. Nearly two weeks in, they like what they see.
"So far so good," Munchak said.
"He is stronger than we thought and saw on tape, maybe we will ask him to do more things that way. It looks like he has a lot of talent to rush the passer. He is going to be a very interesting guy, there are a lot of things he can do, and he is just going to get better and better."
Ayers has heard Verner's prediction and feels no pressure to live up to that. Then again, he's not ready to look ahead to Sept. 11 and whether or not he starts.
"I'm not looking that far ahead. I'm just working my way through camp and doing everything I can control. I can't control if they start me or not. I'm controlling my attitude and my effort out there," Ayers said.
The linebacker sees himself able to play the run, rush the passer as well as cover tight ends. In Tennessee, he's working daily against veterans like Craig Stevens and recent pickup Daniel Graham.
On Wednesday, Ayers popped Stevens hard after a short catch, knocking the tight end to the ground. Ayers quickly offered a hand back up, which the tight end knocked away.
Linebacker Will Witherspoon said Ayers has done a great job of playing his role. He's seen a few miscues and can occasionally see the rookie thinking. But he credits Ayers with listening to veterans and coaches, especially on technique tips or how to set his feet, or plant his hands.
"We don't want to take him from the 2- to the 4-gigabyte level yet," Witherspoon said. "But we're going to keep him going and a steady feed of info. He's done a great job of taking it in. There's a few mistakes here or there but nothing significant. Nothing that can't be fixed pretty easily."
Verner, himself a fourth-round pick out of UCLA a year ago, has done what he can to ease the linebacker's transition to the NFL. He had talked up Ayers before the draft. He said the texts and Twitter messages poured in once the Titans landed Ayers.
"I was excited because I knew what kind of player he was and that we got a steal in the second round," Verner said.
Some pre-draft projections even had Tennessee grabbing Ayers, though the Titans used the eighth pick overall on quarterback Jake Locker. The linebacker didn't expect to fall out of the first round either.
"This is the last place I thought I'd be, but now that I'm here it's like the perfect fit for me and everything happened for a reason," Ayers said.
NOTES: The Titans worked in pads for a third straight day Wednesday. Munchak said he thinks players can sharpen technique better working in the pads they play games in. ... WR Kenny Britt is working in individual drills but no team periods yet. He likely won't play Saturday night against Minnesota. DT Sen'Derrick Marks (shoulder), S Nick Schommer (hamstring), S Robert Johnson (hamstring) and P Chad Cunningham (leg) also won't play.