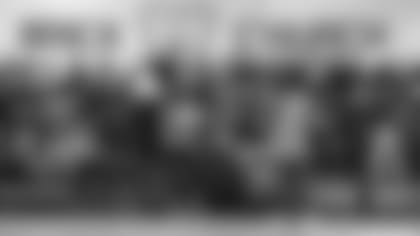 Titans linebacker Stephen Tulloch addresses students at Brick Church Middle School on Tuesday.
NASHVILLE Tenn. --** Titans linebacker Stephen Tulloch burst through a paper banner made by Brick Church Middle School cheerleaders with great ease. The fifth-year pro then told a school-wide assembly that hard work and determination will help them conquer tougher challenges.

Tulloch's visit to the school was in conjunction with the Titans' Play 60 Challenge, an initiative to promote healthfulness through active lifestyles and nutritional eating habits. Students are challenged to get an hour of activity each day and eat healthier foods. Tulloch, 25, told students he was active in his youth and has to be smart about what he eats, usually opting for grilled chicken or grilled fish instead of fried foods.

Tulloch said he enjoyed re-visiting Brick Church Middle School, where he has forged a relationship with faculty and students since he first visited it three years ago. He's a favorite of students and Executive Principal Chirelle Jefferson, who wore a Tulloch jersey that the player had previously autographed.

"Brick Church Middle School has been a school that I've worked with for a couple of years now and I got an opportunity to come back out and speak with them," Tulloch said. "Ms. Jefferson does a great job, is a principal that I think is cool and demanding of great grades and effort. That's what attracted me so well to this school. They have a great staff and the kids are very responsive to what I say. This school is on the move. It's a great school overall, and I'm happy to come back here."

Jefferson said Brick Church Middle School guides 400 students in grades five through eight "into their futures." She said she appreciates Tulloch's willingness to visit the school and inspire students.

"Stephen Tulloch, No. 55, is incredible. He's really given to our students' needs," Jefferson said. "He's so down to earth, and I think that gives them something to look forward to in their future. Dreams can come true. I think they understand the importance of education, of putting mother first, understanding the importance of relationship and working hard to achieve one's goals."

Listed at 5-foot-11 and 240 pounds, Tulloch said when people told him he was too small to make it to the NFL, he put in extra time to get the job done and didn't give up on himself. His inspiration, Tulloch said, came from his mother Mercedes Tulloch, who worked hard to provide for her three children.

"She's just a wonderful lady," Tulloch said. "A lady that instilled in me hard work and giving back and perseverance, and that's what makes me the person I am and the player I am today. That's why I do so much in the community and give back the way I do. It's a tremendous honor to have a mother like that to put that in me so I can put that in them. It's the circle of life."

Tulloch led the Titans in tackles in 2009, recording 132 takedowns in his first season as Tennessee's starting middle linebacker. Tulloch has 13 tackles in two games this season, helping the Titans have the league's top-ranked defense in total yards and passing yards allowed per game.

After the school-wide assembly, Tulloch met with 25 students that were chosen for exemplary behavior. He answered their questions and signed autographs, then received a tour of classroom doors that students had decorated as part of the NFL's Back to Football contest held earlier this month. Tulloch appeared on a couple of doors but his favorite was one that featured Titans running back Chris Johnson and spaghetti that represented Johnson's dreadlocks. Tulloch used his phone to take a picture of that door.

"Those doors are pretty funny," Tulloch said. "They had a competition here. The funniest one out of all of them was Chris Johnson with the clock on the head and the fake dreads. I'm going to show him that photo when I get back. It's a good honor. I'm glad that they do something like this. It shows that they're improving in all aspects, whether it be art, whether it be classwork. Whatever it is, they're striving for excellence."