**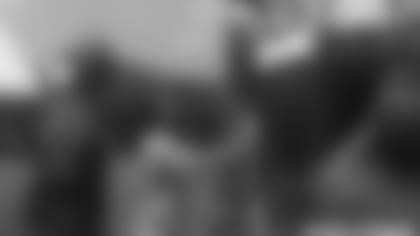 Chris Johnson (right) signs a Titans logo on the ESPN tour bus, while Vince Young (left) and ESPN's Adam Schefter (middle) look on.
Quick Hits from Camp**
• ESPN NFL insider Adam Schefter and his crew brought the training camp tour bus to Nashville today.  He interviewed Chris Johnson and Vince Young and showed some Titans staff and players the tour bus.
• Practice was forced inside the bubble for the second time in the last week due to inclement weather.
• Quarterback Vince Young threw a perfect 40-yard fade pass down the left sideline to Bo Scaife.
• Running back Chris Johnson and linebacker Patrick Trahan went neck-to-neck in the end zone to try to catch a Vince Young pass.  After momentary battling, Johnson came up with the ball.
• A Rusty Smith pass was intercepted by safety Vincent Fuller after it was tipped by Trahan.
• Cornerback Pete Ittersagen showed some agility with a diving, one-handed pass breakup in the end zone on a ball thrown by Kerry Collins.
• The defense looked very impressive in the 7-on-7 drills today, getting numerous goal-line stands and several pass breakups.
• Both William Hayes and Vincent Fuller suffered injuries and were unable to finish practice.  Alterraun Verner also was forced to sit out a few plays due to injury but was able to return to the field.
Off the field Q&A with Brett Kern
What is your favorite thing about Nashville?
"It seems like there is always something to do.  Everyone is friendly.  My wife and I are country music fans so it's a great city to be in."
How did you spend your offseason?
"Just hanging out with my wife and our son.  We went back home to Ohio."
What are your hobbies off the field?
"Golf is my biggest hobby.  I have a scratch handicap.  I had a job at a golf course in Toledo and my roommate and I would play every day.  Other than that, just being with my wife."
What are your plans after football?
"I'd like to get in the golf industry - either a teaching pro or running camps or something along those lines."
Who was a role model for you growing up?
"My dad.  He was a well-respected man in the community.  He was a great man.  He treated my mom the right way and he led by example."
If you could be on any reality show, which one would you choose?
"I wish I could be either Bob or Jillian on The Biggest Loser and train those people."
Last movie you saw in theaters?
"It's been almost a year since my wife and I have been able to go to the movies.  I think the last movie I saw was Fireproof.  It was a great movie."
What is your favorite vacation spot?
"Anywhere on the beach.  Taking a cruise would be the best.  My wife and I went on an 11-day cruise in the southern Caribbean for our honeymoon and I loved it."
(on the competition for the running back position behind Chris Johnson)
**I'm really looking forward to watching, first off, Javon (Ringer) take care of the football. If you recall, he had a successful training camp last year. So we'll have to see where he's at and then, of course, try to get enough carries for everybody. It's a hard thing to do, but, realistically, CJ doesn't need a lot of carries. We'll get him a couple touches, and we'll get him out. So there should be plenty to go around, but the competition's good right now.
(on if he has decided how long starters will play in the first preseason game)
**It'll probably follow the lines of the last few years. Starters will play, depending on the number of plays, just roughly a quarter. Some of them will play a little fewer; some will play a little bit more, and we'll start rotating.
(on Vincent Fuller's apparent injury during practice Tuesday)
**I don't have an update on him right now until I get inside. We'll check it out. I don't think there's much to be concerned about, with the exception of maybe William (Hayes).
(on Cortland Finnegan's status)
**Cort's probably a few days away. He's got a little groin hip flexor thing going on. We're just going to make sure that he's 100 percent before he comes back.
Daily Trivia Question (answer revealed in tomorrow's notebook)
Which two Titans' hometowns are located the furthest from Baptist Sports Park?  Which two hometowns are the closest?
Answer to yesterday's trivia question:
Which BCS conference (current alignment) has the most current Titans?
Answer: The SEC has 10 players on the Titans roster.  Other BCS conferences: Big 12 (9), ACC (9), Pac 10 (7), Big 10 (5), Big East (4)
Correction to the answer for August 7 Trivia Question: There were actually five Titans who won national championships in college.  Chris Hope won a national title with Florida State in 1999.