**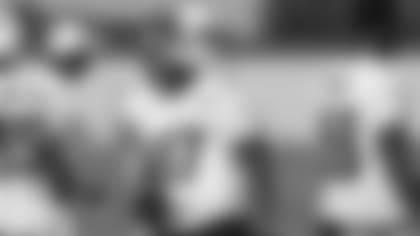 Wide receiver Lavelle Hawkins(87) pictured during Saturday's training camp at Baptist Sports Park.
Quick Hits from Camp**
• The only interception of the day came from rookie Alterraun Verner in his first training camp practice.  The ball was batted in the air on a Kerry Collins pass intended for Jared Cook before being picked off by the 2010 fourth round pick.
• Second-year wide receiver Dominique Edison made a number of acrobatic catches during practice, including a long bomb down the left side of the field from Chris Simms.
• Cornerbacks Ryan Mouton, Jason McCourty, and Alterraun Verner split time fairly evenly.  Mouton ran most of his reps with the starters.
• The Titans placed six players (Tony Brown, Jamar Love, Willie Rose, Nick Schommer, David Thornton, and Damian Williams) on the Physically Unable to Perform list.  Tye Hill did not practice.
• Fan favorite Lavelle Hawkins gave an autographed pair of shorts to a fan during the autograph session before heading into the locker room.
• Tight end Jared Cook saw several reps as an outside wide receiver and performed well.
• Approximately 1,500 fans attended the first training camp practice of 2010.
Off the field Q&A with Lavelle Hawkins
What's the best thing about being back at camp?
"I'm just glad to be back with all the guys.  It gives us a chance to joke around."
What is your favorite thing to do around Nashville?"I like to eat a lot, so I'm going to go with PF Changs"
*How have you spent your offseason? *"Most of my offseason has been spent just getting better.  I try to work every day.  As far as vacations, I did take a trip to Mexico for a week or so."
What's your favorite hobby off the field?
"When I'm not playing football, I'm all about just relaxing and watching TV."
What are your plans after football?
"I would love to coach a high school team back at home at Edison High School.  I would love to be any kind of coach or counselor for high school kids."
Who is your favorite musician or pop culture celebrity?
"Jamie Foxx.  He is so talented.  He can sing, act.  He is such a complete guy, has so much going for him."
Who was a role model for you growing up?
"My grandmother.  I loved seeing how hard she worked, everything she did.  She didn't have much, but she made sure we had what we needed to have."
*Who is the best player of all time, in your opinion, to play your position? *"I'm going to have to go for someone from my era.  Someone I grew up watching.  So of course I'm going with Jerry Rice."
(on Chris Johnson's performance in Saturday's practice)
"Oh, he was good.  He looked real good.  He's in shape.  He got the times confused a little bit, so he ran his shuttle test a little closer to practice than everybody else.  So he was a little tired, but he'll be fine tomorrow."
"It was hot.  Regardless of what you do leading up to this time over the last three or four weeks and how hard you work, you still can't simulate the workload on the practice field.  And of course you add the heat to it.  And that's exactly why we take a very cautious, careful approach and emphasize acclimation.  And we're going to do that over the next couple days.  We're going to go once a day, have a walk-through.  Then, we'll put the shoulder pads on for a couple days with the idea being we need to get used to the heat."
(on what he told the team before Saturday's practice)
"We had a brief meeting.  I thought it was more important for them to be able to go to their breakdown meeting for installation.  We're going to have our group therapy sessions tonight."
Which Titans QB holds the all time passing yardage record at his respective college?