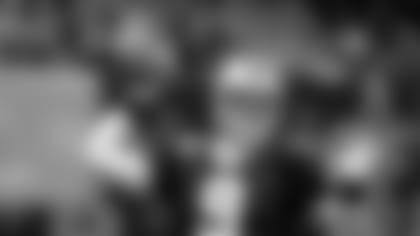 The Titans hope a strong run game will help keep Drew Brees and the Saints' offense off the field.
NASHVILLE, Tenn. — Chris Johnson had pep in his steps as he strolled to his weekly interview with reporters Wednesday.
Back-to-back victories and 343 rushing yards in two games will do that for a player.
"When you're having good games and things like that, you're going to be happier," Johnson said. "We're also winning, a two-game winning streak."
Despite illness last week, Johnson delivered his longest play of the season — a 48-yard touchdown run — in Buffalo Sunday. He also capped another scoring drive with a 4-yard score to give Tennessee a lead it didn't relinquish. The Titans held on for their second straight 23-17 victory.
Tennessee (7-5) will take long and short runs from Johnson and any plays that will lead to points and keep the ball away from New Orleans (9-3) Sunday at LP Field.
Johnson, who said he was back to eating full meals this week, said the timing is right for the Titans to continue running the ball well in their final four games.
"We've got to keep winning if we want to make it to the playoffs," Johnson said. "In order to keep winning in December, you've got to run the ball well. That's a thing we hang our hat on. It can keep him off the field a lot. You run the ball, you eat up a lot of clock, so we want to be on the field more than their offense."
There are good reasons for that.
New Orleans leads the NFL in yards per game (448.7), yards per play (6.5), passing yards per game (325.3) and is the only team in the league that has converted more third downs than it hasn't (53.2 percent). The Saints also rank second in the NFL in scoring (32.8 points per game).
"We can't give them too many opportunities to keep putting up numbers cause the type of offense they've got, you could easily look up and they'd be up 21-zip and turn our offense one-dimensional," Johnson said.
Tennessee has scored more than 28 points twice this season — wins at Cleveland (when Johnson had 101 yards rushing) and at Carolina (when Johnson rushed for 130 yards) — and allowed more than 28 points this season in losses at Pittsburgh and against Houston.
New Orleans is on a four-game winning streak, but is 3-3 on the road this season, with losses at Green Bay, Tampa Bay and St. Louis.
One strategy for shutting down the Saints' offense is to keep Drew Brees on the sidelines. Brees has completed 349 of 496 passes (70.4 percent) for 4,031 yards. He's thrown 30 touchdowns against 11 interceptions.
But that may not be enough, Titans coach Mike Munchak said, because of the Saints' ability to score points quickly. New Orleans scored 31 points, despite having the ball for less than 25 minutes Monday against Detroit.
"You can't just keep the ball," Munchak said. "We've got to score points. They can score points quickly from anywhere. Offensively, we need to stay on the field and do things but we can't blow opportunities because you only get so many times with the ball when you play a team like this and you have to be productive when you have the ball."
Munchak said the Titans have embraced an attitude of looking at the final games of the season as play-in games for the playoffs. Tennessee is one of five teams in the AFC with a 7-5 record. Denver and Oakland are battling for the AFC West title, and Cincinnati would nab the last playoff spot because of tiebreaking procedures.
"We're happy we put ourselves in a position that these games mean a lot more," Munchak said. "We know how good a team they are, how hot they are, how well they're playing. The good news is they're playing here at our place so we can take advantage of our crowd. Hopefully that will help our defense slow that offense down. … I think (the players are) excited. The games that we've had the last two weeks have been like playoff games for us. This one gives us a chance to start positioning ourselves."