Titans Head Coach Mike Munchak
Q: Did you accomplish what you wanted to tonight and see what you needed from the guys?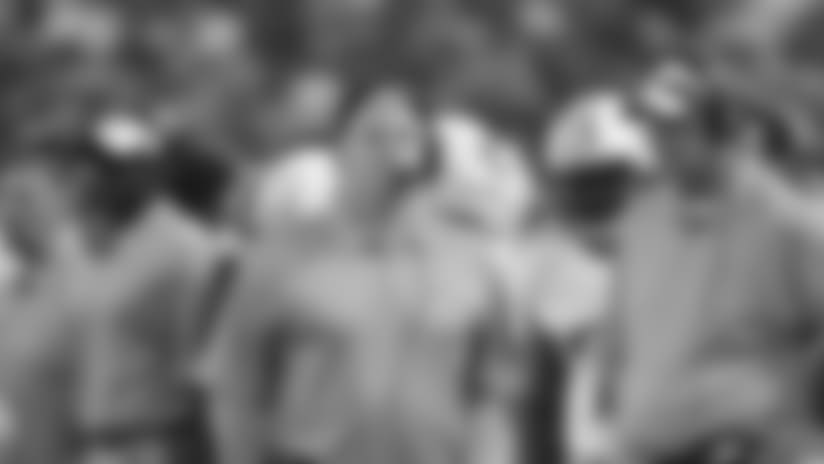 A: I think we did. A lot of the young guys played on both sides of the ball so it will be fun to watch that game tomorrow morning. But nice full drives on the offense in the early first half which was good to see. I saw each group put together a long drive and score some points. Second half we got the turnovers which was good to see some of the young guys against theirs. I think we got what we wanted out of this.  
Q: How about Jackie Battle's performance?
A: Yes, he runs hard. He's had a really good camp so we're excited. He is a really good fit for us and what we're trying to do. It was nice to get with Shonn (Greene) and with CJ (Chris Johnson) not playing, he got an opportunity and must have had 10 to 12 carries on the first series so him and (Jalen) Parmele had a lot of work.
Q: What about Daimion Stafford?
A: Well the injuries have slowed him down. The fact that he missed a couple of games, missed a couple weeks of practice but it was good to see him finally. This was really the first extensive play he has had and it was nice to get him in there and get Blidi (Wreh-Wilson) in the corner, It was good to get (Colin) McCarthy in there  for the second half, mostly for the second quarter so that was all stuff we needed to do and see.
Q: After tonight do you know who your guys will be?
A: We will in the next couple of days. We're going to find out all that stuff now that we've seen everything we need to see.
Q: Did anybody win a job or lose a job tonight?
A: That's tough because we first have to make sure nobody has an injury and doesn't create any problems or create any depth problems anywhere so I think we got through the end pretty good from what it seems like but we'll wait until tomorrow to check on that and then just go ahead and start working on cuts. We'll see what the best combinations are going to be on those last two or three runs.
Q: How have the last couple of days been for you, and the guys?
A: It's hard. We've been together since April and this group has been together for 16, 15 weeks working together and coming together as a football team. They've worked very hard and it's hard. This last week was tough losing 15 guys and now these next couple of 48 hours is going to be really hard. That's what is really hard in this business for coaches, players, everybody. They don't all make the league and guys are trying to figure out and it's a very hard time as you get attached to a lot of these guys and you want to keep them on but you can't so it's tough because you have a lot of great guys on this football team you'd love to keep.
Q: When you look at those mis-snaps is it a matter of repetition or something that went wrong there?
A: No. Some little things at the end of the game but nothing right now that is a concern. The biggest thing is we have the flight home and before you know it we'll have to make the decision tomorrow afternoon so we'll look at it and make sure those no surprises with health or anything.
Titans Quarterback Jake Locker
Q: What are your opinions of the first-team offense tonight?
A: They had a good drive, long drives, moved the ball around the field. They did a lot of good things.
Q: How do you feel overall about of the offense?
A: I'm excited. I thought we progressed each week, and we got better and improved on things that we struggled with beforehand. I'm excited to take the team and get back out and play some games for real.
Q: You got some bigger plays out of Justin Hunter today. What are your thoughts on his progression and how he can help this offense?
A: He did a good job, made some plays for us, and he's getting more and more comfortable so he has to continue to grow his confidence level.
Q: Speaking of confidence level, what is yours like going into this year?
A: I feel very comfortable with this group. I like what we are doing offensively, and I have a lot of confidence going in so I am excited to play.
Q: Coach said he wanted you guys break a sweat out there. Do you think mission accomplished?
A: Yeah, some of the guys broke more than a sweat. I am just handing it off most of the time but it was a good try for us.
Q: A lot of the plays were handed off to Jackie Battle. What did you see out of him?
A: I think he runs the ball hard. He gets tough yards that maybe you do not see all of the time, and he did that again tonight.* *
Titans Tight End Jack Doyle
Q: Was that second throw in the end zone just a little far for you to get to?
A:  Yes, I just missed it, but you can't dwell on things like that.
Q: How does this game leave you feeling about your team?
A: This is crazy. It's my first time going through the whole preseason and training camp, being that I'm a rookie.
Q: With the injury to Delanie Walker, you could really showcase what you could do, right?
A: Yes, that's football for you. If one guy goes down, another guy has to step up. It has been a long camp, but it has been fun.
Q: As an undrafted free agent, is it what you had expected?
A: I didn't really know what to expect going in. I definitely got more reps going through camp than I thought I would, especially with the injury to Delanie. You just have to try to do the best you can. I love football, and I'm just thankful for the opportunity.
Q: When was the last time you were worried about making a football roster?
A: I don't know, never. If you had ever asked me in middle school if I would be at this level playing, I would have laughed at you. So I'm really excited at the opportunity the Titans have given me. I'm extremely thankful and just ready to get tomorrow going.
Titans Tight End Delanie Walker
Q: How did you feel out there tonight?
A: I felt good. I got in a nine-play drive. I felt like my legs were under me and my stamina was well.
Q:  You are a veteran; do you need much more preparation than tonight's game?
A:  I feel good going into the regular season. I had a lot of opportunities with being in a nine-play drive for my first game of the preseason. I did not feel any pain blocking or running routes. I am confident going into Pittsburgh with only one preseason game under my belt.
Q:  Would you have liked to have a catch tonight?
A:  Yes, I would have liked to have a catch, but I do not think we were planning on throwing tonight with Locker in the game. I think running is a little better for me anyway. I just need to make sure my knee is stable. Going live in a real game was the most important thing for me.
Q: Any thought on not playing tonight?
A:  I knew I was going to play, but it was all dependent on how I felt on the turf. If my knee held up making cuts, which it did, then I wanted to get in the game.
Titans Safety Daimion Stafford
Q: Are you glad that the preseason is over?
A: Oh yeah, it gets serious around these times. I am happy to get through it.
Q: Talk about your progression in camp and your outlook on the season?
A: Looking ahead, I just want to make this ballclub so I can do what I can to help us win games, no matter if it is special teams or defense.
Q: Did it feel good to get out there and make a couple of nice plays?
A: Oh yeah. The corner helped me out on that pick, and the fumble recovery came from just running to the ball just like we do in practice.
Q: Did you think you would return that fumble for a touchdown?
A: I did. I guess I just ran out of gas.
Q: How do you feel about where you at heading in to the season?
A: I feel good. There are a couple things I could have done better on special teams, and that is probably where I will be playing most of the year, so I definitely need to work on that.
Titans Linebacker Colin McCarthy
Q: How did you feel about the way the game went today?
A: Started off a little rusty. It has been a while since I have played in a game situation. It felt great to get an opportunity during the preseason, when it doesn't really count, to go out there and knock some of the cobwebs off. I think as the game went on I felt more comfortable out there with the guys. I will build off of this and get ready for Pittsburgh.* *
Q: Does everything feel good with the hamstring?
A: Yeah, no issues. All in all, I felt good. I just want to get ready for Pittsburgh; that is the main goal.
Q: Did you play more than you thought you might, having not played at all in the preseason so far?
A: No. The first series was so bad, so to say, because it has been a while since I have played in a game-like situation. I think Jacksonville last year was the last game I played in. It has been a while since I have been in a game-like situation. So I wanted to play as much as I can, and the coaches agreed with me and I was able to stay out there the whole time. As the game went on it felt better. I am excited, and I feel more comfortable going into Pittsburgh.
Titans Free Safety Michael Griffin
Q: What are your overall impressions of the defense as you guys get into the regular season?
A: It is hard to say since we are going on the first two games. There is a lot of importance on these games. We managed to play good defense against the Atlanta Falcons, but today I thought the first teams were going to start. It is hard to tell if it is going to carry on from the last game, but I guess we will have to see next week where will go from there. Hopefully by the end we will have Akeem Ayers and Zach Brown back, as well as Sammie Hill for next week.
Minnesota Vikings Head Coach Leslie Frazier
You know it's always good to get a win, preseason or regular season. And tonight, the fact that it's the last preseason game at Mall of America Field, it's good to walk off with a (win) and also limit the number of injuries. I think we are pretty fortunate in that area for the most part. We got good news regarding Seth Olsen, he's actually in the locker room. It turned out to be a concussion, so that was very, very encouraging news. Bobby Felder had an ankle sprain, so he should be good in time, and D'Aundre Reed also left the game with an ankle sprain. So other than that, we came out of the game pretty good from a health standpoint. A lot of guys fighting and battling for jobs knowing that myself and coaches, along with Rick (Spielman) and the personnel staff, are going to have to sit down tomorrow and make some tough, tough decisions. And there were some guys tonight that made it a little bit more complicated like Rodney Smith really showed up, made some big plays for us. Marcus Sherels, I don't know if anybody was bigger than Marcus in what he did with the opening kickoff of the second half and the big interception as well. Our young linebackers played extremely well. It seems like Jeff Baca did a good job. There were a lot of guys that really stepped up and played well. Joe Banyard really seemed like he held his own pretty good. So it's going to be a lot of discussion tomorrow when we sit down and go through our roster and try and determine who are going to be the 53 that will give us a chance to be successful in this 2013 season.
Q: Are you likely to make the cuts tomorrow or wait until Saturday?
A: We'll talk about it tomorrow but I don't think that anything will be announced until probably Saturday. But we are going to have some strong discussions tomorrow.
Q: How encouraging was it to see Marcus play well tonight?
A: I'll tell you, everybody loves the way Marcus competes and I think we were all pulling for him. He played with a heavy heart losing his father and then being at the funeral last week. It's just been tough for him. We've got some other guys who've lost parents on our team so they know what he's been going through. So to see him make those plays tonight, our whole sideline was just jubilant to see him come out and play the way he did and what's on his mind and what this week has been like for him, so really happy for him.
Q: He's been a bubble guy, have you seen that knack in him to make the big play when he needs to show he belongs in this league?
A: It seems that way. It just seems like every year you come in and he's one of those guys that you are wondering if he's going to make it this time, you know who's going to push him and maybe take his spot on the roster. He finds a way to make plays and his effort, his preparation, he does a great job in so many areas and he's multidimensional guy. He can help us in a lot of areas on defense and he's obviously a very good returner. He always just comes back every year in great shape, well prepared and then finds ways to make plays in the preseason and training camp and he ends up making our ball club.
Q: What was going through your mind when you saw Seth Olsen go down and then taken off on a stretcher?
A: I think you could see all of our guys getting on their knee and just praying for him and just hoping for the best because when those moments come when they bring that stretcher out, you have no idea what's going on. So we were all just hoping for the best and fortunately things worked out that way.
Q: Do you like what you saw from Desmond Bishop tonight?
A: I thought Desmond did a good job. He was flying around. It was good to see him get out there. He's struggled with injuries over the last year or so, so to see him come out and compete the way he did and put some good tape out there the last two weeks. He was kind of getting his feet wet in that Buffalo game but that last couple of weeks he's really come on, so that's really encouraging. I'm looking forward to watching the tape and evaluating him a little bit more, but he did a good job.
Q: Is this next 36 hours one of the toughest parts of your job?
A: It is without question one of the toughest parts. When you sit down and realize that for a lot of the guys that played tonight, they will probably never wear an NFL uniform again and we have to sit down and discuss who those guys might be. When you sit down with them on that Saturday, or Friday, they come by the office and you explain to them their career in Minnesota for sure is going to be over, and there's a possibility it may be over for good, it can get emotional. You spend a lot of time with them from April on, and some like the veterans, you've been with them for years. To have to explain to them or let them know that the end of the journey is now, it's a tough time, very tough time.
Q: Who has the final say, you or Rick Spielman, when the final decision gets made on the 53?
A: Well we've been collaborative in our discussions, but at the end of the day, Rick is going to give his input and I'm going to share my input, but he is going to make that final decision. One of the things that he's learned and I've learned is that you don't want to make that decision about a player if the coaches, the head coach in particular, are totally against it. It's hard if as a coach, you have to get this guy going and so on and then you don't necessarily believe in it. It's a tough deal, but we've been very fortunate in our relationship where we can discuss every single guy, talk about what needs to be done and what's best for our football team. It's worked out. Whether it be the draft or whether it be the 75 or the 53, we have always been able to come to an agreement and make it work for our team. 
Q: Are there certain situations where you know you have chips to play if you really want a guy?
A: No, there are no chips, you don't know Rick [Spielman] very well, no chips. Q: Since you didn't play your starters, did you come to the conclusion that you didn't want to risk injuries this close to the season?
A: Yeah, we pretty much took the same approach a season ago. From my standpoint and in today's NFL with the depth issues that you have, it's not worth the risk.
Q: How do you feel about the rule with Jerome Felton being able to stay with you guys rather than having to be away from the team?
A: I think it's great. We saw it a year ago with Jerome Simpson and it really helped us for him to be able to be around our team and participate in certain activities. It will be good for Jerome and it will be good for us that he's still a part of what we're doing and not ostracized. I think it's a great rule.
Q: Has Desmond Bishop showed better in games because he can use those instincts?
A: He did some good things in practice as well. I don't want to say he's a gamer because he's practiced well and it's good to see him carry that over to game situations. We have to have some strong discussions regarding him tomorrow.
Q: How has Marcus Sherels' performance been based on all that he has gone through this week?
A: You try to put yourself in his shoes and knowing what he might be going through. As I mentioned earlier, we have some other guys on our team who have lost a parent and it's hard to focus on your job. Last week when he talked to me about going to the funeral, I wanted to be very clear to him that there was no hesitation on my part or our organization's part about him going to that funeral. He was concerned. He thought he might need to play because of the situation as we were trying to make the 75 at that time. There is nothing more important than being there with your mother, your brothers and sisters during that time. For him to come out and play the way he played tonight just tells you a lot about Marcus's heart and his character. As an organization, we try to be supportive of all our guys when they're in that situation. We had the same situation just a few weeks ago with Joe Berger losing an in-law. Those are real human moments and you want to be conscious of that when it happens and our players need to know that we're concerned about them beyond what they do between the white lines.
Vikings Cornerback Marcus Sherels
Q: Coming in did you feel like you had to make a couple of plays to stand out?
A: I always try to make plays. You always try to make plays and today I had my chance and I took advantage of it.
Q: What is it like to be a guy that is always on the bubble when you come to camp?
A: I always feel like that and I like it that way. Competition is great and always makes us better.
Q: With the pick did you feel like you read the quarterback pretty well?
A: We were in two-man coverage and I was underneath, so the receiver passed me and he threw it right to me.
Q: What are the next couple days going to be like for you with cuts coming up?
A: Same as it has been the past few years, not really in my control. I will just sit and wait, and we will see.
Q: Is there a time it gets tough, year after year you have to make the roster like this, does it get tough?
A: I like it that way, it makes me a better player and it makes me get extra work in.
Q: When you skipped the game, and I take it Leslie Frazier was in full support of that, what is it like to have a coach like that?
A: It was awesome. He was the one that basically told me I need to be with my family, he would have done the same thing, and I am glad I made that decision.
Vikings Wide Receiver Joe Webb
Q: How do you feel in a preseason game where you can show what you have one last time before cuts?
A: I feel like I have come a long way since the time they moved me to receiver, back in April. I feel like I have made a lot of progress, and I worked hard at it.
Q: Do you feel pretty good? What does your gut tell you?
A: Yeah, I am feeling good about it. I am going get a peace of mind, and the coaches will hopefully make the right decision.
Q: How scary was it when Seth went down?
A: It was very scary; Seth is one of my great friends, I came in with him my rookie year. To see him come back here to Minnesota, and we clicked pretty good, but it was scary. I am very glad to see him walk around the locker room.
Vikings Running Back Joe Banyard
Q: That was an impressive game, are you happy with it?
A: I definitely am.  I definitely want to be here with this team, and I had to showcase what I can do for this team, so I did.
Q: Did you view this night as a big opportunity not knowing how much playing time you were going to get?
A: Yes, I did, but I use every night as a big night.  I'm trying to make this team like everyone else, so you have to take advantage of your opportunities. 
Q: You've been pretty consistent throughout, is it a surprise to you?
A: No, this is what I train for every day. This is what I work my tail off for.  At the end of the day this is what I expected.  Sleeping in the hotel, I can dream it so I just had to achieve it.
Q: What would it mean to get the call saying you're on the 53 man roster?
A: I might cry; I really might cry. I will definitely have to thank the good Lord, and then I'll just cry because I know this is where I want to be. 
Q: What's the hardest part about making that switch from guard to center?
A: Probably the mental aspect, picking up those responsibilities of calling out the Mike (Linebacker) and making the majority of the calls.  At guard you are more so listening to the call from the center.
Q: You normally play alongside Joe (Berger) who is a center, and you guys are switching spots out there.
A: When Seth (Olsen) went down he didn't want to ruin the chemistry of me being at center and making the calls, switching me from center to guard.  Joe (Berger), just like me, has been playing both center and guard, so he just popped in there at Guard.
Q: There was one sack on McLeod Bethel-Thompson. Who was that on? Was that a miscommunication?
A: I'm not sure; I'll have to look at the film.  I think the one you're talking about they ran a little stunt.  I'm not exactly sure how that worked out on the front side; I'll have to take a peek at the film. 
Vikings Linebacker Desmond Bishop
Q: How are you feeling physically and in terms of readiness?
A: I feel good. I feel like I'm ready. I think I'm doing a pretty good job. The scary part is that I still have a lot of potential to fulfill, so I'm excited.
Q: Talk about your progression. Have you felt yourself climbing the steps?
A: I think so. It's a process- the transformation, the new defense, getting my feet back under me. It's all been a process. I have steadily been getting better each game.
Q: How much has learning a new scheme slowed things up?
A: Not too much. At the end of the day, it's football. You have an assignment and you have to execute that assignment. Whether it's the A-gap or the B-gap, it doesn't matter. It's all about executing your assignment.
Q: (Referencing a play) It seems like you were reacting and not thinking at all.
A: A lot of it is preparation. For most of the good players in this league, the reason they make good plays is preparation. They study and they know and when they see something, they take a calculated risk. Sometimes it pays off. Sometimes it does not.
Q: Desmond, do you think a guy like you can rely on your instincts? (Looks better in a game rather than a practice field)
A: Absolutely. I am an instinctive guy. It is my strength. When I practice, it's preparation for the game, but it's all about doing it in the game.
Vikings Wide Receiver Adam Thielen
Q: How has your experience been with the Vikings?
A: It has been awesome, I couldn't have asked for a better situation.  Great teammates, they make the game so much fun and a great coaching staff.  It has just been a blast being here. 
Q: Do you think that you've shown enough for the coaches to make the team?
A: I can't really worry about that.  Every day I went out there with the same goal in mind to show the coaches what I've got and get better every day.  I feel like I've gotten a lot better and that's all I can ask for.
Q: Have you had a lot of family in the stands here in the last couple games and in Mankato?
A: Yeah, I've had a few fans at about every game.  I've had tremendous support from people from Detroit Lakes and from Mankato.  It has been a pretty cool experience for me. 
Q: Are you going to sleep well tonight?
A: Yeah, I'll be alright.  It was really fun to get back out there, have a lot of playing time in a game and getting into the groove of things.
Vikings Cornerback A.J. Jefferson
Q: How do you feel your chances are to make the roster? Do you feel like those are pretty good?
A: It's not up to me. I can just go out there and leave everything on the field. It's up to the coaches if they want to make that decision. I feel like I did all I could out there.
Q: Did you feel like you were kind of on the bubble area coming into this game?
A: Anytime you're playing in the preseason you've got to just play like you need to make the team. Nobody's spot is secure so I just play like I have to make the team every time.