**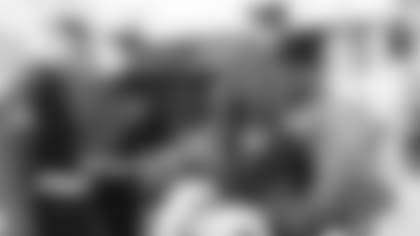 The annual Titans/U.S. Marine Corps Toys for Tots Drive takes place Sunday at LP Field.
NASHVILLE, Tenn. —
The Tennessee Titans and the US Marine Corps Reserve will once again join forces for their annual
Toys for Tots Drive.
The Titans are asking fans to bring a
new, unwrapped
toy to LP Field
on Sunday, December 13th
when the
Titans host the
St. Louis Rams
(3:05pm kickoff). **
Members of the U.S. Marine Corps Reserve will be in uniform and stationed at eight drop-off sites to accept toys from fans starting at 1:00pm. The first 10,000 fans that donate a toy at one of the eight charitable collection locations around LP Field will receive a one-of-a-kind poster of the Titans defensive linemen.
All toys collected during the drive will be donated to Marine Corps Reserve Toys for Tots program. The Marine Corps Reserve, with the assistance of local social welfare agencies, church groups, and other local community agencies, distribute toys to the neediest children in middle Tennessee. The Titans encourage all Tennessee residents to participate in their local Toys for Tots area drives to help those in need this holiday season.
The toy drive marks the seventh stadium drive by the Titans during the 2009 season. Previous collections included school supplies, cell phones, coats, food, and women's undergarments to benefit various non-profit agencies and those in need.
The Titans will conclude the stadium drives by hosting a Community Baby Shower to benefit Nurses for Newborns on Dec. 20. The Titans will be asking fans to bring baby items to help mothers in need around Middle Tennessee. Titans fans continue to show why they are the best in the NFL by participating in these donation drives to help fellow Tennesseans who are less fortunate.
Major Bill Hendricks founded the United States Marine Corps Reserve Toys for Tots campaign in 1947. It has since evolved into a national effort of community participation and charity, delivering millions of toys to millions of children. The program has been an "official" function of the U.S. Marine Corps Reserve