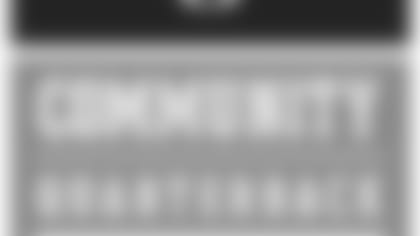 NASHVILLE, TN -The Tennessee Titans continue the search for Tennessee's top volunteers through the 12th annual Titans Community Quarterback Award program -- the deadline for entries is January 10, 2012.  *The Titans *are asking all non-profit organizations throughout Tennessee to nominate their top volunteers for a chance to receive a $10,000 grant!
The Titans Community Quarterback Award program is a statewide competition which recognizes outstanding volunteers in the state of Tennessee who provide volunteer services for nonprofit 501(c)(3) or 509 organizations. The program honors individuals who exemplify leadership, dedication, and a commitment to improving the communities in which they live. Nominees may serve only in a volunteer capacity and may not receive any compensation – monetary or otherwise – for their efforts. Individuals may nominate themselves or be nominated by others.
Once the winners are selected, Titans Owner K.S. "Bud" Adams, Jr. will distribute $17,500 in grants from the Tennessee Titans Foundation to the organizations where the winners serve, raising the total of grants distributed in this program to nearly $200,000 since the program began in 2000. The Titans Community Quarterback Award winner will receive a $10,000 grant for his or her agency from the Titans Foundation. In addition, the runner-up will receive a $5,000 grant from the Titans Foundation and the third place winner will earn $2,500 for their respective charities.
"The accomplishments of these nominees continue to amaze me," said Adams. "The example they set is an inspiration to us all. I'm sure that this year will be no different in that the judges will have a very difficult task in selecting the winning entries. As I review the nominations each year I am reminded that Tennessee truly is the Volunteer State."
The Titans will honor the Community Quarterback Award winners at a volunteer recognition luncheon at LP Field, where the team will also recognize the volunteers that assisted the team with the seven charity game day drives held at LP Field during the 2011 season.
All residents of Tennessee, age 13 and over who provide volunteer services for nonprofit organizations within the state of Tennessee are eligible for nomination. All Tennessee non-profits are encouraged to submit nominations recognizing their top volunteers.
The 2010 Titans Community Quarterback Award winner was John Blackburn, of the Hickman County Long Term Recovery Committee (HCLTRC) in Centerville, TN. The HCLTRC is a non-profit organization dedicated to the assistance of members of the community that have suffered repercussions to their lives during times of disasters, be it natural or made-made, fires, storms or epidemics. Their goal is to insure that no one falls through the cracks. Blackburn is a founding volunteer and Board Member for the HCLTRC since its founding in 2008.
The list of previous winners follows:
2010- John Blackburn, Hickman Co. Long Term Recovery Committee, Centerville
2009- Tasha French, *"The Contributor", *Nashville
2008- Wayne Howell, Franktown Open Hearts, Franklin
2007- Bill Boss, Hands-On Science Center, Tullahoma
2006- Mary McEwen, Bethlehem Center, Nashville
2005- Sondra Clark, Christ Presbyterian Academy, Nashville
2004- Mary Cunningham, Meals on Wheels, Kingsport
2003- Wayne Watson, Colonial Heights United Methodist Church, Kingsport
2002- Lynn Dunwoody, Auxiliary Probation Service, Memphis
2001- Anna Sternheimer, Nashville Family Shelter, Nashville
2000- Georgeanna Chapman, Martha O'Bryan Center, Nashville
All completed hard-copy nomination forms must be mailed to Titans Community Quarterback Award Nomination, 460 Great Circle Road, Nashville, TN 37228 and postmarked no later than January 10, 2012.CLICK HERE TO DOWNLOAD NOMINATION FORM