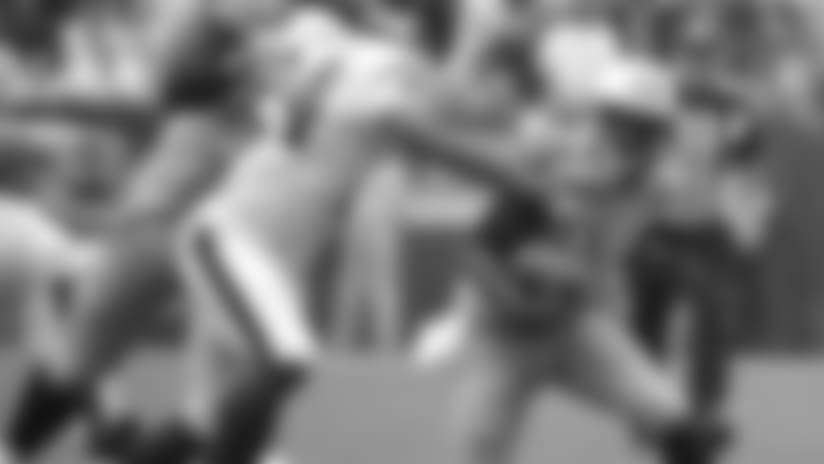 ](http://www.titansonline.com/media-center/photo-gallery/Week-2-Tennessee-Titans-at-Houston-Texans/c6990e27-cb18-4d29-8c88-1a2571ac16a0)
Kendall Wright led the Titans with seven catches on 11 targets for 54 yards and a touchdown. Click here for a slideshow from the game.
TITANS PLUS-TWO IN TURNOVERS, BUT STREAK ENDS: The Titans defense forced two turnovers against the Texans—both interceptions—while the offense did not turn the ball over.  It was the second consecutive week the Titans were plus-two in turnovers after recording an interception and a fumble recovery against the Steelers.  However, by losing the game versus the Texans, the team's 42-game winning streak in contests with a plus-two or greater turnover ratio came to an end.  The Titans had not lost a game with a plus-two or better turnover margin since Sept. 22, 2002 against the Cleveland Browns. 
SACKS FOR MORGAN AND WIMBLEY: In the fourth quarter, Derrick Morgan recorded his second sack of the season, dropping Matt Schaub for a seven-yard loss to give the fourth-year defensive end 12.5 sacks in his career.  On the next series, defensive end Kamerion Wimbley notched his first sack of 2013 for a loss of 11 yards.  In eight NFL seasons (two with the Titans), Wimbley has 49.5 career sacks. 
VERNER'S PICK-SIX:CornerbackAlterraun Vernerrecorded his second interception in as many weeks, picking off aMatt Schaub** pass and returning the ball 23 yards for a touchdown.  It marked his second career touchdown and first after an interception.  His previous score came via a fumble return against the Detroit Lions on Sept. 23, 2012.  The fourth-year cornerback now has eight career interceptions.
LOCKER THROWS TWO TOUCHDOWN PASSES: Jake Locker tied his career high with two touchdown passes against the Texans: a six-yard strike to Kendall Wright in the first quarter and a 10-yarder to Delanie Walker in the fourth quarter.  It was the third career game with two touchdown passes for Locker, who recorded his 13th career start and now has 16 career touchdown passes.  He totaled 17 completions for 148 yards on 30 attempts without throwing an interception at Houston.
KERN'S PERFORMANCE: Brett Kern punted eight times against the Texans, marking the sixth time in his six NFL seasons he punted eight or more times in a game.  He averaged 47.8 gross yards per punt, while his net average of 46.6 ranked 11th in franchise history for a single game (minimum four punts).  Kern owns seven of those top 11 net-punting performances. 
WALKER'S FIRST SCORE AS A TITAN:Tight endDelanie Walker** helped give the Titans the lead in the fourth quarter with a 10-yard touchdown reception.  It was his ninth career touchdown catch and first since signing as an unrestricted free agent from the San Francisco 49ers in the offseason. 
BIRONAS HITS FROM 47 YARDS: With time expiring in the first half, Rob Bironas booted a 47-yard field goal to put the Titans ahead 10-7.  It was his 89th career field goal from 40-plus yards.  Bironas entered the game having hit 75.9 percent of career field goals from 40-plus, the highest since 1970 among qualifying players.
POLLARD PROVIDES BIG INTERCEPTION: With less than two minutes to play in the second quarter, Bernard Pollard recorded his 10th career interception and first as a member of the Titans.  The eighth-year safety, who was signed as a free agent in the offseason, returned the interception against the Texans 32 yards to help set up a field goal.
JOHNSON PASSES GIVINS: In the first half, Chris Johnson passed Ernest Givins (8,704) for fourth place on the franchise's all-time list for career net yards.  Johnson trails only Eddie George (12,153), wide receiver Derrick Mason (11,202) and running back Earl Campbell (9,292) on the list.
JOHNSON REACHES 7,000: With an eight-yard carry in the first quarter, Chris Johnson became the third player in franchise history to reach 7,000 career rushing yards.  The sixth-year veteran joined Eddie George (10,009) and Earl Campbell (8,574) as the only Titans/Oilers to do so. Johnson finished the game at Houston with 96 yards on 25 carries, marking his second consecutive week with 25 rushing attempts. 
TOUCHDOWN ON FIRST DRIVE: On their first series of the game, the Titans scored on a 14-play, 80-yard drive.  Kendall Wright's six-yard touchdown catch provided the first opening-drive touchdown of the season.  In 2012, the Titans scored eight total times on opening drives, including three touchdowns and five field goals.
LOCKER AND WRIGHT CONNECT: In the first quarter, the Titans scored on a six-yard touchdown pass from Jake Locker to Kendall Wright, the team's first touchdown pass of the season.  It was the fifth career touchdown reception for Wright, who led the club with seven receptions for 54 yards.
WASHINGTON EXTENDS STREAK: With a 17-yard reception in the first quarter, Nate Washington extended his streak of consecutive games with at least one reception to 80, including all 66 games he has played as a member of the Titans.  Washington notched three receptions for 50 yards against the Texans, including a long of 31 yards during the team's 99-yard touchdown drive.
HUNTER'S DEBUT: Titans rookie wide receiver Justin Hunter made his NFL regular-season debut against the Texans.  The second-round pick (34th overall) was inactive in Week 1 against the Steelers. 
INACTIVES: The Titans' seven inactive players at Houston were running back Shonn Greene; linebacker Zaviar Gooden; center Brian Schwenke; tackle Byron Stingily; defensive ends Keyunta Dawson and Lavar Edwards; and wide receiver Damian Williams.