NASHVILLE, Tenn. — Dowell Loggains has held multiple official titles since joining the Titans. Tailor isn't one of them, but it appears to fit.
There was coaching administrative assistant in 2006-07, offensive quality control coach in 2008-09 and quarterbacks coach from 2010-12. He was promoted to offensive coordinator for the final five games last season and is continuing in that role this season.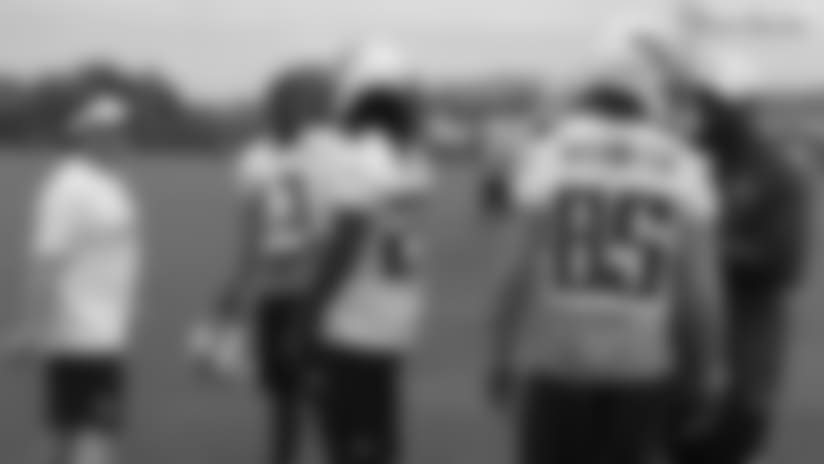 ](http://www.titansonline.com/media-center/photo-gallery/Titans-OTA-Practice-June-6/ac0142b0-c368-456a-bc06-d393eec9e059)
Loggains is installing an offensive system that is designed to capitalize on the individual strengths of each player from quarterback Jake Locker to running backs, tight ends and receivers.
Tennessee's top three returning receivers from 2012 — Kendall Wright (64 catches), Nate Washington (46) and Kenny Britt (45) — bring different elements to the offense and different physical attributes. Wright is 5-foot-10 and has dropped his weight to about 187 pounds, Washington is listed at 6-1 and 177 and Britt at 6-3 and 215.
Each said they've liked the new playbook and seeing different ways their capabilities can be deployed.
"We have so many plays for every receiver because every receiver does something different," Britt said. "You can't compare Nate and myself and say I'm a better receiver because there's things that I do differently. I'm a bigger receiver, and he's a receiver that goes out there in the slot.
"We've got Damian Williams, Kendall Wright and just brought in our young great Justin Hunter and also brought in Kevin Walter, and everybody does something totally different," Britt continued. "To see the playbook develop and see the plays we have this year, everybody gets the ball this year, and we have a special running back in the backfield that's going to get the ball, too, and we did a great job of formulating this offensive line, and they look good."
The Titans are seven weeks through their nine-week offseason program and wrapped up their sixth organized team activity practice on Thursday. Tennessee will have its final four OTAs next week and a mandatory mini-camp June 18-20.
Wright said the new playbook is "a lot of different stuff that (Loggains) likes" and "gives you a chance to catch the ball and not get hit when you catch it."
Wright said losing nearly 15 pounds this offseason is helping him be smoother in and out of breaks. He said he smiles when he sees the plays that are designed for him but he's also happy to block when the ball goes to another receiver.
"I just smile and go out there and run it full speed and hope the read brings it to me, and if it doesn't I want to be ready to block for whoever catches it," Wright said. "We emphasize in the receiving room if you don't get it, just go and find your teammate and block for them and just get in the picture."
Loggains no doubt wants to capitalize on his shiftiness and give him opportunities for more yards after catches this season. Loggains said he's been pleased by the progress of the offense so far but pointed out this part of the calendar only permits "football in shorts" with no contact, which should benefit all offenses.
Washington, a crafty, skilled and versatile veteran with at least one catch in 62 straight games, has been working outside and in the slot. He said the tailoring of the offense won't pigeonhole the receivers.
"I think at the end of the day we all have an opportunity to run different plays," Washington said. "I don't think there's going to be one specific thing or one specific route that any of us will be locked into we all have a different opportunity to be in different positions and I think that's the best thing right now. … "He's given us a lot of different stuff that give us lots of opportunities."
Titans coach Mike Munchak said it's been "fun to watch" Loggains work with the benefit of a full offseason and see how he competes in practice against defensive coordinator Jerry Gray and senior defensive assistant Gregg Williams, who are more tenured coaches.
"No one knew what to expect. He's only called four or five games last year, so he knows this is a big year, a big moment for him," Munchak said. "Obviously you all should know the confidence I have in him, or I wouldn't put him in this position.
"I've seen him for eight years. I've watched this kid work and I love the ideas he has," Munchak continued. "The players are going to feed off him. That's what I like about him. They're going to want to play well for him. He's going to put them in position to make plays, and they're going to enjoy that."