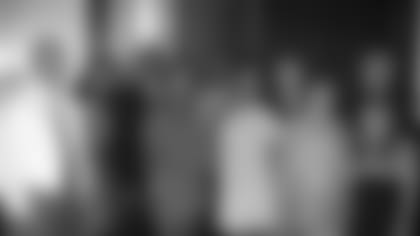 From L to R: Bruce Plummer, Genma Holmes, Carey Casey, Shelby Johnson, Craig Johnson, Sydney Johnson, Brian Stanley and Haynes Stanley.
NASHVILLE, Tenn. --** Research confirms that the benefits of healthy father-daughter bonds result in decreased rates of promiscuity, substance abuse, dropping out of high school, image obsession, depression and even
suicide.

To help strengthen communication and enhance time spent together between teen/young adult daughters and their dads, Titans Assistant Head Coach Craig Johnson and Linebacker David Thornton have gotten behind the Nashville Father-Daughter Summit, a program of the National Center for Fathering that will be presented this Saturday, Sept. 11, at Hendersonville Church of Christ.

Coach Johnson served as the host and emcee for the kickoff luncheon in July where 50 leaders representing churches, schools, local businesses and community organizations gathered to meet with Carey Casey, CEO of the National Center for Fathering about the upcoming Summit.

Johnson will be inducted into the Fathering Hall of Fame at 4 p.m. during the closing session of Saturday's Father-Daughter Summit in recognition of his commitment to his family and service to the Tennessee Titans and the Nashville Community.

David Thornton served as a spokesperson for the local Father-Daughter Summit. Thornton's Public Service Announcement was aired on all three television affiliates and on numerous radio stations, providing strong visibility for the local effort. More than 300 fathers and daughters are expected to be attendance this Saturday.
](http://www.fathers.com/content/index.php?option=com_content&task=view&id=981&Itemid=129) Johnson and Thornton both know the joys and challenges of raising daughters.
"Our daughters need our love, time and attention, even during the times when connecting and communicating can be a challenge," said Thornton.