**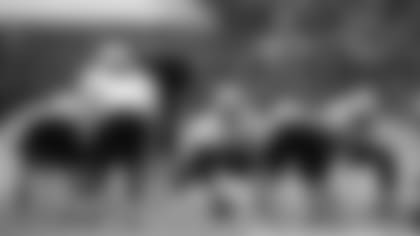 Tennessee's offensive line changes include Eugene Amano (54) moving from left guard to center and Leroy Harris (64) moving to left guard.
NASHVILLE, Tenn. -** The Tennessee Titans' youth movement is hitting the unlikeliest part of this franchise: The offensive line that just helped produce a rare 2,000-yard rusher while allowing a measly 15 sacks.
Eugene Amano is moving from left guard to center, while Leroy Harris has moved to left guard and the chance of being a full-time starter for the first time in his career. Gone, for now, is 16-year veteran center Kevin Mawae despite coming off his eighth Pro Bowl season.
Now a free agent, Mawae wants to stay in Tennessee but would likely be a backup if he returns.
The Titans have committed to Amano, signing the seventh-round draft pick in 2004 to a five-year, $26.2 million deal in February after he started the past two seasons at guard. They have been grooming Harris since drafting him out of North Carolina State in the fourth round in 2007.
"It's a real smooth transition,'' coach Jeff Fisher said Wednesday of the changes. "I would like to think they can play for a number of years together.''
A strong offensive line is a hallmark of this franchise, which is tied with the Jets for producing an NFL-best 12 1,000-yard rushers since the start of the 1996. This unit has been coached by Hall of Fame lineman Mike Munchak since 1997, and the line is coming off one of its best seasons ever.
The Titans ranked second only to Indianapolis in sacks allowed and had a league-low 73 yards allowed off sacks. They also plowed holes for Chris Johnson, who became just the sixth player in NFL history to top 2,000 yards (he ran for 2,006). Tennessee was second in the NFL with 162 yards rushing per game in 2009.
Mawae leads active NFL linemen with 241 regular season games played after starting all 16 contests last season - his fourth with Tennessee. He is eager to keep playing and wants to start. But there may be factors working against him: He turned 39 in January and has also said that with heated labor negotiations looming that his job as president of the NFL Players Association may not be helping him. His agent has talked with the Titans have talked with no movement yet.
"We're just kind of in a holding pattern,'' Fisher said last week when asked about Mawae.
Switching to Amano and Harris follows the pattern the Titans prefer to follow in drafting linemen for Munchak to groom. Mawae and Jake Scott have been the exceptions. Mawae was signed as a free agent in 2006 with Scott lured away from Indianapolis in 2008 for the job at right guard.
Tennessee drafted left tackle Michael Roos and right tackle David Stewart in 2005, and both now have four years left on their current contracts. The Titans liked Amano in 2004 and made him the 239th pick overall out of Southeast Missouri State. The 6-foot-3, 310-pound man started two games as a rookie and moved into the starting lineup permanently in 2008 at left guard.
Munchak said he asked Amano where he'd be most comfortable at early this offseason, and Amano prefers the center spot he played in college.
Quarterback Vince Young thinks the six-year veteran was well prepared by Mawae and sees him taking over the line as the man who makes the protection calls against defenses.
"Eugene did a phenomenal job of paying attention. Eugene's a very, very smart guy and a very physical guy to me. He's outstanding. I've been playing with him since scout team. I know the type of talent that he has. To me, it's good to see he's getting the opportunity to take over and be what he wants to be - a starting center. Congrats to him,'' Young said.
The 6-3, 302-pound Harris played at center and both guard spots in college. In his second NFL season, he started for an injured Mawae in two games, including a divisional playoff loss to Baltimore in January 2009. He started at right tackle for Stewart last season at San Francisco.
Harris said he knows there's pressure stepping into this starting line.
"Our offensive line has been known as one of the best out there year after year. You don't want that to drop any or the things we have achieved to drop any. There's a little bit of pressure. I look forward to it, and I'm enjoying playing beside those guys,'' he said.
Munchak said their high expectations don't change. With the entire offseason, training camp and the preseason, he expects the line to be working smoothly with no excuses when the season opens Sept. 12 against Oakland.
"We should be feeling like we can pick up where we left off last year.''