**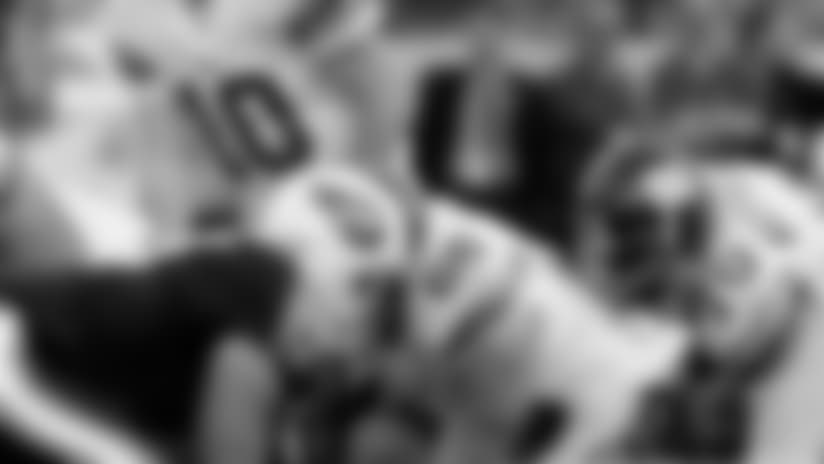 The Titans go against Giants QB Eli Manning for only the second time when the two teams meet Sunday at New Meadowlands Stadium.
NASHVILLE, Tenn. --** The Tennessee Titans rank first in the NFL in total yards allowed and passing yards allowed, but players said Thursday that their first real test of the season awaits Sunday.
Tennessee (1-1) visits the New York Giants (1-1) at noon (CT) in the third game ever played at New Meadowlands Stadium.
The Titans are accustomed to at least two skirmishes each season against Peyton Manning, but have only faced Giants QB Eli Manning once. Players and coaches said Eli Manning is a bigger threat than Jason Campbell was for Oakland in Week 1 and the combination of Dennis Dixon and Charlie Batch was in Week 2.
"I think Eli and the rest of those guys on the outside, it's going to be a tough challenge," second-year cornerback Jason McCourty said. "We're just continuing to watch film and prepare like we've done the past two weeks."
The Titans and Giants have met just nine times, with Tennessee winning the past four meetings. Manning and the Giants built a 21-0 lead before the Titans scored 24 unanswered points in the final 10 minutes of the most recent matchup in 2006, marking the largest fourth quarter comeback in franchise history.
"(Eli) spreads the ball around," Titans coach Jeff Fisher said. "He does a good job of throwing the deep ball really well and is very accurate. It's not like it's one (receiver) to shut down because he reads (the defense) very well."
Fifth-year cornerback Cortland Finnegan played against Eli Manning in 2006 and said the quarterback's game management skills will be an area the defense tries to disrupt.
"He's a very accurate quarterback," Finnegan said. "He knows where to go with the football. The receivers are extremely good at route running. They pose a threat because they've got four or five good receivers that can stretch the field and run good, intermediate routes."
The Titans are allowing an NFL-low 206.5 total yards per game and 85.5 passing yards per game. The defense has given up one offensive touchdown, and Tennessee has allowed just five of 29 third downs to be completed. The Giants' offense has converted eight of 25 third downs (32 percent).
Manning has completed 33 of 54 passes for 424 yards with five touchdowns this season but has thrown four interceptions. Opposing quarterbacks have combined to go 31-of-54 passing for 223 yards with one touchdown and one interception and been sacked eight times by the Titans this season.
It's a far cry from the way the pass defense started 2009. In the first two weeks of last season — both Titans losses — opposing quarterbacks Ben Roethlisberger and Matt Schaub combined to go 58 of 82 for 720 yards and five touchdowns with two interceptions.
"There were a lot of statistics out there," Finnegan said. "I guess the pass defense wasn't good. We put that on our shoulders for everything. If the run defense isn't good, put it on the secondary. If the pass defense isn't good, put it on the secondary.
"(This week is) a totally different challenge," Finnegan added. "Now, we've got an accurate quarterback that relies on timing, so it's a different challenge. The first two weeks we were really working on down the field threats, the deep ball. That's always an issue every week. (The Giants' receivers) can really get open, so it's a totally different challenge. All of them do things well."
Secondary coach Marcus Robertson said players in his unit are out to atone for last season.
"I think we've done a decent job the first two weeks, even though we weren't challenged very much last week," Robertson said. "I think we're looking forward to it. We as a secondary are out to atone for last season. We kind of made some mistakes and things of that nature. I think the guys have a little bit of a chip on their shoulders, and they're eager to go out there and perform at a high level.
"One of the main things is for everybody to be on the same page, just being able to communicate," Robertson added. "I don't care what defense we're playing, as long as everybody's playing the same defense and executing technique and things of that nature, then we'll be pretty successful in the passing game."
Robertson said the secondary "has a lot of confidence in our defensive line" to pressure opposing quarterbacks.
"We've got to get Eli off the mark," Robertson said. "We can't just let him sit back there and pick his spots because he's an excellent quarterback and he'll destroy our defense that way.  We'll rely pretty heavily on our front to get pressure, get him throwing on the move and things of that nature. In turn, we've got to hold our part. We've got to extend the coverage half a second longer so they can get there and get after the quarterback."
McCourty and Finnegan said the secondary and the rest of the defense have built a trust that each player will handle his responsibility.
"That allows you to play good defense, when you know that the guy to your right and left is going to get their job done, you have more confidence to do your job and know that you won't have to worry about anybody else," McCourty said. "I just think the bonds that guys have built, not only in the secondary but in the defense as a whole has helped us to play better this year."
Added Finnegan: "The more you do it with someone, as far as repetitions, time, beliefs in one another, it becomes better for you as the player and the individual to rely on that person, to believe in them. I think for the most part, we're all able to do that because we do stuff outside the football realm."