NASHVILLE, Tenn. — Titans Season Ticket Member Dale Patterson has followed the franchise in the NFL Draft since Steve McNair's selection with the third overall pick in 1995, but this year could be the most memorable.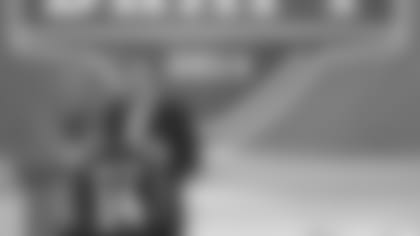 Titans Season Ticket Member Dale Patterson joins NFL Commissioner Roger Goodell before the first round of the 2014 NFL Draft.
Patterson is one of 24 fans across the league who won a contest to participate in the Ultimate 2014 NFL Draft Experience courtesy of The Membership Club, a league-wide benefits program for Season Ticket Members.
Thirty of the top prospects arrived in New York Tuesday, and Patterson and his girlfriend left Nashville for New York Wednesday. "Voice of the Titans" Mike Keith phoned Patterson in March to let him know he had won the trip.
"That was really an exciting day," Patterson said during a phone interview with Titans Online Tuesday. "The Titans have been a great organization since day one, and I know myself and most of the folks in Nashville agree that it's a good thing we have them. It's good for the city and great entertainment. I'm just fortunate I was able to become a PSL holder and stay with it all these years. I try to get to every game I can and look forward to keeping that streak going."
Patterson will wear a Titans jersey with "Draft Day" on the nameplate, hand-deliver the 2014 New Era Draft Caps into Radio City Music Hall and have VIP, behind-the-scenes access Thursday when he has the opportunity to hand NFL Commissioner Roger Goodell the customized No. 1 Nike jersey that the Titans' first-round pick will receive. Patterson also received tickets to the second and third rounds on Friday and will receive a tour of the famed venue.
"I don't think I've ever won anything substantial in my whole life so it was kind of — I've been entering a lot of other contests since I won this one because I might be on a roll that I haven't experienced in my life," Patterson said. "It's going to be an amazing time, and I'm going to really enjoy spending some time in the city and getting to see the sights and participate in the draft. The whole bit is really exciting."
Full Season Ticket Members, Club Seat Holders or Suite Owners from all 32 clubs are automatically inducted to The Membership Club (click here for more information). Exclusive benefits of membership include access to NFL RedZone on smart phones and NFL Game Rewind.
Patterson said friends and family lobbied to be his guest, but he's taking his girlfriend, who he said also loves football.
Instead of offering a prediction for the Titans' first-round pick, Patterson opted to keep his cards close to the vest like a savvy general manager. "It's all up to what the other guys do that are ahead of us," Patterson said. "My thought would be we get the best available athlete when it's our turn. From everything I've been following, we're in pretty good shape, as far as have to get a player. I'm sure there's a lot of good players out there, but I think our guys will make the right decision when it gets down to our turn."