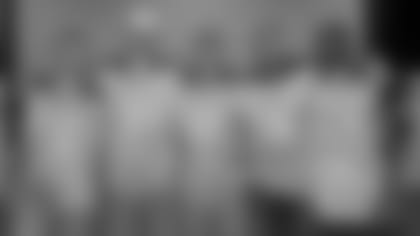 Titans players pose for a photo during the team's weekly visit to Baptist/Saint Thomas Hospital.
NASHVILLE, Tenn. -- Titans quarterbacks Matthew Hasselbeck, Jake Locker and Rusty Smith were joined by punter Brett Kern and defensive back Robert Johnson Tuesday for the Titans weekly visit to Baptist and Saint Thomas Hospitals.
The quarterbacks visited the "baby floor," spending time with parents and their newborns in the post-partum and neo-natal intensive care unit.  Johnson and Kern visited patients who were hospitalized for a variety of reasons on several floors.
Players visiting either Baptist or Saint Thomas Hospitals are weekly features of "Titans Tuesday," which typically include a visit to a Nashville Metro Middle School in addition to hospital visits.