**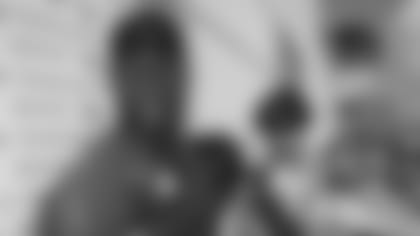 Titans QB Vince Young addresses reporters after Wednesday's practice at Baptist Sports Park.
NASHVILLE, Tenn. -** Vince Young said he still hasn't talked with Jeff Fisher on why the Titans coach benched for the final quarter against Pittsburgh. Young also insists he isn't dwelling over the move either.
Young spoke to reporters Wednesday after practice and said he's busy preparing to start when the Titans (1-1) visit the New York Giants (1-1) on Sunday. Young says he was upset about being benched for the fourth quarter in last week's 19-11 loss to Pittsburgh when trailing 16-3.
He said he isn't sure if it will happen again, but he isn't worried about it.
"I haven't the slightest idea man,'' Young said. "I go out and play the game. That's pretty much it. That's all I can do.''
Young went from being the NFL's top-rated passer after the opening week to watching from the end of the bench as backup Kerry Collins rallied the Titans in the final minutes of the game against Pittsburgh. Young turned the ball over three times.
Fisher said Young had a great practice and is going to play well Sunday. The coach plans to talk to his quarterback sometime this week and that Young easily can prevent being benched again.
"Just execute the game plan and play well. Like he's been doing for the last couple years,'' Fisher said. "This was a one-time thing, and I discussed it. There is no sense in rehashing it.''