NASHVILLE, Tenn. — The Tennessee Titans on Tuesday welcomed almost 200 soldiers from Fort Campbell to the first day of the team's mini-camp.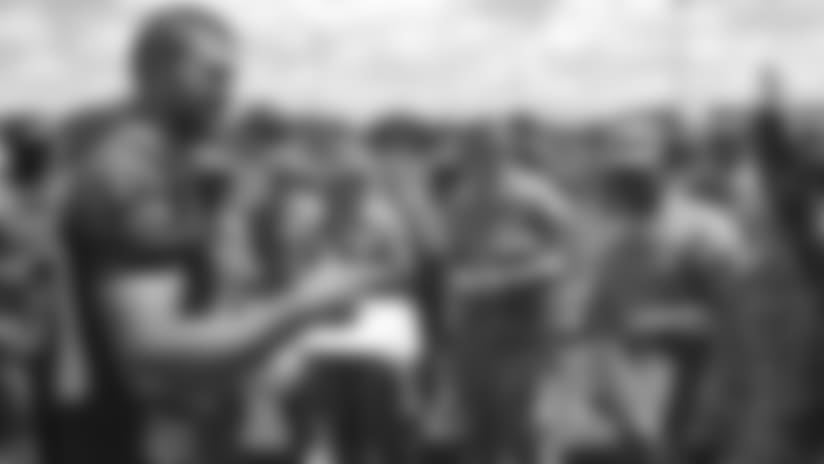 ](http://www.titansonline.com/media-center/photo-gallery/Fort-Campbell-Soldiers-Take-in-Titans-Practice/ae658edb-e02b-4946-9a94-46c2fd7950f3)
Jake Locker and Titans players, coaches and cheerleaders enjoyed welcoming nearly 200 soldiers from Ft. Campbell to Tuesday's mini-camp. Click here for a slideshow.
The invitation continued the strong relationship the Titans have with the U.S. Army post that is located about an hour from Baptist Sports Park and gave the soldiers a chance to see a simulated game up close and take photos with and get autographs from players, coaches and cheerleaders.
It also gave Titans players, coaches and cheerleaders a chance to thank soldiers from the 101st Airborne Division, 5th Special Forces Group (Green Berets), 160th SOAR (Special Operations Aviation Regiment) and the Warrior Transition Battalion, which helps wounded soldiers transition back to active duty or their new lives as veteran civilians, for their service and sacrifice.
"A lot of them were saying, 'Thank you for the autographs,' and a lot of us were just replying, 'No, thank you. What you're doing is far more important than what we're doing, ' " McCourty said.
Titans coach Mike Munchak personally welcomed the group and gave them a scouting report on what to expect from the simulated game. He said the Titans sincerely appreciate the soldiers' commitment to professionalism and explained that "being a pro" is an overarching point he makes to players.
Spc. Andre Elder, a native of Enterprise, Ala., is in his seventh year of service. Spc. Elder works on communication equipment in Black Hawk and Chinook helicopters.  
Spc. Elder said he became a big Titans fan when Steve McNair was completing passes to Derrick Mason and Kevin Dyson but had also followed the franchise during its years as the Houston Oilers with Hall of Famer Warren Moon at QB. He said he is most excited this year about the safety combination of Michael Griffin and Bernard Pollard, but the former high school and junior college offensive lineman also enjoyed the opportunity to see Titans first-round draft pick Chance Warmack in action.
"I really like seeing them go through practice and learning the amount of hard work and dedication they put toward their game," Spc. Elder said.
Spc. David Boucher, a native of Long Island, N.Y., who is a member of the 2nd-320th FAR (field artillery battalion), said he also enjoyed the opportunity to attend practice. He brought a football that players gladly signed and noticed that players do some of the same stretching exercises that the soldiers do.
Titans quarterback Jake Locker was happy to return to the soldiers after completing his weekly media session and was grateful for the chance to share his appreciation as he signed and smiled after practice.
"Any time you have the opportunity to share your time with our military, they are why we are able to do what we do, so we're thankful for them and love having the opportunity to interact with them and have them out on the field," Locker said.
The Titans appreciated the United Service Organizations (USO) for providing transportation for the soldiers.