**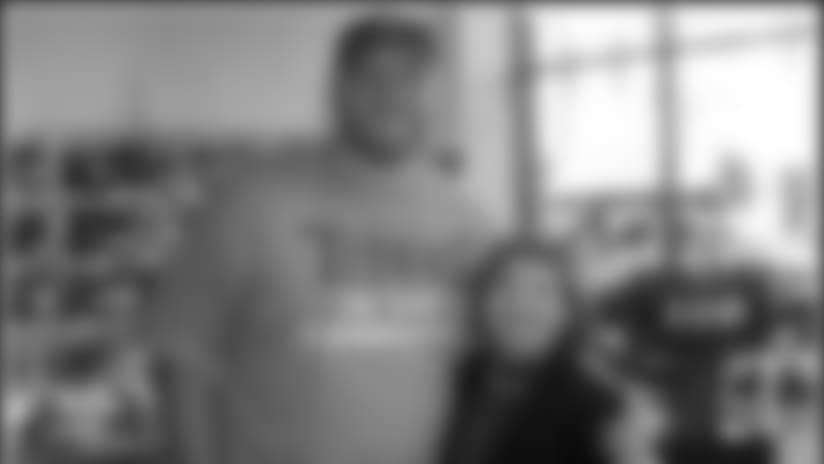 Daniel Loper with a Shop til it Stops patron.

NASHVILLE, TN, Oct. 7, 2008-** Tennessee Titans players, alumni and wives showed their support for The YWCA of Nashville & Middle Tennessee during a unique event, "Shop til it Stops" at The Hill Center in Green Hills. This special shopping event was organized to raise awareness about domestic violence as well as raise funds from the proceeds of participating stores.
Titans players and wives that participated in the event were Colin Allred and fiancée Kristen Cover, Ken and Sandi Amato, Rob Bironas, Keith Bulluck, Chris and Sarah Carr, Kerry and Brook Collins, Ryan and Stacy Fowler, Cortland Finnegan, Vincent Fuller, LeRoy and Christina Harris, Daniel and Jennifer Loper, Justin and Sherrone McCareins, Donnie Nickey, Michael and Kat Roos, Josh Stamer, Paul and Kenyeih Williams and Titans alums Eddie and Taj George, Kevin and Andi Long, Benji and Tracy Olson. * *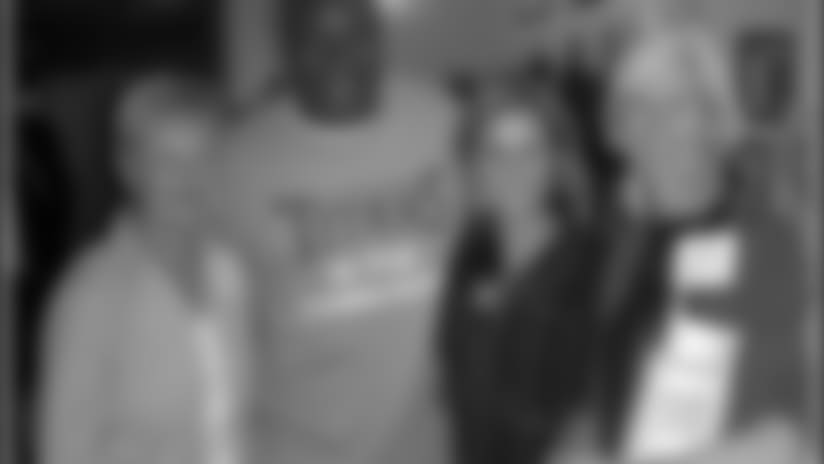 Keith Bulluck with YWCA volunteers and a patron.

Participating Hill Center stores had several Tennessee Titans players (and their respective spouses) signing autographs and visiting with patrons. Volunteers from the YWCA were on hand as well to pass out domestic violence awareness materials. In addition, fans were greeted by Tennessee Titans cheerleaders as they signed autographs. The event was open to the public and proceeds from participating stores will benefit the YWCA Weaver Domestic Violence Shelter, a 52 bed facility for women and children.
"This event was a great success," said Tracy Olson, wife of Benji Olson and event co-chair. It was so nice to see all the fans come out to meet the players and help support the YWCA of Nashville's mission. I want to thank all of the stores that participated and donated there time and proceeds to the YWCA as well as the volunteers for coming out and giving their time for this event. I especially would like to thank all of our Titans and their wives for coming out to make this event a success - we could not have done it without them."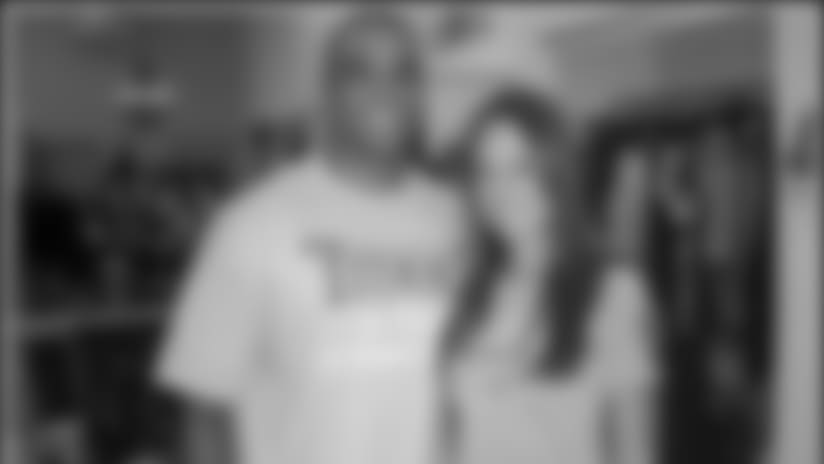 Colin Allred and fiancee Kristen Cover.

Participating Hill Center stores include: Monkee's, Popo Cool Kids Stuff, H. Audrey, yn(wine), Jake's House, Hemline, Merrell, E.J. Sain Jewelry, Jigsaw London, Johnson + Murphy, The Cosmetic Market, J. McLaughlin, Swoozies and Pei Wei Asian Diner.
"The Titans wives and players kicked off Domestic Violence Awareness Month for the YWCA with this incredible event," said Pat Shea, CEO of The YWCA of Nashville & Middle Tennessee. "The players' support and enthusiasm showed their big hearts and devotion to the Nashville community. Our partnership with the Titans wives and their husbands is a privilege. They have added creative ideas and fun as well as financial support to our work to support women and children in shelter." The YWCA Weaver Domestic Violence Shelter is a 52 bed facility which includes counseling for women and children, case management and support groups as well as a confidential 24-hour Crisis Line for victims of abuse and their friends or family members.  The YWCA helps families leave abusive households and start new lives. 
 


Shoppers pose with Sandi, Jazlyn and Ken Amato.

YWCA provides free GED preparation to men as well as women and mentor middle school girls in some of Nashville's toughest neighborhoods. The YWCA exists to educate, encourage and break down those barriers that perpetuate racism, violence and hopelessness.
For more information on the YWCA, visit www.ywcanashville.org or call the 24 hour crisis hotline at (615) 242-1199.