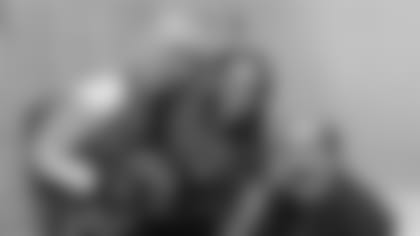 NASHVILLE, Tenn. -** February 8 - 12 was National Salute to Our Veterans Week. The Tennessee Titans have a long standing relationship with area Veterans and were honored to support and help with the celebration held at the Veterans Hospital in Nashville on February 10.
Several state and local representatives were on hand for the opening ceremonies, which featured guest speakers and Color Guard posting of the colors.
The annual VA National Salute to Veteran Patients week program began in 1978 when the VA took over sponsorship of a program started in 1974 by "No Greater Love, Inc.," a humanitarian organization. The traditional observance during the week of Valentine's Day was appropriate because the sentiments of caring and sharing match the Salute's purpose of expressing honor and appreciation to hospitalized veterans.
This program is responsible for countless touching scenes of volunteers, with their colorful, thoughtful valentines brightening the lives of veterans. It is a time for visitors to come and share their time with our nation's heroes and family members in the medical facilities.
This year Titans Cheerleader Briana, Jessi, and Community Relations representative Jerry Blessing were on board to pass out Valentine cards and visit with patients and their families. Patients greeted the Cheerleaders with smiles, handshakes, and hugs that were heart felt. It was a day for the Titans' representatives to spend time with our nation's heroes and say thank you.
Most importantly, the team's support would not have been possible without the help of Titans Owner K.S. "Bud" Adams Jr. Mr. Adams served in the US Navy during World War II and knows the importance of supporting our Veterans.