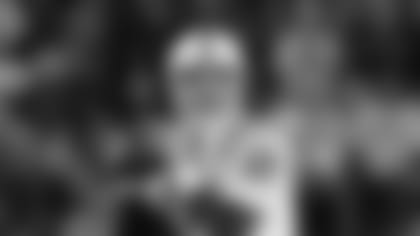 Peyton Manning played his last regular season NFL game against the Titans. Will his next one be as a Titan?
NASHVILLE, Tenn. --
Titans owner Bud Adams wants to sign Peyton Manning and says he will do whatever necessary to convince the four-time NFL MVP to come to Tennessee, even offering up a job in the front office once his playing career ends.
Adams told The Tennessean on Sunday that he has contacted Manning's agent, Tom Condon, to express his interest and ask for the quarterback to visit the Titans. Manning visited Denver on Friday and spent more than six hours in Arizona on Sunday.
"He is the man I want. Period," Adams told the newspaper. "And the people that work for me understand that. They know who I want. I want Mr. Manning with the Titans and I will be disappointed if it doesn't happen."
Tennessee signed Matt Hasselbeck to a three-year deal in July 2011 and used the eighth overall pick in last year's draft on Jake Locker.
The Titans went 9-7 in Mike Munchak's first season as coach, just missing a playoff berth. They also have plenty of salary-cap space, with about $30 million to spend.
Adams said he wants Manning as the guy to get the Titans into the playoffs. The 89-year-old owner says he'd love to see Manning in Titan blue after watching him the past 14 seasons with the Colts and will be upset if he doesn't get the quarterback.
"I hope to be one of the teams he looks at," Adams said. "Since he went to school in Tennessee I think Tennessee is where he should be. I think he could play for two or three years. I think he's the guy that could come in and turn this around for us.
"That's why I am so anxious to get him to come visit with us and I want him on my team. I could sit down with him and show him what (we'd be willing to pay). If he would come (meet) with me he would be happy with what he'd get."