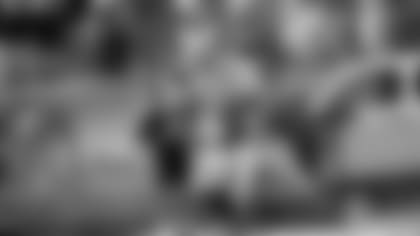 Nate Washington's 56-yard touchdown reception gave the Titans a 7-3 lead they would never relinquish.
NASHVILLE, Tenn. --** Of all the NFL teams that opened this season with a victory, no team appreciates the win more than the Tennessee Titans after their woeful start a year ago.

Chris Johnson ran for 142 yards and two touchdowns, Vince Young threw for two TDs and Javon Ringer had a TD, and the Titans quickly avoided mimicking their 0-6 start of 2009 by routing the Oakland Raiders 38-13 Sunday in the opener.

''That's one of the biggest games of the season, getting that first win in the first week,'' Young said. ''We did a great job executing the plays today. Our defense did a phenomenal job putting a lot of pressure on them.''

Tennessee answered with 24 straight points to take control. The Titans also sacked new Raiders quarterback Jason Campbell four times and forced two turnovers they turned into 10 points. Oakland had just 106 yards offense at halftime.

Johnson, the NFL's Offensive Player of the Year, extended his streak to 12 consecutive 100-yard games by halftime to break a tie with Marcus Allen. He trails only Barry Sanders, who had an NFL-best 14 such games.

It was a nice change from a year ago when the Titans opened the season losing their first six games. They rallied by winning eight of their final 10 to become the first team in NFL history to finish at .500 after such a woeful start.

''That's momentum just carrying onto this year, and hopefully it can carry on throughout this year,'' Johnson said.

The Raiders came in with a new quarterback and new faces on a defense that had been 29th in the NFL against the run.

None of the changes helped. The Titans ran for 205 of their 345 yards total offense.

''You can't sit around and feel bad about it or be shocked by it,'' Oakland coach Tom Cable said. ''You really have to deal with it. This was unexpected, but we'll fix it and get it right pretty quick.''

Kamerion Wimbley stripped Young of the ball on the Titans' opening series, and Richard Seymour recovered and went 13 yards to the Titans 34. Titans linebacker Will Witherspoon, who flew back on owner Bud Adams' jet for this opener after the death of his mother, sacked Campbell on the Raiders' first play after the turnover.

''The fact it happened early is really one of those great release moments, 'All right, I'm on top of things. I feel good about it. Yeah, let's go,''' Witherspoon said of the sack.

The Titans thought they had held when rookie Derrick Morgan sacked Campbell on third down. But Morgan was falling down and drew a personal foul for a low hit on the quarterback, giving the Raiders a first down. They settled for a field goal. Sebastian Janikowski yanked his 39-yard attempt wide right, but Cortland Finnegan jumped offside to give him another chance.

Tennessee answered quickly as Young caught the Raiders biting on a play-action fake to Johnson and found Nate Washington wide-open for a 56-yard TD, and Young finished 13 of 17 for 154 yards.

''A lot of teams in this league are going to be fearful of what he can do,'' Washington said of Johnson. ''When he faked it to Chris, I was able to see the safety and corner bite down. I was just able to run right by them.''

The scoring continued as Rob Bironas added a 43-yard field goal after another Campbell sack and fumble.

Then Ringer scored the first TD of his NFL career with a 15-yard run, and Johnson scored on the Titans' next offensive play. He followed tight end Bo Scaife's block and streaked upfield 76 yards for the fourth-longest TD run of his career, celebrating by high-stepping the last 10 yards for a 24-3 lead.

Johnson added a 4-yard TD in the third, and Young tossed a 1-yard TD pass to Scaife three plays after Chris Hope intercepted Campbell.

''We have to eliminate the penalties,'' Campbell said. ''We can't turn it over.''

The Raiders, with rookie center Jared Veldheer making his NFL debut, struggled mightily on offense. Bad snaps both with Campbell in the shotgun and under center, and Oakland didn't get into positive yards passing with all the sacks until a 63-yard drive just before halftime for Janikowski's second field goal of the game.

''I thought we were catching everything rather than taking the fight to them,'' Cable said.

Oakland did drive 80 yards for a TD in the fourth quarter. But that was it for a team that won four of its five games with fourth-quarter rallies last season.

NOTES: Johnson has nine runs of 50 yards or longer in his career. ... He also tied for needing the fourth-fewest games in NFL history to 4,000 yards from scrimmage, reaching that mark in his 32nd career game. ... This was Young's ninth career game with two or more TD passes, and the Titans are 8-1 in those games. ... Washington's TD catch was longer than any reception he had in 2009. ... Campbell is 6-5 in the month of September. ... An opossum was caught in the stadium near the field about an hour after fans had been cleared out.