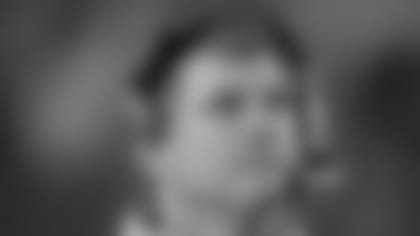 Hall of Famer Mike Munchak becomes the 16th head coach in Oilers/Titans History.
NASHVILLE, Tenn. -** The Tennessee Titans have hired Mike Munchak to become the 16th head coach in franchise history and the first who was a former player for the team.

"This is a special day for this franchise as one of our former players takes over the team as the head coach," said Titans Owner K.S. "Bud" Adams, Jr.  "Mike has been successful at everything he has been associated with at our franchise and I have no reason to believe that he won't be successful as our head coach. He earned Hall of Fame distinction as a player and yearly he has been one of the best offensive line coaches in the NFL. He understands where we have been and knows where we need to go."

After a 12-year playing career as a guard for the Houston Oilers, he spent three seasons assisting the coaching staff. Munchak became the offensive line coach in 1997 and has held that position for the past 14 years. Four of his players have totaled 10 Pro Bowl invitations and his offensive lines have paved the way for five different running backs to total 11 1,000-yard rushing seasons. In 2001, he became the fifth franchise player to be inducted into the Pro Football Hall of Fame. He earned nine Pro Bowl invitations during his career and was bestowed the honor of having his Oilers #63 jersey retired in 1996.

"I have known Mike for 30 years and have always had the utmost admiration for him as a person, player and coach," said Titans General Manager Mike Reinfeldt. "He is a smart football man, who commands respect and accountability from everyone around him and I am confident that he will be successful. There were many qualified candidates for this position, but Mike makes sense on so many different levels. He has seen this franchise from different angles as a player and a coach and has seen the team built and re-built in many different ways to achieve success. His franchise knowledge will be a great asset moving forward. This is a positive situation for us because he has a strong foundation built with us, but he has his own beliefs about how he wants his team to play."

As a coach, Munchak is acknowledged as one of the finest teachers in the game. Only twice during his career has he had the benefit of starting the same starting five linemen from one year to the next; and yet, the Titans offensive lines are perennially one of the best lines in the NFL. His offensive line allowed the second fewest sacks (28.3 sacks per season) in the NFL since he assumed control of the group in 1997. Additionally, the Titans ranked seventh in the league in rushing yards (124.5 yards per game) during his tenure. He has seen Bruce Matthews, Brad Hopkins, Michael Roos and Kevin Mawae earn Pro Bowl invitations from his group in addition to providing protection for Pro Bowlers Eddie George, Steve McNair, Vince Young, Kerry Collins and Chris Johnson. His group aided McNair to NFL co-MVP (2003) and Johnson to Offensive Player of the Year (2009) honors.

As a player, Munchak started 156 regular season games (seventh in franchise history) and 10 playoff games for the Oilers between 1982 and 1993. Respected for his play, he was selected to the NFL's "All Decade" team for the 1980's. Chronic knee problems led him to retire while still at the top of his game. In his final year, he earned All Pro and Pro Bowl honors. A versatile player, he started his career in a run-first offense with RB Earl Campbell and transitioned to a pass blocker in the run-n-shoot offense guided by QB Warren Moon.

Munchak is a native of Scranton, Pa., and graduated from Penn State. He was the first offensive lineman selected in the 1982 NFL Draft with the eighth overall pick by the Houston Oilers. Munchak is married to Marci and the couple has two grown daughters – Alexandra and Julie.