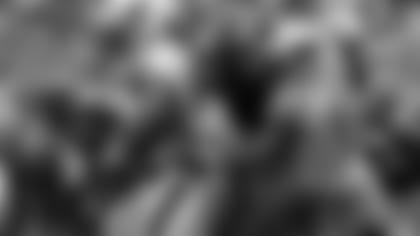 Limiting the production of Texans RB Arian Foster will be a point of emphasis for Tennessee's defense Sunday at LP Field.
NASHVILLE, Tenn. — Titans players said Thursday they are aware of the dual threat that Houston running back Arian Foster presents.
Foster led the NFL with 1,616 yards rushing last season and accounted for 604 receiving yards on 66 receptions a year ago.
"He can do both," said Titans cornerback Cortland Finnegan. "He's always dangerous on screens, even out of the backfield and during check-downs. You've got your hands full in him."
Foster, a third-year pro who went undrafted out of the University of Tennessee, missed the season opener against Indianapolis and the Texans' Week 3 matchup against New Orleans with a hamstring injury. He has 305 yards rushing and 186 yards receiving in games against Miami, Pittsburgh, Oakland and Baltimore this year.
"He's a great receiver out of the backfield, and at the same time, he's a very good running back, too," Tennessee defensive lineman Jason Jones said. "He's very effective in that running scheme. We've got to stay on our feet and be gap sound, and I think it will be a good result for us."
Foster had 218 all-purpose yards against the Titans in the first meeting between the AFC South rivals last season. He gained 143 yards on 30 carries and caught nine passes for 75 yards in a 20-0 win by the Texans in Houston last November.
Three weeks later Tennessee scored 21 points in the first quarter of the rematch and held Foster to 15 yards on 11 carries. The Titans' large lead limited his attempts and helped Tennessee contain him with season-lows in yards and yards per attempt (1.4) in a 31-17 victory at LP Field.
Titans safety Michael Griffin said preventing big plays by Foster is a key for Tennessee (3-2) to stop Houston (3-3) in the early season match-up for first place in the division. Foster had a 42-yard touchdown run for the winning score against Pittsburgh and had a career-long 60-yard reception in a loss against Oakland.
"We've just got to contain him," Griffin said. "The linebackers, the D-line, everybody's got to hit their gaps, got to get up field, get penetration. He's very elusive. He can make you miss, but as long as we try to get pressure on the quarterback and everybody does their job, we should be okay."
Tennessee's success this season has been impacted by its ability to stop the run. The Titans allowed 45 rushing yards to Baltimore, 59 rushing yards to Denver and 84 rushing yards to Cleveland in its three wins, but gave up 163 to Jacksonville in the season-opening loss and 174 to Pittsburgh two weeks ago before beginning their bye week.
"We've just got to do what we do. Everybody's got to play sound defense," Titans linebacker Will Witherspoon said. "We know what kind of back Arian is and how he presents himself each week. Our goal is to play solid defense. You can't say how you're going to attack it. There's no way to attack it. You've just got to play solid D."