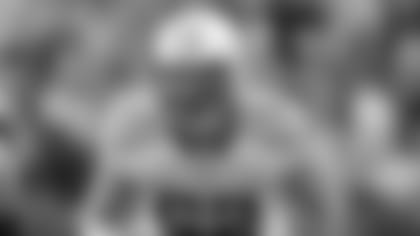 Rookie middle linebacker Colin McCarthy will play a big role in trying to contain Jaguars RB Maurice Jones Drew Saturday at LP Field.
NASHVILLE, Tenn. — The team with the most rushing yards has been the winner in nine of the past 11 contests between the Titans and Jaguars.
Tennessee (7-7) clearly knows the importance of stopping the run against Jacksonville (4-10) Saturday at LP Field.
The Titans have a plan on how to do that: get to running back Maurice Jones-Drew before he builds momentum, force him to go across instead of down the field, get as low as possible when tackling him and send multiple men to the ball.
Jones-Drew, the 5-foot-7, 208-pound, six-year NFL veteran is leading the league with 1,334 rushing yards this season. This is his third straight season with more than 1,300 yards rushing, and he is in pursuit of beating his career best 1,391 yards in 2009. Jones-Drew has rushed for at least 84 yards in all but one game (63 against Houston) this season.
"I think you turn the film on and you go, 'I better tackle this guy low,' " Mike Munchak said. "And he's low, so you have to go lower than he is because you see the consequences of not doing that and the fact that he keeps on going."
Munchak said the season opener, in which Jones-Drew rushed 24 times for 97 yards and a 21-yard touchdown in a 16-14 Jaguars' win, provided good experience for several young players.
Rookie middle linebacker Colin McCarthy played in a reserve role and on special teams in that game, but Munchak said McCarthy will be ready for the challenge.
"Colin's done a good job with a lot of good running backs," Munchak said. "He has a knack for going low and having good results."
McCarthy replaced veteran Barrett Ruud, whose season ended Dec. 13 when the team placed him on injured reserve because of shoulder and groin injuries. McCarthy said the Titans want to force rookie quarterback Blaine Gabbert to throw the football and contain Jones-Drew, who is averaging 95.3 yards rushing per game in spite of a Jaguars offense that ranks last in the NFL in yards per game (256.3), yards per play (4.1), passing yards per game (137.2) and passing yards per play (4.7).
"He's a special back, as far as his size, and you kind of see the way he runs with an attitude, as far as trying to prove himself every game, every week, running the ball hard, trying to run people over," McCarthy said.
McCarthy compared the running style of Jones-Drew to Falcons running back Michael Turner because of their big legs and the way both attempt to run over defenders. McCarthy relieved Ruud when Tennessee visited Atlanta and tackled the running back low three times for losses and forced a fumble with another hit in the fourth quarter.
"As a defense, we saw against Turner when we did take him low and got to him before he got running, we were able to bring him down, make plays," McCarthy said. "Once he got through the first level into the second level, he was hard to bring down. It's going to be similar this week, so we have to learn from our mistakes, make sure we're gap sound as far as everybody understanding his responsibility and then get 11 hats to the football."
Defensive tackle Jurrell Casey said the Titans need to control the line of scrimmage.
"We've got to be the most physical line out there and knock them back," Casey said. "(Jones-Drew) can't get it going straight ahead. We've got to get him going side-to-side. If we can get him going side-to-side, we're going to come out of this game with a victory."
Jacksonville rushed 47 times — the total number of offensive plays the Titans had — for 163 yards in the first meeting. The Jaguars possessed the football for nearly 40 minutes and contained Titans running back Chris Johnson to 24 yards on nine carries.
Johnson, who has 930 yards on 232 carries this season, did not practice Tuesday because of an ankle injury he suffered late Sunday at Indianapolis. He said the injury is not as severe as past ankle injuries and he expects to play Saturday.
Johnson is 70 rushing yards away from securing his fourth straight season of 1,000 rushing yards. If successful in that pursuit, he will join Earl Campbell (1978-81) and Eddie George (1996-2000) as the only players in Titans/Oilers franchise history with at least four in a row. Johnson said he is looking forward to another match up with Jones-Drew.
"We've been battling since I came into the league," Johnson said. "It's always a friendly competition to see who's going to lead the league in rushing or see who's going to have the most rushing yards when we play against each other. If you look at the past games between Jacksonville and Tennessee, when he rushes for more yards than I do, they win the game, and when I rush for more yards, we usually win. So it's a big deal when we go against each other."