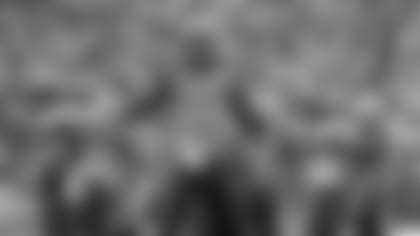 Chris Johnson is back in the fold after agreeing to a new six-year contract on Thursday.
NASHVILLE, Tenn. --The Titans and Chris Johnson have agreed to terms on a four-year contract extension, keeping the three-time Pro Bowl running back under contract for the next six years through 2016.
Tennessee confirmed Thursday the team had agreed to terms on the revised deal. Johnson tweeted Wednesday night that he had dinner in Orlando with his agent Joel Segal "talking business'' on the 34th day of his holdout.
Johnson has led the NFL in yards rushing the past three seasons and refused to report to the camp without a new deal. The 24th pick overall in the 2008 draft out of East Carolina, Johnson became only the sixth man in NFL history to run for 2,000 yards in 2009 when he ran for 2,006 yards.
The Titans revised his contract a year ago moving some money up in his contract, but he still was set to earn only $1.065 million for this season.
The revised deal is worth $53.5 million with $30 million guaranteed, according to a person familiar with the contract. The person spoke to The Associated Press Thursday on condition of anonymity because the contract details remained confidential.
This deal will be noticed by running backs like Minnesota's Adrian Peterson, who is in the final year of his original contract. Carolina gave DeAngelo Williams $21 million guaranteed in his new deal a few weeks ago. Chiefs running back Jamaal Charles, who is going into his fourth season, tweeted, "Congrads to (at)ChrisJohnson28 on the new deal well deserved....''
The Tennessean first reported the deal.
Johnson did not immediately respond to a message left by the AP. But Titans cornerback Ryan Mouton were among those tweeting congratulations to Johnson.
The Titans (2-1) wrap up the preseason Thursday night at New Orleans, but Tennessee's season opener is Sept. 11 at Jacksonville. With new coach Mike Munchak, having the running back on the team for the entire season was crucial for Tennessee coming off a 6-10 season.
Tennessee wanted Johnson to at least have a few days of practice with new quarterback Matt Hasselbeck in a revised offense with coordinator Chris Palmer. The only other running back with any NFL carries is Javon Ringer with 59 in his career, and he has been hurt most of the preseason. Rookie Jamie Harper from Clemson started the past two preseason games for Tennessee.
Fullback Ahmard Hall said Tuesday that Johnson would have some work once he does arrive to learn the changes in Palmer's offense, especially with the different terminology.
"You're going to have to think,'' Hall said. "You're not going to just be able to roll in and hit the ground running as if coach (Mike) Heimerdinger were still here. Coach Palmer has put in a lot of good things, but the language is different. He's definitely going to have to think. The sooner he gets in the better.''