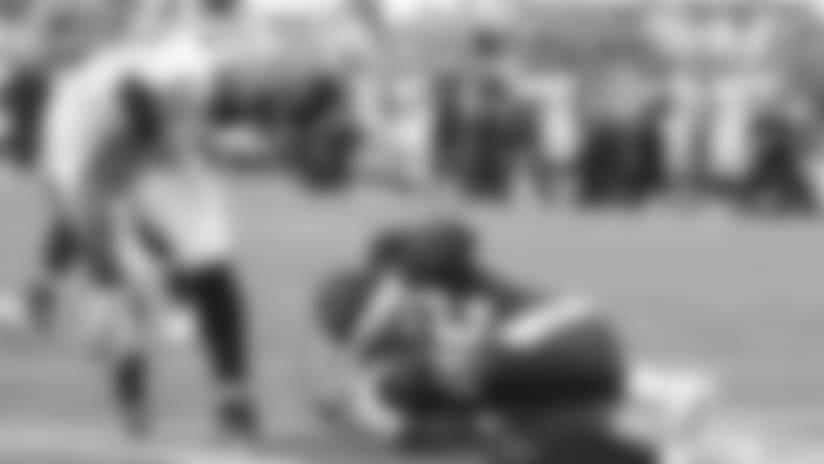 ](http://www.titansonline.com/media-center/photo-gallery/Week-10-Jacksonville-Jaguars-at-Tennessee-Titans/37c975d7-d20a-42f8-8e56-384360449275)
Delanie Walker lost his helmet but held onto the ball after a hit in the end zone. Click here for a slideshow from the game.
WALKER SETS CAREER HIGH IN RECEPTIONS AND TOUCHDOWNS: Tight end Delanie Walker caught four passes for 62 yards, including a 14-yard touchdown reception in the fourth quarter.  His performance gave him season totals of 29 receptions for 312 yards and four touchdowns.  With seven games remaining, the eighth-year veteran already has tied his career high this season in receptions (29) and set a new high for receiving touchdowns (four).  With 312 receiving yards, he needs only 33 in the coming games to set a career high in that category as well.
MORGAN RECORDS SACK: In the fourth quarter, defensive end Derrick Morgan took down Chad Henne (nine yards) for his third sack of 2013, giving him 13.5 in his four-year career.
VERNER TAKES OVER RETURN DUTIES: After Damian Williams left the game in the second quarter with a quadriceps injury, the return duties fell to Alterraun Verner.  Verner recorded one punt return for 11 yards and one kickoff return for 17 yards, the first punt return and kickoff return of his career.
VERNER GETS FIFTH INTERCEPTION OF 2013:Early in the fourth quarter,Alterraun Vernernotched his league-leading fifth interception of the season, corralling aChad Hennepass to help set up a Titans field goal.  Verner's five interceptions are the most by a Titans player sinceCortland Finnegan's** five interceptions in 2009.
JOHNSON REACHES 250: On his second reception of the game, Chris Johnson became the 12th player in franchise history to reach 250 career receptions. 
JOHNSON PASSES CAMPBELL: On a three-yard run in the third quarter, Chris Johnson passed Earl Campbell (9,292 scrimmage yards) for second place on the franchise's all-time scrimmage yards list.  Johnson now trails only Eddie George (12,153) on the team's list.
BIG PLAY BY HUNTER: In the third quarter, Justin Hunter made an acrobatic 40-yard catch that led to a field goal.  The reception was the longest of Hunter's rookie season through nine games.
MARTIN GETS FIRST SACK OF 2013: In the third quarter, defensive tackle Mike Martin delivered his first sack of the season, dropping Chad Henne for a three-yard loss.  It gave Martin four sacks in his two-year career.
FITZPATRICK TAKES OVER FOR LOCKER: Jake Locker exited the game with 6:22 on the clock in the second quarter, suffering a right foot injury.  Ryan Fitzpatrick entered to make his fourth appearance of 2013 and completed 22 of 33 passes for 264 yards, two touchdowns and no interceptions for a passer rating of 111.2.  He threw touchdown passes of nine yards to Taylor Thompson and 14 yards to Delanie Walker.  He also rushed for a four-yard touchdown to tie his career high with two rushing touchdowns this season.
THOMPSON'S FIRST TOUCHDOWN: Late in the second quarter, tight end Taylor Thompson recorded his first reception of 2013 and the first touchdown of his career on a nine-yard pass from Ryan Fitzpatrick.  The second-year veteran caught six passes without a touchdown as a rookie in 2012.
CASEY'S STREAK CONTINUES: With an eight-yard takedown of Chad Henne in the first half, Jurrell Casey notched his third consecutive game with at least one sack.  He became the first Titans defensive tackle with a sack in three consecutive games since the start of the 1999 season.  Casey entered the day with six sacks in 2013, one sack shy of the league lead among defensive tackles in 2013.  He now has 12.5 sacks in his three-year career.
McCARTHY GETS AN INTERCEPTION: In the first half, Colin McCarthy picked off a Chad Henne pass to record his third career interception and his first of 2013. 
TITANS ON THIRD DOWN: The Titans defense limited the Jaguars to a 25-percent conversion rate (three-of-12) on third down, the defense's second-best finish in 2013.  Meanwhile, the Titans offense converted 10 out of 18 attempts on third down, giving them a 56-percent conversion rate.  In the last two games, including the Nov. 3 contest at St. Louis, the Titans have converted 17 out of 30 third downs (57 percent).
TITANS INACTIVES: The Titans' seven inactive players were right tackle David Stewart, quarterback Rusty Smith, cornerback Tommie Campbell, linebacker Moise Fokou, linebacker Zac Diles, offensive lineman Pat McQuistan and defensive end Lavar Edwards.  Mike Otto received his second consecutive start for Stewart, while Colin McCarthy started his third straight game for Fokou at middle linebacker.