NASHVILLE, TN, Aug., 19, 2008 — This past Sunday, student-athletes from three Knoxville area high schools made the two-hour plus trek down I-40 to visit the Tennessee Titans. Knoxville West HS, Fulton HS and Austin East HS are long-time participants in the NFL supported Play It Smart program and got their first-ever look inside the world of professional football.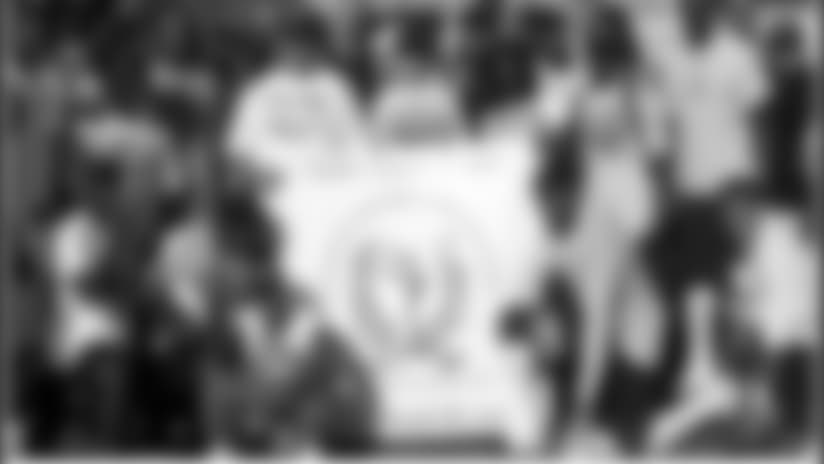 After practice, head coach Jeff Fisher and players visited with students from the Play-it-Smart Program.

The Play-it-Smart program is an educational program established in 1998 by The National Football Foundation. Funded in part by Titans Owner K.S. "Bud" Adams Jr. and the 31 additional NFL owners and the players in the NFL, the program's mission is to help student-athletes take responsibility for their futures through lessons learned on the playing field, in the classroom, and in service to others. At the heart of the program is a year-round academic coach, an official member of a team's staff, who serves as a direct link to the classroom by helping players and the team set and achieve their academic and personal development goals during the entire school year.
Each of the three schools rewarded players that excelled in the classroom last year with the invitation to take a tour of LP Field and be the Titans' special guest at a training camp practice.
"It's a blessing for the Titans organization to allow us to bring our kids here. Obviously, everybody has dreams and these kids do as well," said Fulton academic coach Vincent Lambdin. "Looking at players on the field that have maybe come from similar backgrounds and them making it instills hope and inspiration and gives our kids encouragement that if they work hard and push themselves, things can work out for them as well."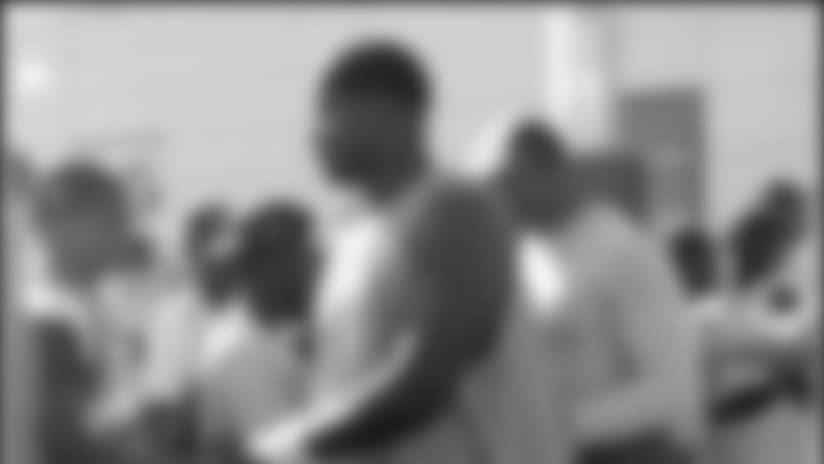 Quarterback Vince Young was one of the first players over to meet and visit with the students.

The students started the day by visiting the 68,000 plus seat LP Field where they got a tour of the locker room, press box, post-game interview room and capped it off by going onto the field. For some, this was their first time in an NFL stadium let alone, getting to run out of the tunnel and take pictures on an NFL field. In the locker room, they got to see the meeting rooms, stand where Titans have stood and most importantly, sit in their favorite player's lockers.
"I can't believe I'm actually sitting in Vince Young's locker," exclaimed one Knoxville West student. "I watch him on television every Sunday and play with him on video games and here I am, sitting in his locker at LP Field."
After their visit to LP Field, the students were led on a tour of Baptist Sports Park, where they were introduced to the Titans history dating back to the Houston Oilers, before moving on to the Titans training and weight rooms.
The student's dreams were realized once they hit the practice field. Fresh off the Titans dramatic preseason win over the Raiders, the students were allowed to watch an up close and personal session of Titans practice. The students were amazed by the exclusivity as Coach Fisher allowed the group to visit during a closed practice session when the only others watching practice were members of the local news media.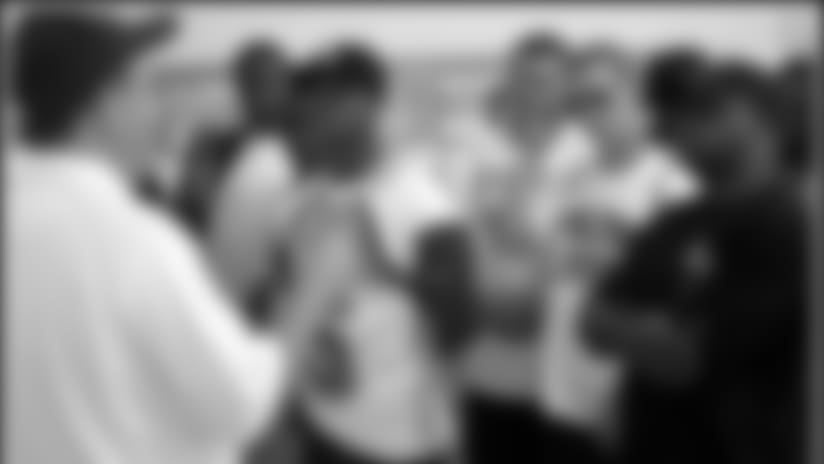 Titans VP of community relations Bob Hyde talks with the students about the history of the Titans while they visit Baptist Sports Park.

"It is a great opportunity and I probably wouldn't be here if it wasn't for Play-it-Smart, and working hard in both the classroom and on the field. Meeting the players and watching them practice was just so exciting. It gave me a perspective on how we should work, how we should act and how our practices should be," said junior Knoxville West wide receiver/defensive back Victor King.
At the conclusion of practice, the students were greeted by Voice of the Titans Mike Keith who talked them about his path to the NFL after attending the University of Tennessee and working both radio and TV stations in Knoxville from 1991-98. Keith stressed the importance of making the right decisions and not letting anyone defer you from your dreams.
"I want you guys to take a good look at that player wearing number 31," said Keith, pointing to cornerback Cortland Finnegan. "That guy is from a small town in Florida, went to a small school called Samford and all his life people told him he was too small and the NFL wasn't in reach for him. Well guys, that player just signed a new contract and is quickly becoming one of the team's best players.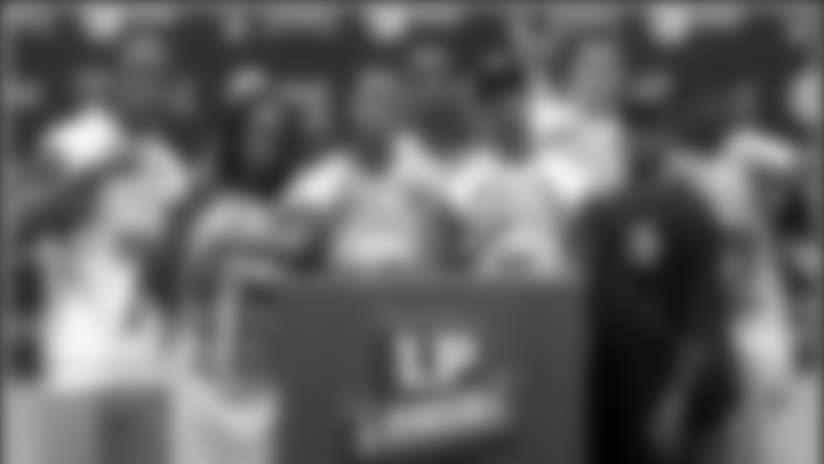 Knoxville West students toured LP Field stopping here at the press conference podium.

"He is what you guys should strive for. Don't ever let anyone tell you what you can't do," Keith added.
Titans players and Coach Fisher then greeted the students, taking pictures, answering questions and providing inspiration before students capped off their day by eating at the team's training table.
"Today was the experience of a lifetime, definitely one that I will never forget," explained Fulton senior lineman Matthew Blasco. "This experience taught us things like perseverance, teamwork, and leadership and if you work hard for something you can actually get what you want."
In addition to the three Knoxville Play-it-Smart Schools, Nashville's Stratford High School has benefited from having the program in recent years while Pearl Cohn High School will begin it's first year with the program in 2008.